This guest post is by Rebecca a young woman on the autism spectrum who has just been accepted into The University of Texas at Arlington.. Rebecca is applying for the Spring 2020 Making a Difference Autism Scholarship via the nonprofit KFM Making a Difference started by me, Kerry Magro. I was nonverbal till 2.5 and diagnosed with autism at 4 and you can read more about my organization and how to apply for my scholarship here. I'm trying to make this nonprofit self-sufficient so I can make this my full-time job supporting the special needs community and would appreciate you taking a minute before reading on to watch this video below and subscribing to our Youtube page here to get to learn more about the work we do in the community.
I hope you can support my nonprofit like I'm trying to support these students with scholarship aid for college. Learn more on how you can help our cause here.
To those who are on the autism spectrum,
As a young girl, I thought I was normal even though I was shy and awkward. When I was 14 years old, I was diagnosed with Asperger's Syndrome. My thoughts and feelings, at first, for the diagnostic were denial and telling myself that I was normal like everyone else. My mom and dad, on the other hand, would spoil me so they did not have to "deal with the issues." Furthermore, even though I did not mean it, my mom found me to have a bad temper and was selfish. Even my hands would shake and sometimes I had Vertigo. I would try to work on my social skills like looking people in the eye for instance. Even when I would try to have a decent conversation with my mom, I would argue even if she is right on something. In effect, my mom would stop listening to me. I felt like my mom did not understand what I was going through, but she really did know a lot over the years.
My siblings, on the other hand, got frustrated and seldom reacted to me. In this case, I wished my siblings would try to understand. My dad, however, I love him, but it is hard. When I communicate with him, I try to speak in Spanish, but with my beginning level of Spanish, my dad always misunderstands me.
In my educational years, I started school in special education. I was sad when people would make fun of my awkwardness. The bad thing about it is I could not find my real friends since high school was bigger than junior high school. For this reason, I hung out with friends who were negative towards me. This made high school hard for me. However, I did have many accomplishments like joining three clubs, but one club, key club, introduced me too volunteering. I also eventually made some friends who tried to understand my disability.
I had some incidents of misunderstandings since I had trouble with communicating with other people and it made me feel like an outcast. For example, I was at a friend's birthday party and the waiter was being friendly and threw everyone stress balls and it accidentally hit me. The waiter apologized, I told him it was alright, and I was used to it. Hence, the waiter thought that I was abused and quickly apologized. I tried to tell him that it was because I was bullied throughout my schooling years.
After graduating in 2009 from high school, I attended Tarrant County College, and I still had low self-esteem from being bullied over the years. In my sophomore year at TCC, I began to attend clubs/organizations, leadership programs, and volunteering. While attending these programs, I have become more confident and it gave me the courage to communicate, socialize, and build my confidence. As a matter of fact, none of the peers in college have been bullying me and I have made more than a few friends.
Given these points, although I had trouble making more than one friend in elementary through high school, the lesson I learned is to hold my head up high, do not listen to negative people, and think positive about myself. Comparatively, volunteering in college has raised my self-esteem, given me skills, and I have learned to socialize with people. Having Asperger's Syndrome is tough but being in college made me willing to associate with peers and have self-respect.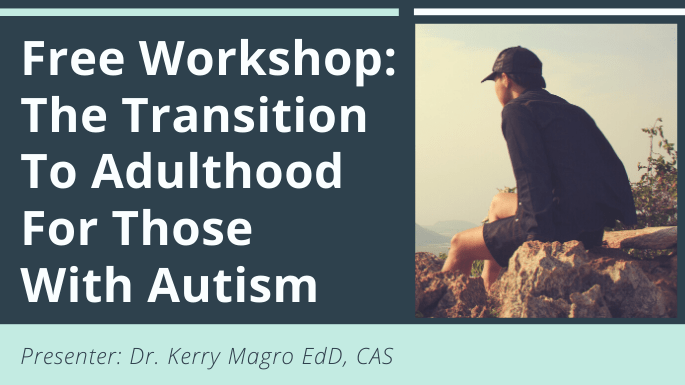 Join us for our Free Workshop "The Transition To Adulthood For Those With Autism" on 4/30 at 8PM where I'll be talking about topics such as our autism scholarship program  – Register at: https://zoom.us/webinar/register/WN_vofL2kFjRBCSHGJ5JcfyVA
Follow my journey on Facebook, my Facebook Fan Page, & Instagram!
My name is Kerry Magro, a professional speaker and best-selling author who is also on the autism spectrum that started the nonprofit KFM Making a Difference in 2011 to help students with autism receive scholarship aid to pursue a post-secondary education. Help support me so I can continue to help students with autism go to college by making a tax-deductible donation to our nonprofit here.