This guest post is by Jillian Gammon, a young woman on the autism spectrum who was accepted into Millersville University. Jillian is applying for the Spring 2018 Making a Difference Autism Scholarship via the nonprofit KFM Making a Difference. You can read more about the organization and how to apply for our scholarship here. You can help our scholarship program continue to help these students by making a donation here (the majority of our scholarship program is ran through donors from our community such as yourself so no matter if you could donate anything, whether it be $5 anywhere up to $5,000 it would be making a difference!).
I've had autism my whole life, but I wasn't aware of that fact until I was 15. Growing up, I had acquiesced to the fact that I was just no good with communication. I thought that was how all introverted people were, however, with knowledge comes understanding and growth.
When I got my diagnosis, I didn't use it as an excuse for my behavior. I used it as an opportunity to learn all that I could about the disorder and myself. Though autism does have a huge impact on the way I think and live, I refuse to let it hinder me. School had been a major struggle for me − I took hours to get homework done and had trouble working alongside other students. In the last three years, I have changed my working habits, made more friends than I have had in my entire life, and have grown socially by learning how to understand and talk with people.
One of the first hard lessons I had to learn was self-advocacy − having to tell others about my disability and how they can support me. It's certainly scary to go up to a teacher you just met and say "Hi, I have autism, so I need these accommodations." Asking for help is especially difficult when you're a talented student. Fortunately, I have had the most amazing support teacher behind me to guide me through the process. Between the skills I learned in support class and my teachers' willingness to aid me, I have grown into a more successful student, even joining our NHS chapter. Learning to self-advocate opened the doors to my teachers' assistance, and therefore, my true abilities.
Starting in middle school, I noticed that writing essays was incredibly difficult and frustrating. I could think of what I wanted to say, but I was unable to put words to my thoughts. Writing anything down on the paper could take hours. However, I was still a very skilled writer, and got A's on all my papers, though my teachers had no idea how many hours and tears it took. When I was diagnosed, I soon learned that my trouble with writing was attributed to my autism. Now I receive extra time for all in-class writing, and I can work with my teachers for at-home essays. By being diagnosed, I got the help I needed. However, despite writing four years' worth of essays for school, countless scholarships, and college applications, writing still takes as long as it ever did. Though I cannot change how my brain is wired, I've learned how to receive the time I need in order to write.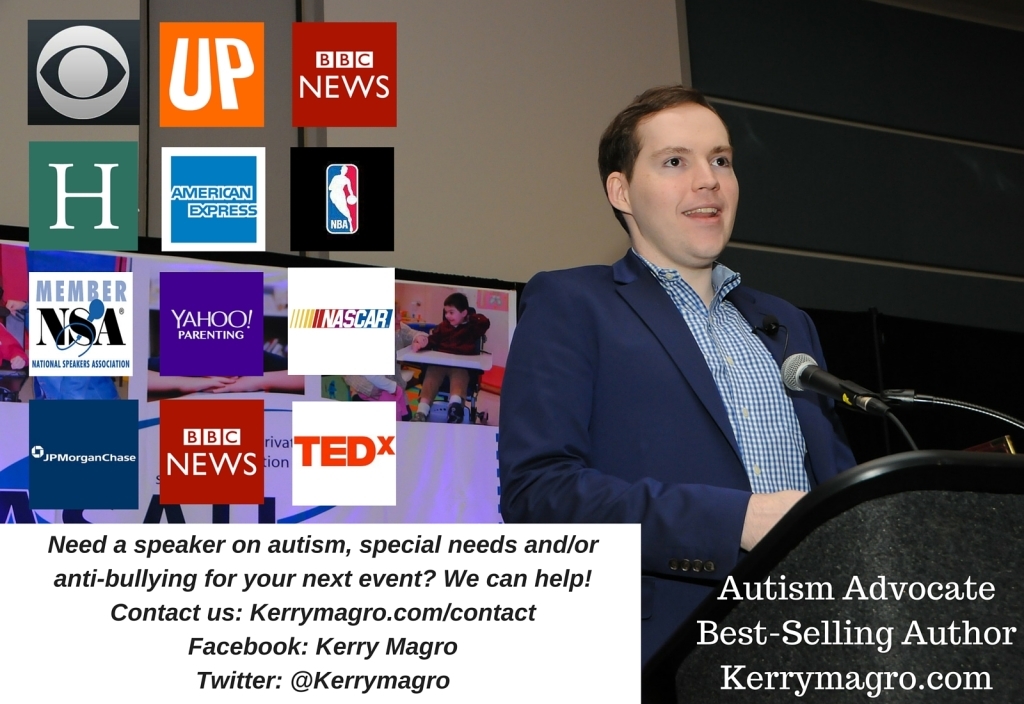 Kerry Magro, a professional speaker and best-selling author who is also on the autism spectrum started the nonprofit KFM Making a Difference in 2011 to help students with autism receive scholarship aid to pursue a post-secondary education. Help us continue to help students with autism go to college by making a tax-deductible donation to our nonprofit here. Also, consider having Kerry, one of the only professionally accredited speakers on the spectrum in the country, speak at your next event by sending him an inquiry here.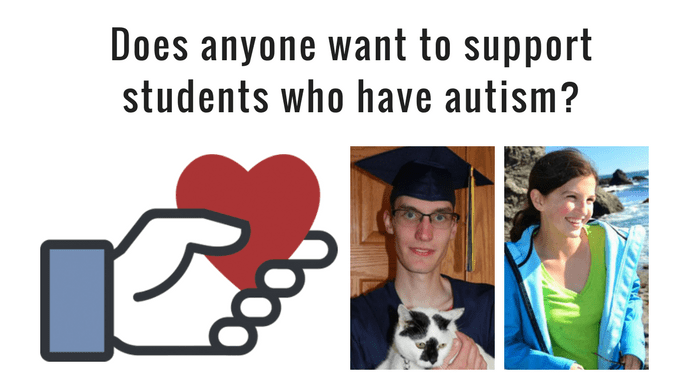 We'd also appreciate if you could start a Facebook Fundraiser to support our nonprofit's scholarship fund! You can learn more about how you can do just that here