This guest post is by Leora Robbins who was diagnosed with Autism Spectrum Disorder at 19 years old. She is currently working towards her bachelor's degree in Early Childhood Education at Kennesaw State University (KSU).  Leora is applying for our Spring 2017 Making a Difference Autism Scholarship via the nonprofit KFM Making a Difference. You can read more about the organization and how to apply for our scholarship here.
When I was younger, I easily became overwhelmed and frustrated. Loud noises bothered me and I used special noise canceling headphones. Being around too many people would stress me out and make me anxious. If I was hungry, I would not "function" properly. I could not communicate my feelings well, and because of this, I would shut down. When I shut down, I would ignore the world, no matter where I was. At school, my teachers were instructed to leave me alone when I was frustrated because talking to me would make things worse. At the time, the only way I would calm down was to be left alone.
We have known since I was about three years old that I have a learning disability, though we did not receive the formal diagnosis of autism until my freshman year at Kennesaw State University (KSU). I received lots of assistance and learned many strategies to help me cope while in elementary and middle school. My family and friends were also a huge factor in my success throughout school; they always supported me, even when it was difficult.
I slowly added more accelerated classes throughout high school, eventually taking AP Calculus my senior year. I would still shut down, but not as often, and only at home; I could handle the social pressure of school. I would speak with my teachers when I needed help or an extension on a project. For extracurriculars, I joined the Environmental Club and International Club. My senior year, I was a captain and the co-president of those clubs, respectively.
Now I am studying Early Childhood Education and I will be a senior at KSU, where I have done well for myself. I still have times when I get overwhelmed and frustrated, but I am usually able to keep others out of it. Normally, I can lock myself in my room to get away from my roommates and calm myself down. I realize when I am getting frustrated and communicate to others to leave me alone. I also have a few close friends I can talk to when I am upset, who help me greatly. One of them I even call my social interpreter, because if a situation happens where I do not know what went wrong, I can tell her what happened, and she helps me see what I missed.
I know I want to be an elementary school teacher because I have worked with children for years. I have worked at a summer camp for the past five summers and I will work there this summer. I have done four semesters of field experience, in which I assisted in elementary school classrooms. I love working with children, especially over multiple years, because I get to watch them grow and become their own person. When I graduate, I would love to teach younger grades, especially first grade. After teaching for a couple of years, I plan on earning a master's degree in special education.
At KSU, I love to binge watch my many TV shows, hang out with my friends (sometimes we all binge watch shows together), and spend time with my family when I go home. Now I am actively involved at Chabad, the Jewish student union. I help prepare for the weekly community Sabbath dinners. I babysit the children of the Chabad family for an average of two hours a week. This year, I am also an assistant teacher for the Hebrew school that the Chabad runs. This gives me a lot of experience with young children which will help me when I become a teacher.
My goal is to be the best elementary teacher I can be, which includes helping my students reach their full potential by having the knowledge and skills necessary to be a contributing member of society when they grow up. I also recognize that my students will come from varied backgrounds and economic levels. This means that some students may need more help than others, and I want to be able to provide this help. I want my students to have their own goals to work toward and to be able to achieve them. Since children are our future, I want them to have the background knowledge and skills to be able to help our world thrive.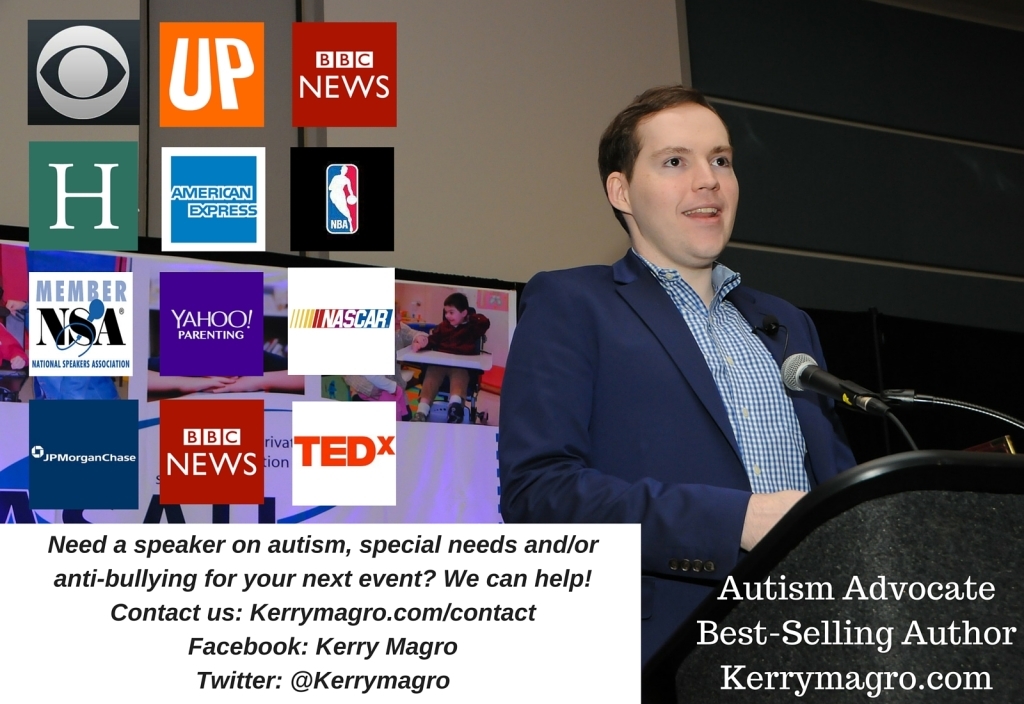 Kerry Magro, an international motivational speaker and best-selling author started the nonprofit KFM Making a Difference in 2011 to help students with autism receive scholarship aid to pursue a post-secondary education. Help us continue to help students with autism go to college by making a tax-deductible donation to our nonprofit here. Also, consider having Kerry who travels around the country speaking about his journey on the autism spectrum at your next event by contacting him here.