Before the end of Autism Awareness Month, St. John's University held their Annual Light It Up Blue Reception where they highlighted all of the events they did throughout the month of April as part of their 5th Annual Light It Up Blue Extravaganza.
Earlier in April I took part in a keynote presentation to discuss my life on the autism spectrum at St. John's Queens Campus. When they invited me back for their LIUB Reception at their Manhattan Campus I was excited to be reunited with these amazing individuals who had helped shine a light on our autism community. When the Reception began I was overwhelmed with gratitude when Olivia Schum, Director of Student Engagement at St. John's University awarded me with their "Appreciation Award" for speaking to their university community about autism and Light It Up Blue!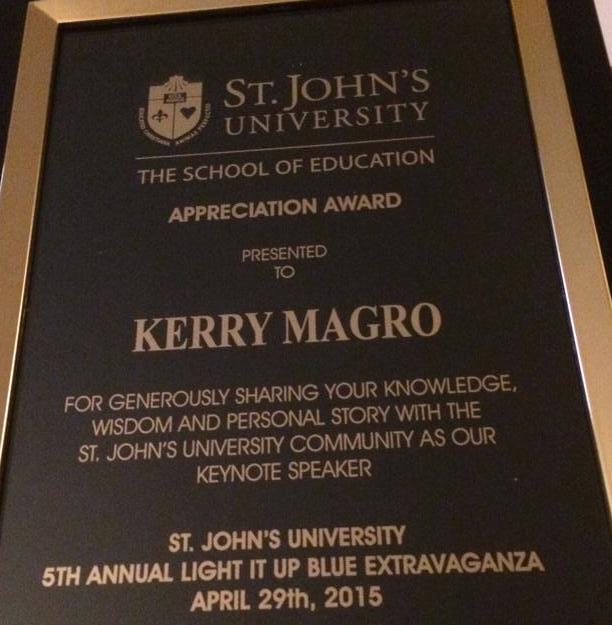 As the Reception concluded Angela Fazio, one of St. Johns' students and Co-Chair for their Light It Up Blue campaign was also awarded with the Inaugural Kerry Magro Social Media Impact Award. This award was created by Steven Neier, Coordinator at St. John's Manhattan Campus who said, 'this award is to honor one of our students, at either the undergraduate or graduate level, whose positive use of social media creates positive educational impact to The School of Education at St. John's, and to the community/world beyond." Angela who I met at our keynote earlier in April, ended up writing a blog for Autism Speaks on 12 Ways We Went Blue for Autism Awareness Month. I was so glad to see Angela receive this honor!
Congrats to @StJohnsU @StJohnsUEdu @kappaeta247 Angela, inaugural recipient of @kerrymagro Social Media Impact Award pic.twitter.com/jVYYvV2ewp

— SJU_SOE_Manhattan (@SJUEducationNYC) April 30, 2015
Thank you to St. John's University for everything they have done! Their university is a clear example of a dedicated group of individuals who are truly making an impact for those with autism through their awareness campaigns!
Looking forward to see what's in store for your Light It Up Blue Extravaganza next year!
Want to learn more about how you can spread autism awareness at your college campus? Autism Speaks has an initiative called Autism Speaks U for college students! Learn more about the program here.