This guest post is by Nicolaus Lasher, a young man on the autism spectrum who has been accepted and will be attending Front Range Community College majoring in Animation. Nicolaus is applying for the Spring 2019 Making a Difference Autism Scholarship via the nonprofit KFM Making a Difference. You can read more about the organization and how to apply for our scholarship here. You can help our scholarship program continue to help these students by making a donation to our scholarship fund here (the majority of our scholarship program is ran through donors from our community such as yourself so no matter if you could donate anything, whether it be $5 anywhere up to $5,000 it would be making a difference!).
My name is Nicolaus Lasher. I have taken a long and uncommon journey in my quest to be an animator and, eventually, a director of animated films. In my films and other projects, I aim to accurately portray and properly incorporate cultures other than my own in order to help people see the world beyond stereotypes and inspire them to fight for social justice.
It all started on April 20, 2001, when I was diagnosed with autism. Although I did not know this at the time, as I was only 22 months old, it was an impactful event in my life. We became aware of many additional challenges I had to overcome, such as not fully grasping what to do in social situations. Yet despite this, I had an imagination without many bounds, which has been a part of my identity and perspective of the world throughout my life. With help from supportive people such as my parents, teachers, and counselors, I have been able to navigate the world and jump its hurdles more easily. This helped me to eventually gain a degree of independence during my high school and community college years.
One example of a time in my life involving such difficulties occurred during my first-grade year, when I was enrolled in a private school. I was transferred there because I was assaulted by a bully multiple times in my kindergarten year at our public school, where I was integrated with my non-autistic peers. When I was transferred to this private school, a promise was made by the school administrators to allow a private tutor to support me during my school days there. However, the school reneged on their promise a week before school started, making my time there even worse than my kindergarten year.
Not only did I not know very many people there besides my sister Gillian, but I was also often punished for exhibiting behaviors such as eating erasers, playing near some mud by the athletic field, and taking rocks off the ground at recess. These times were often confusing for me because I did not find some of these behaviors wrong, despite the multiple notes given to me during class. It also negatively impacted my social life as well as my emotional health, as I was often sent to the principal's room and kept inside during recess, which limited my interaction with my peers for what sometimes seemed like an eternity. The crushing sense of isolation this gave me did very little, if anything, to curb my "misbehavior," as I perceived that the adults who punished me treated me with anger and hatred. After many punishments for this "misbehavior," many complaints from the school, and much effort from my mom to disprove these allegations surrounding me, we realized something needed to be done. We made a decision to transfer for the rest of our elementary school years, a much-needed turnaround for my health.
While still not always having a firm grasp of classroom rules back then, I was able to begin forging friendships with my peers and show my creativity. This improved my health and happiness, giving me a better perspective of the world overall and helping me feel accepted. One example of how I started to express my creativity was a "fox book" I wrote in second grade that took inspiration from another book titled Ten Silly Dogs. On the days I worked on my book, the agenda of things to do in order to receive free time was modified to include writing this story. Although I would consider my book plagiarism today, I still felt happy to be allowed to express my idea and show what I considered creativity. Another such time that sticks out in my mind surfaced in fifth grade when my class wrote stories for a creative writing assignment to add suspense to a sentence about a baby dragon hatching out of its egg. I chose to write about the egg appearing in my house's basement and my family's washing machine being a means to travel to another world. As the due date approached, I also received extra time to finish my story, which helped me to properly add detail to reflect my evolving imagination and express my creative vision.
An additional time I had to use my imagination was when I was enrolled in a Gifted and Talented (GT) program from tenth to twelfth grade. This program required me to communicate with my peers extensively and to express my opinions, despite my language-processing delay and my fear of interrupting others' thoughts, which caused me to usually share near the end of discussions. During my twelfth-grade GT research project, which centered on stereotypes found in films, particularly American animated films, I thought about ways to cast non-American characters against limiting stereotypes. With help from positive feedback from my teacher Ms. Keller, I wrote a transcript and a storyboard for a short film titled Inspire the World. I used the transcript and the storyboard in a survey to gather people's opinions on whether stereotypes of Egyptian people were present in films such as Gods of Egypt and The Mummy Returns. While doing this, my desire for social justice, which was encouraged by Ms. Keller and my peers, developed and allowed me to come up with ideas for multiple projects during my time at Front Range.
Although autism is a lifelong disorder, it is not what defines me. Rather, I define myself by my vision of the world and aspirations to fight for social justice, as well as my desire to work them into my future projects.
Follow Kerry's journey on Facebook, his Facebook Fan Page, & Instagram!
Kerry Magro, a professional speaker and best-selling author who is also on the autism spectrum started the nonprofit KFM Making a Difference in 2011 to help students with autism receive scholarship aid to pursue a post-secondary education. Help us continue to help students with autism go to college by making a tax-deductible donation to our nonprofit here.
Also, consider having Kerry, one of the only professionally accredited speakers on the spectrum in the country, speak at your next event by sending him an inquiry here. If you have a referral for someone who many want him to speak please reach out as well! Kerry speaks with schools, businesses, government agencies, colleges, nonprofit organizations, parent groups and other special events on topics ranging from employment, how to succeed in college with a learning disability, internal communication, living with autism, bullying prevention, social media best practices, innovation, presentation best practices and much more!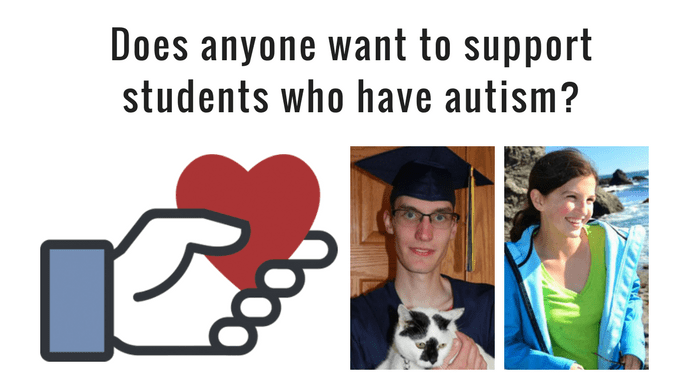 We'd also appreciate if you could take a minute to create a Facebook Fundraiser to support our nonprofit's scholarship fund! You can learn more about how you can do just that here.