This guest post is by Jacquez Johnson, a young man on the autism spectrum who has been accepted into and is attending East Tennessee State University. Jacquez is applying for the Spring 2020 Making a Difference Autism Scholarship via the nonprofit KFM Making a Difference started by me, Kerry Magro. I was nonverbal till 2.5 and diagnosed with autism at 4 and you can read more about my organization and how to apply for my scholarship here. I'm trying to make this nonprofit self-sufficient so I can make this my full-time job supporting the special needs community and would appreciate you taking a minute before reading on to watch the video below to see why this cause is important to me. I hope you can support my nonprofit like I'm trying to support these students with scholarship aid for college. We also do video interviews to highlight people impacted by a diagnosis which you can see via the video below. Learn more on how you can help our nonprofit here.
When I found out I was diagnosed with autism at the age of 14 years old, and I felt like it is going to impact my life negatively. But turns out, it's more of an award than a crutch because my disability helps me overcome the odds. I passed through all the biggest challenges in high school, including the job market, achieving Eagle Scout, and my animation work. And even though those subjects are basic achievements for regular people, for an autistic person, it is really a big accomplishment and I will show you.
I was raised in Memphis, Tennessee where is not really heavily populated by people with the autism spectrum because the population is mostly African American. During my time at high school, my faculty did not provide any support or service for people with autism. My fellow classmates would put the blame on me for every little thing I did wrong or pick on me because of my behavior. But I chose to ignore all the comments my classmates said about me and focus on my schoolwork and clubs instead. And because of that, I was able to bring the awareness of autism to my school by creating a Public Service Announcement about autism and being interviewed with my local news station for my involvement by creating a puzzle poster board where people sign their name to show support, while I keep up with my grades. I was also a part of the National Honor Society in my senior year of high school. In fact, I was the only student who graduated in the top ten percent of my class with autism and it was a big deal at the time. It shows how far I came as a freshman to a senior in high school.
On the job market or a least in part-time or internship positions, getting a job is one of many tasks that is hard to receive, but I was able to have multiple positions. During high school, I worked at Hardee's from my sophomore year of high school until the end of my senior year. Then I applied to a bowling alley called "Andy B's" for a higher responsibility. I also applied for a paid internship called "Memphis Music Initiative" and in complete excitement, I got the position during my junior year of high school. Not only am I getting paid, but I am also receiving scholarship money for my involvement in the company. And now I am working at an art gallery at East Tennessee State University as a Financial Work Study student. With all those jobs I applied for at a younger age, I was given much more confidence in myself and was also given job experience to help me further my goals. By working with fellow co-workers, my communication skills in the job market also improved, building my leadership goals in the future.
Speaking on leadership goals, I was a part of the Boy Scouts of America from the age of 13. Boy Scouts live up to the motto, "be prepared" and follow the Scout Oath and Law which I keep saying over and over again. The top award a Boy Scout can receive is the Eagle Scout Award which can be earned by doing a project that can benefit the community and present it to the Eagle Board of Review. At first I was I little afraid that I might be rejected, but I overcame my fears and went for it. The project took about a year and a half of planning, raising money for supplies, materials, and food for the troop, but we managed to finish the project and present it to the board. Receiving the rank of Eagle Scout is a rare honor by people joining Boy Scouts, but an African American male with autism received a rank that is the highest any Boy Scout can receive, and it can also look good on my resume. But that is not the real project I am working on.
In the summer of 2019, I have an idea that can bring awareness to the whole world through animation. I started created a show where people have incredible powers who are autistic but help save the world and help people by stopping world threating villains. The show will show a lot of fun stories and share a deeper meaning about autism. I may not have a major in animation, but I have the knowledge and the motivation of creating an animated show to show people my hard work and awareness in the autistic community.
Living a life as an autistic person was really rough for me due to the fact I may look like an outsider to my own race, but all of that doesn't matter. I went on plenty of trials at high school, had a lot of job experiences, was promoted to Eagle Scout, and started off my future in the right direction.
Join us during World Autism Month by RSVPing here for our 'A Night For Celebrating Our Autism Community Virtual Event' on April 20th where we will be spotlighting several members of our autism community like our scholarship applicants!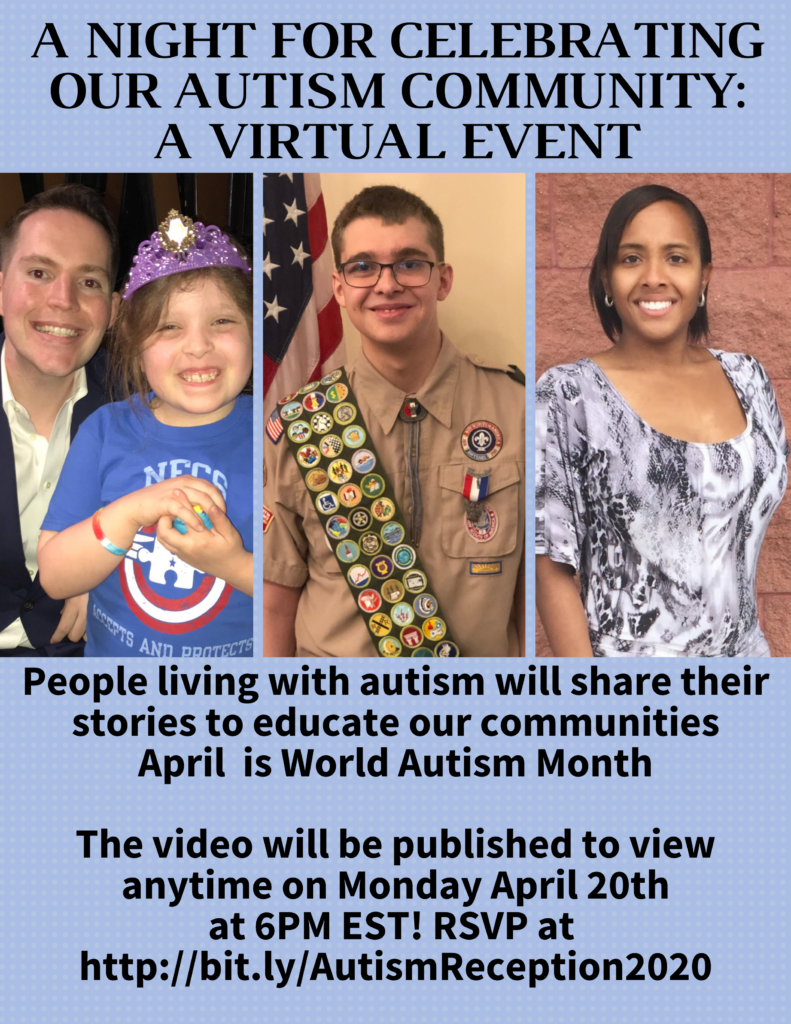 Follow my journey on Facebook, my Facebook Fan Page, & Instagram!
My name is Kerry Magro, a professional speaker and best-selling author who is also on the autism spectrum that started the nonprofit KFM Making a Difference in 2011 to help students with autism receive scholarship aid to pursue a post-secondary education. Help support me so I can continue to help students with autism go to college by making a tax-deductible donation to our nonprofit here.