This guest post is by Trey Alvelo, a young man on the autism spectrum. Trey has been accepted and will be attending Emory & Henry College in the Fall. Trey is applying for our Summer 2017 Making a Difference Autism Scholarship via the nonprofit KFM Making a Difference. You can read more about the organization and how to apply for our scholarship here.
My name is Trey Alvelo, and I have just graduated from Hargrave Military Academy this spring. I have been accepted and have enrolled at Emory & Henry College in Virginia. I will major in History and Political Science. I know I wouldn't be where I am today if it wasn't for the mentors I have had in my life. My teachers at Hargrave have helped me learn to think for myself and get out of my comfort zone. I use to be very uncomfortable working in groups because of my autism. I am now able to work in groups as a result of the time and effort the teachers have put into helping me participate, encouraging me to join in and cheering me on. I am thankful for the teachers I have had who were able to expand my knowledge, who were able to help me when I needed it. They also taught me how to study and how to do well in class and around others. These are all challenges for kids with High Functioning Autism.
I am thankful for scholarships like KFM Making A Difference for opening up the possibility for students like me to continue my education' KFM Making A Difference is proof that even with autism that we can be a benefit to society just like everyone else can, no matter who they are or what they have been labeled with. These scholarships allow me to speak out and do something with my life without feeling shame from a negative label. I can be proud that I have High Functioning Autism and help others to stand up straight and be proud for who they are. I want to also show people that kids with differences or disabilities can set goals, work hard and achieve great things. I have learned that I can fit in with everyone else without being labeled as "special" or separated socially because of who I am. I feel like I have brought who I am to Hargrave. I was a big help to the yearbook group two years in a row. I also made friends who could depend on me for help when they got stuck in Computer Science for example. So I believe I can do the same when I go to college this fall and for the next four years.
When I do go to college I have a good idea of what I want to do. I have a plan knowing where and who I can go to help if I need it. In the past I was labeled that I couldn't do any of this on my own. After my high school career, I feel like I have grown and can do anything unlike any time before going to Hargrave. I will be able to bring out who I am and meet new people that could hopefully continue to influence my life. The KFM Making A Difference Scholarship can help me to achieve even farther into my future as I major in what interests me most. I want to be useful to people without letting my autism limit my possible potential in the future. This is how I want to make a difference in college and in my life.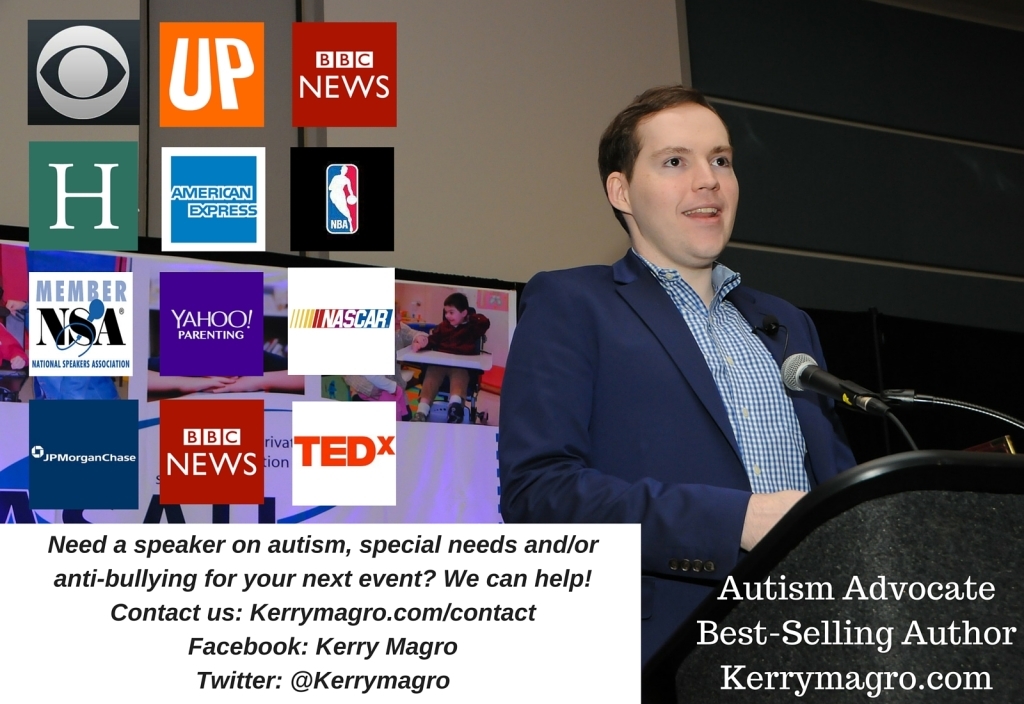 Kerry Magro, an international speaker and best-selling author started the nonprofit KFM Making a Difference in 2011 to help students with autism receive scholarship aid to pursue a post-secondary education. Help us continue to help students with autism go to college by making a tax-deductible donation to our nonprofit here. Also, consider having Kerry, one of the only professionally accredited speakers on the spectrum in the country, speak at your next event by contacting him here.