This guest post is by Michael DeMelfi, a young man on the autism spectrum who was accepted into Seton Hall University's College of Education and Human Services where he will be majoring in Education and Music in the Fall. Michael is applying for our Spring 2018 Making a Difference Autism Scholarship via the nonprofit KFM Making a Difference. You can read more about the organization and how to apply for our scholarship here. You can help our scholarship program continue to help these students by making a donation here (the majority of our scholarship program is ran through donors from our community such as yourself).
I was diagnosed with PDD NOS before the age of three. The transformation that I have made from diagnosis till today makes me so proud that at times I do not have words. I hope that where I started to where I am today will inspire anyone on the spectrum that great things are possible for you!
I've struggled with plenty of everyday difficulties in my life: conversing with friends, advocating for myself, and speaking my mind. I struggled with writing this essay because I know what I want to say but can't quite convey it. Picture this, fourteen years ago, I was a toddler on my first day of YMCA camp. I was a small and shy kid who found it tough to make friends or even say hi. I would sit and watch kids pass wanting to reach out but not sure how to do it. Then after several years of participating in YMCA camp, working with special education professionals in school and attending different therapies; Adventure Camp at the Randolph YMCA happened and it felt like a whole different ballgame. I was as nervous as I was on every first day of camp in years gone by, but on this day, I felt a spark in me; something made me feel a bit more confident and less nervous. I felt that I was beginning to overcome my struggles and as time went on, I found myself wanting to lead.
In 2015 and 2016 I served as a Counselor in Training (CIT) at the Randolph YMCA and the past summer of 2017 and upcoming summer of 2018, I will serve as a full-time YMCA summer camp counselor. These roles were a significant step in my life because I went from being a participant and sitting on the sidelines at times to learning how to be a leader and what that means. My evolution throughout my camp experience took me on a journey from not knowing what to do to leading young campers and was the start of a whole new way for me to go about my life. To me, knowing what I was like as a toddler and elementary school student, and how far I have come, this achievement is important to me and one of the reasons I am looking towards education as a career.
This spark in me has carried into other aspects of my life. One of the most important is my participation in the high school marching band. In the past, you wouldn't find me on the field in front of so many people for a performance. But my newfound confidence enabled me to sideline the nervousness and apprehension. I was selected as section leader for the sousaphones in my junior year and was appointed drum major for my senior year. Think about this, a person with difficulties in speaking up and leading was now in fact, leading! Marching band today is what I like to call a second family. For the last four years, I have been with the Randolph Marching Rams representing our high school proudly.
This change in me also carried into my officiating career for youth recreational basketball. I wanted to referee but was quite nervous in taking on this forward-facing role. Speaking up, articulating what I want to say was not my strong suit and couple this with a pressure-based environment, I was afraid that this would be a recipe for disaster. But with each game, I have become less hesitant with the majority of my calls. Blowing the whistle to stop play knowing I will need to explain to coaches, fans, and players the current situation is now something I do with assertiveness. Now, when I have a game scheduled, I
walk in with enthusiasm knowing that all I can do is my best when explaining different situation that comes up and make tough calls without hesitation.
The last aspect of my life that was affected was school. In elementary school, as I note above, I was typically shy and reserved. Along with Adventure Camp came middle school and a time when I was starting to use the tools I have learned in classes and therapy. As I headed into high school I found the self-assurance I needed to perform better in the classroom. I became more outgoing in all my classes and I was more social with everyone. It is a great feeling not only for me as a person, but it also strengthened my self-esteem and academic abilities allowing me not only to participate in class but to lead fellow students. High school was a big step for me to make the most of this change and I took that step quite smoothly making my high school experience much more enjoyable in every way.
I never thought that such a spark could lead to having a major impact on my life. As a result, advocating for myself, sharing my thoughts, and enhancing my relationships with others have truly made everything better and helped shape who I am today.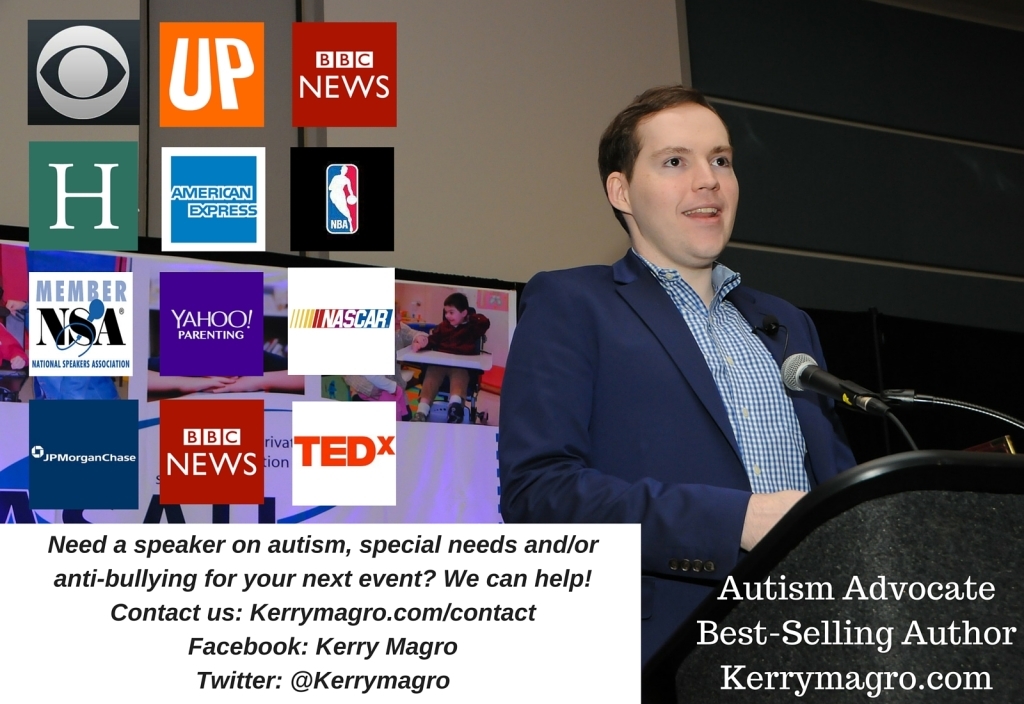 Kerry Magro, a professional speaker and best-selling author who is also on the autism spectrum started the nonprofit KFM Making a Difference in 2011 to help students with autism receive scholarship aid to pursue a post-secondary education. Help us continue to help students with autism go to college by making a tax-deductible donation to our nonprofit here. Also, consider having Kerry, one of the only professionally accredited speakers on the spectrum in the country, speak at your next event by contacting him here.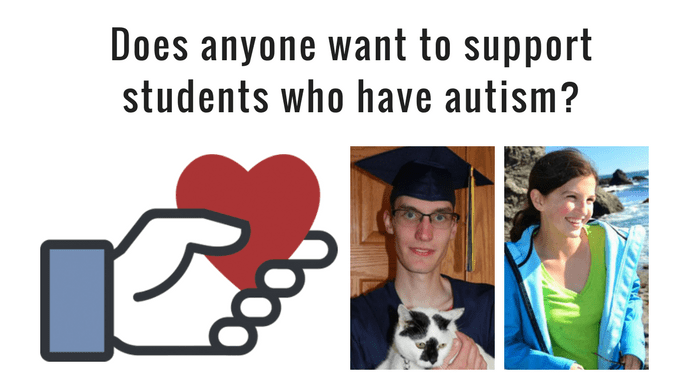 We'd also appreciate if you could start a Facebook Fundraiser to support our nonprofit's scholarship fund! You can learn more about how you can do just that here.