This guest post is by Ryan Brazinsky, a young man on the autism spectrum who is graduating from high school in Spring 2019. Ryan is applying for the Spring 2019 Making a Difference Autism Scholarship via the nonprofit KFM Making a Difference. You can read more about the organization and how to apply for our scholarship here. You can help our scholarship program continue to help these students by making a donation to our scholarship fund here (the majority of our scholarship program is ran through donors from our community such as yourself so no matter if you could donate anything, whether it be $5 anywhere up to $5,000 it would be making a difference!).
Booker T. Washington said, "Success is to be measured not so much by the position that one has reached in life as by the obstacles which he has overcome". My greatest obstacle has been part of my life even before I could read and write. I didn't always understand it but every day I wake up and challenge myself to overcome a life of adversity rooted in society's discrimination based on disabilities. At 6 months old, I was diagnosed with pervasive developmental disorder not otherwise specified (PDD-NOS) and it quickly became apparent I dealt with obstacles from ASD and Combined Type ADHD.
As early as elementary school, I certainly didn't understand the complexity of the Autism Spectrum Disorder diagnosis, but I do clearly remember being excluded from activities as other kids perceived me as different and odd. My significant challenges with expressive speech made it difficult to make friends and I was constantly being judged without anyone knowing there was an underlying cause to my behaviors. Few people, adults or kids alike, took the time to get to know me or understand my daily struggles. It was easier to assume I was just one of those kids with quirks.
In middle school I was subjected to bullying and ridicule, not just because of my mannerisms but due to my social skills deficiency, as well. We are taught by society to follow the process, complete the steps which will lead us to the correct answer. Whether it was math, reading, writing a paper, working in groups, art, music or even playing at recess, I didn't understand that I interpreted the world around me differently. The steps I took were unique, uncommon to most, and the path I followed was typically walked alone.
Luckily, when I started High School, I discovered my passion for playing the baritone. As a musician, my involvement in concert band helped ease some of the daily stresses in trying to find my place of acceptance. A common interest in music provided inclusivity with a select group of students who took the time to understand me and appreciate me for who I really was. I slowly began to recognize, appreciate and embrace my differences. I became aware that looking at the world differently is an asset and not a liability. As I typically don't follow the crowd, I've learned to respectfully voice my opinion and ideas while educating the people around me. I've discovered I analyze and visualize solutions others cannot; including patterns, relationships, or more efficient approaches especially in my advanced mathematics classes. My friends and teachers respect my unique thought processes understanding this may lead to solutions not considered.
Growing up with ASD means I learn differently but I've embraced being true to myself with my strengths guiding me to set higher goals without limitations. I am proud to declare that even though I struggle every day with multiple disabilities, I have overcome adversity and proven that I am more than my diagnoses. While maintaining a 4.0 GPA in High School I am also a proud member of the Marching Band, Concert Band, Pep Band and Wind Ensemble and have even held the Baritone Section Leadership position. Following my passion, I have also completed AP courses in Math and Physics. While outside of school, I have studied Shaolin Kempo for many years and proudly obtained the rank of third-degree brown belt.
I know that I will always deal with obstacles due to my autism, but during these past four years, I have witnessed my peer's acceptance of me, watched them respect my strengths and help me with my weaknesses. I've grown from this acceptance and watched the differences between us fade. My learning differences have allowed me to appreciate that all people have individual strengths which should be celebrated and embraced.
Kerry Magro, a professional speaker and best-selling author who is also on the autism spectrum started the nonprofit KFM Making a Difference in 2011 to help students with autism receive scholarship aid to pursue a post-secondary education. Help us continue to help students with autism go to college by making a tax-deductible donation to our nonprofit here. Also, consider having Kerry, one of the only professionally accredited speakers on the spectrum in the country, speak at your next event by sending him an inquiry here. If you have a referral for someone who many want him to speak please reach out as well! Kerry speaks with schools, businesses, government agencies, colleges, nonprofit organizations, parent groups and other special events on topics ranging from employment, how to succeed in college with a learning disability, internal communication, living with autism, bullying prevention, social media best practices, innovation, presentation best practices and much more!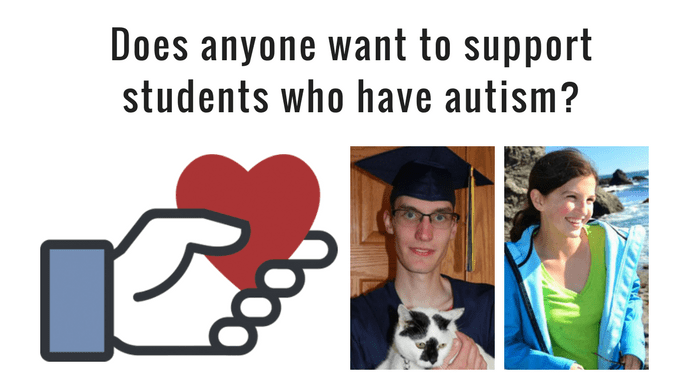 We'd also appreciate if you could take a minute to create a Facebook Fundraiser to support our nonprofit's scholarship fund! You can learn more about how you can do just that here.