This guest post is by Georgia Wells, a woman on the autism spectrum. Georgia attends Richard Bland College. Georgia is applying for our Summer 2017 Making a Difference Autism Scholarship via the nonprofit KFM Making a Difference. You can read more about the organization and how to apply for our scholarship here.
I have been working hard this past year toward completing my associate's degree at Richard Bland College. I have completed classes every summer too. I have one year left to go. There have been some struggles but I have not given up and I have taken advantage of many resources at the college too.
On Spring Break, I went on a mission trip with a group of students. We worked to help improve the grounds at The Belle W. Baruch Foundation in South Carolina. Our work will help the ecology and management of the natural resources of the coastal region of South Carolina.
This summer, I have been volunteering at local equine therapy riding programs and other horse farms. I tried to get a job for the summer but I was never hired for a job. I had over 15 interviews for summer jobs. I hope my volunteer jobs this summer will help me to get a job after graduation. I want to become more independent and not live at home my whole life.
I want to have a place to live of my own so that I can have a home and a kitchen where people can come to visit. I want to be able to make a meal for them in my own house or apartment. Maybe one of my sisters and I can find a place to share.
After college, I want to get a license and learn how to drive so I get to work or the store. I ride the bus now, but one day I might be able to drive.
Someday, I want to find a job working with animals. This summer I registered to volunteer for Equi-Kids Therapeutic Riding Program, Calypso Run Farm, The Norfolk Zoo, and Virginia Beach Police Department in the animal control and adoption center. I love animals. They only care that I love them and can take care of them. They don't care that I have Autism and might not be great at talking to people. I will volunteer again over the holidays when I am home this winter. I also hope to volunteer for the Virginia Aquarium next summer, if I can't find a job. I will also volunteer, even if I have a job too.
Living at Richard Bland College helps me get to my classes, the cafeteria, the library, the gymnasium, activities, clubs, and get extra help. There are no excuses when you are able to live on campus. I have been doing more on campus and trying to get better with my social skills. This fall I will take a public speaking course. I am nervous but I hope my teacher can help me with my social and communication skills so I can get hired for a job.
This scholarship will help me pay for school and hopefully I will not owe too much money when I finish school. I am working hard and doing my best so that I can have a successful future.
I currently have a 2.5 GPA and am proving to all the doubters that I have potential, and can be successful. Some people thought it was a waste for me to even think about going to college. One teacher in high school said I would be lucky to graduate from high school. She was just too mean. I am working hard to prove her wrong. I even doubt myself at times.
My goal is to complete my associate's degree from Richard Bland College by next spring and then look for a job. I may continue for a bachelor's degree later but I am working toward this goal right now. I probably won't be a therapist or a counselor, but the Equine Therapy certificate will help me get a job on a horse farm or maybe work with some type of pet boarding. I have enjoyed working with horses a lot this summer.
I plan to apply for jobs soon that will start after graduation. I would like to work at a horse farms or horse camps that helps people interact with animals. I want to earn money for myself but I want to work and help animals and help people too.
I want to work and contribute and pay my way in life and do the best I can to have a happy and successful life. This scholarship will be helpful in helping me to make my dreams come true to be a college graduate and have potential to life a happy and successful life.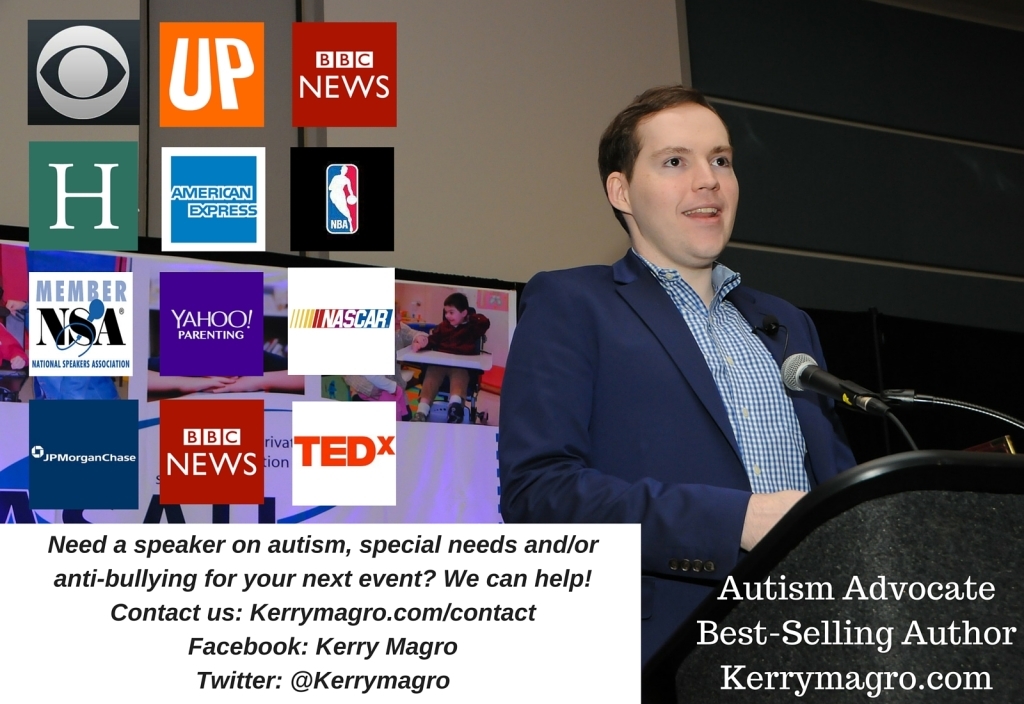 Kerry Magro, an international speaker and best-selling author started the nonprofit KFM Making a Difference in 2011 to help students with autism receive scholarship aid to pursue a post-secondary education. Help us continue to help students with autism go to college by making a tax-deductible donation to our nonprofit here. Also, consider having Kerry, one of the only professionally accredited speakers on the spectrum in the country, speak at your next event by contacting him here.