This guest post is by Andrew Bergantz a young man on the autism spectrum who was accepted into the Washington University in St. Louis. Andrew applied for the Spring 2018 Making a Difference Autism Scholarship via the nonprofit KFM Making a Difference. You can read more about the organization and how to apply for our scholarship here. You can help our scholarship program continue to help these students by making a donation below (the majority of our scholarship program is ran through donors from our community such as yourself so no matter if you could donate anything, whether it be $5 anywhere up to $5,000 it would be making a difference!).
T minus eighteen years and counting.
When I was a toddler, my parents had no idea what was going on with me. I screamed at my neighbors when they tried to greet me, I lined up ABC blocks in order from A to Z, and instead of saying "yes" or "no" to my parents when they asked me a question, I responded with lines from 101 Dalmatians. I was a mess.
In April 2003, my parents took me to several medical appointments, where the doctors had a varying range of answers. A neurologist eventually diagnosed me with Autism Spectrum Disorder. He gravely shared that I would never play team sports, figure out social situations, or have any lasting relationships with friends.
T minus fifteen years and counting.
At the age of three, my passion for space exploration took over my life. My whole bedroom was space-decorated. When the lights were turned off, glow-in-the-dark stars twinkled on my bed, my curtains, and even my bedroom ceiling. My kindergarten science fair project was an observation of the moon's position in the night sky through a paper towel tube. In my third grade birthday party at the Challenger Learning Center, all party-goers participated in a "comet discovery" simulation. In my fourth grade Famous Missourian project, I became a wax-museum imitation of the astronomer Edwin Hubble. To say I loved space was an understatement.
As my love for space developed, so did my chance to live a normal life. Despite what the neurologist had initially told my parents, they were determined to prove him wrong. Our hard work coupled with years of behavioral therapy and medication changed my life. In addition to my parents, many dedicated therapists, patient teachers, and other loving adults gave me the chance to thrive and develop.
T minus seven years and counting.
In spite of my progress in my public elementary school, the social world around me was overwhelming, so I transitioned to a smaller private secondary school. Yet, even as I tried to make friends, I faced significant challenges. I always followed rules because, logically, it did not make sense to disobey them. When other classmates made decisions like cheating on their P.E. laps or not picking up their trash at lunch, my confusion turned to anger. I struggled with impulsivity as I often blurted out answers to questions without the teacher calling on me and with anxiety as I tried to decide which friend group to sit with at lunch. These issues haunted me throughout my middle school years, creating many social difficulties for me and pushing me further into a dark, vacuum-of-space loneliness.
T minus three years and counting.
Halfway through tenth grade, I found out about an incredible opportunity called Missouri Scholars Academy. MSA is a selective and unique three-week experience for gifted rising juniors from across the state of Missouri. Every day, participants take a "major" class in the morning and a "minor" class in the afternoon. Additional events are offered in the evening, such as speakers discussing Mersenne prime numbers, Mars One astronaut candidates describing their potential trip to Mars, and even games of shogi, or Japanese chess. When I received my acceptance letter, I was elated. I was finally going to meet some people like me.
Two weeks into the program, I had not met just some people like me; I found myself connecting with more people than I ever had before.
One afternoon, one of the Resident Advisors approached me using my full name. "Andrew Bergantz, I need to talk to you." Had I done something wrong? I panicked. He took me to another room, where we were joined by the MSA director and additional faculty. My mind was racing as more anxious thoughts pummeled my brain. What is going on? Have they already called my parents? Am I being sent home?
Then, the director began to talk to me. "Andrew, every year, we ask one participant to speak to the scholar families for the MSA closing ceremony. We'd like to nominate you. This nomination is a great honor. Do you accept?" Relief and excitement swam over me. Me? Out of 325 participants, I am being chosen to deliver the speech? Even as overwhelmed as I was, my decision was immediate.
Many brainstorming hours and written drafts later, my speech was finished. The time finally came for me to present it at the closing ceremony. As the doors opened, I led the single file of gifted scholars to their seats in the auditorium and took my seat next to the MSA director. After the director and other individuals gave their introductory remarks, it was my turn to deliver my speech. I looked at the vast audience in front of me and spied the faces of my parents and other family members. When I concluded, I knew by the thundering applause of my new friends that I would treasure this moment for the rest of my life.
T minus three hundred sixty-five days and counting.
Soon, I will leave for the unknown future of college. Like every college student, I will often struggle; however, I am ready with strategies. I have discovered for myself how to interact with others, from informal conversations to true relationships. Knowing that I have proven my neurologist wrong and have successfully overcome many obstacles, I am confident that I will conquer whatever challenges I may face.
I cannot wait to blast off to college.
Kerry Magro, a professional speaker and best-selling author who is also on the autism spectrum started the nonprofit KFM Making a Difference in 2011 to help students with autism receive scholarship aid to pursue a post-secondary education. Help us continue to help students with autism go to college by making a tax-deductible donation to our nonprofit here. Also, consider having Kerry, one of the only professionally accredited speakers on the spectrum in the country, speak at your next event by sending him an inquiry here. If you have a referral for someone who many want him to speak please reach out as well! Kerry speaks with schools, businesses, government agencies, colleges, nonprofit organizations, parent groups and other special events on topics ranging from employment, how to succeed in college with a learning disability, internal communication, living with autism, bullying prevention, social media best practices, innovation, presentation best practices and much more!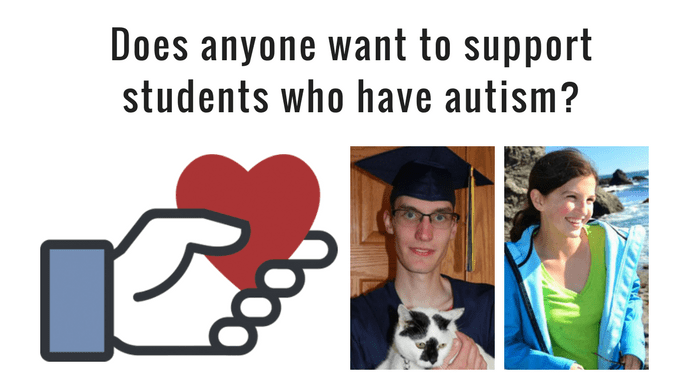 We'd also appreciate if you could start a Facebook Fundraiser to support our nonprofit's scholarship fund! You can learn more about how you can do just that here