This guest blog is from Lainie Gutterman who writes at Lainie Of Leisure. This blog originally appeared here. Interested in guest blogging for Kerry Magro & A Special Community? LEARN MORE HERE
I was somewhat hesitant and a bit apprehensive leading up to our trip to Disney World over President's Day Week. I needed to be realistic that my five year old daughter on the spectrum's idea of a fun trip to the Magic Kingdom would be very different than most little girls, as well as myself. So no salon appointment at The Bibbidi Bobbidi Boutique (which was nearly heartbreaking for me, but so would be going with Greenlee)
I headed into the trip with extremely low-expectations so that I wouldn't be overly disappointed. In fact, for my husband, future trips that required air traffic remained uncertain until he saw how my kids handled Disney World.
I read posts on Disney Facebook pages about families receiving "pixie dust." One family was selected to be the Grand Marshalls for the day in Magic Kingdom and got to ride on a float in the parade. (How fantastic is that?!) I knew we had no shot in h*ll for an opportunity like that because instead of being enthusiastic and appearing Disney-obsessed, we might be dealing with major meltdowns or who knows what else.
This was the first time checking into the airport with our now nine year old son Ian who is also on the spectrum that he did not have a tantrum. Having flown several times, I think he's fully aware of what happens at an airport and no longer became overly anxious. We had a smooth flight to Orlando, Ian was excited to board the Magic Express Bus and aside from not having the necessary tag for our bags for Magic Express which stressed my husband, our trip was off to a wonderful start. (Especially when our bags magically appeared in our room later)
We did visit all four parks, as well as Disney Springs and hotel hop to Polynesian, Grand Floridian and Disney Boardwalk. I posted a lot on social media about our favorites at every place. I encourage you to check out my Instagram page Lainie of Leisure (hashtag #teamgdoesdisney).
Far and away our favorite park was Epcot. It was less crowded than MK, there was a good balance of both fun rides (Figment of your Imagination which we rode two times in a row and The Sea with Nemo) as well as culture (it was also The Arts Festival) and good food (one of my top priorities when it comes to travel, or actually life itself)
But really the #1 reason nothing could top Epcot is because of the characters. Ian was so excited to meet Ralph and Vanellope that he had no trouble standing on an extremely long line. (Scott and Greenlee even left us to make it to the next Frozen Fast Pass). After a satisfying lunch, the kids enjoyed ice cream in France. Scott was becoming cranky because of the sun beating down on us and for being on the go non-stop for three consecutive days (our rest/pool day wasn't until the following day) While posing for some professional Memory Maker photos, I noticed an area with a bunch of characters. So of course, I had to take the kids and myself  there. Ian was almost unrecognizable on this trip. I have never seen him being so affectionate, hugging and kissing all of this random characters who weren't even ever a part of his childhood. (My kids watch Nick Junior rather than anything Disney)
It's one thing for you as the parent to enjoy and get a kick out of your child. It is quite something else, when strangers take notice of your child and recognize their incredible talents. While waiting in line to meet one of the characters, Ian began talking to a cast member named Nicholas. He told Nicholas what day of the week his birthday would be taking place on this year.
Nicholas was so moved by his "calendar memory abilities" that in a matter of minutes, he arranged a private meet and greet for Ian with Mickey, Donald, Daisy, Goofy, Max and Baloo.
When Nicholas asked if we could stay for some "magic," I assumed there was going to be a magic show for a bunch of kids. I had a smile from ear to ear and was shaking. I turned to Scott with tears of joy streaming down my face. I posted the following on Disney World's Junkies Facebook page which received over 2.5K likes from strangers in only a few hours:
OMG…Disney Pixie Dust is magical! A cast member was so impressed by autistic son's "calendar memory" that he arranged a PRIVATE meet & greet with the Disney characters!!!! Tears of joy streamed down my face
It's so wonderful when everyone shares in your happiness. Many moms asked for tips about taking their children on the spectrum to Disney. Others wanted examples of Ian's calendar memory abilities*.
We did register for the Disability Service Pass, but had no reason to use it thanks to fast passes and good advance planning and not having unrealistic goals of doing and seeing everything at each park. I must commend Disney not only what they did for our family, but how they really try to go above and beyond for all types of individuals. Since returning home, I have learned about many other "pixie dust" experiences for those with autism or even typical toddlers who have had an accident in the park.
As a result of this wonderful trip, Ian has changed what he wants to be when he grows up from a MTA blue bus driver to a monorail operator and a Disney bus driver. One operator told us the required age to operate the monorail is 18 so of course now I'm already looking into Disney college programs for Ian in eight years.
I hope this post inspires others with children with disabilities to take that trip and go outside your comfort zone. This vacation was just what Team Gutterman needed. We are all better off for it, both in the short-term as well as the unforgettable memories we all made together. (Thanks Scott, for agreeing to many more trips in our future)
And Greenlee, I promise I'll take you back for the Princesses, if or when you're ever ready. In the meantime, you just remain my own Little Mermaid and Sleeping Beauty.
*Regarding calendar memory, here's a very brief overview as it pertains to Ian:
For at least the last six months or so, when Ian meets someone, he will ask them what their name is and follow-up this question with when their birthday is. Within seconds of being told the birth date, Ian can tell us what day of the week the person's birthday will fall out on in 2018 or 2019. Shocked and extremely impressed, I did some research and learned that Ian has "calendar memory" which applies to 10% of the ASD population and only 1% neurotypicals.
Obsessed with the NYC MTA buses, Ian has memorized all the lines and stops. He can recognize the "local" from the "select" (his preference) miles away. He talks to the bus drivers and grills them about which bus lines they drive. On the M15, he seriously knows every stop between E125th Street to South Ferry.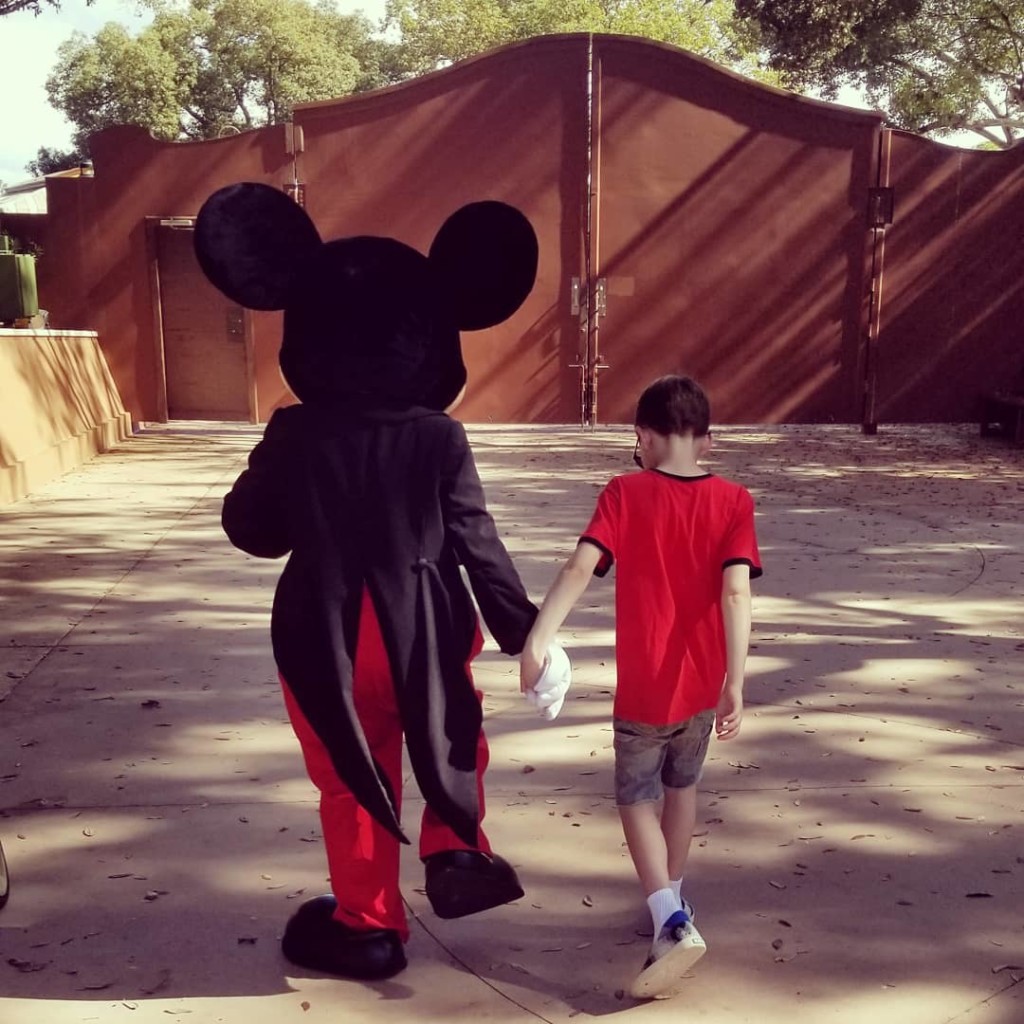 Ian also memorizes television and movie release dates. When told Mickey that he tuned 90 years old last November and the release dates for Lion King, the movie, Dumbo, and many other Disney movies, Nicholas responded, "You know more about my boss and my company than I do."
Interested in guest blogging for Kerry Magro & A Special Community? LEARN MORE HERE
Welcome to my website where you'll learn more about my journey from nonverbal autism to professional speaker, among other things impacting our diagnosis community! You can follow us on Facebook, our Youtube Page and subscribe for exclusive content.