This guest post is by Gavin Ritchey, a young man on the autism spectrum. Gavin is attending Michigan Culinary Institute at Baker College and is majoring in Culinary Arts. Gavin is applying for our Spring 2017 Making a Difference Autism Scholarship via the nonprofit KFM Making a Difference. You can read more about the organization and how to apply for our scholarship here.
When I was born in Fort Carson, Colorado, I was diagnosed with autism. In my childhood years, I had a hard time accepting my differences and using them to my advantage. For years, I had to receive help from my parents and teachers on how I can learn better in school and how I can use my differences to help me make it in life. In my toddler years, I was doing things that a normal baby could not. I was able to hold a book the right way instead of holding it upside-down. I can stack blocks up in numerical order, sort them by colors, and even recognize the pictures on them. I was pretty much an intelligent baby, but after a few years, I was only starting to embrace other talents that makes me different from everyone.
When I turned five, I started getting into this habit in memorizing movies, which is an unusual talent for someone to be born with. I can watch all kinds of movies over and over again, until I can remember every line from every single character. I can also mimic an actor and sometimes an actress's voice, so when I copy a movie, I can act it out like I'm doing a drama club production. While growing up, I also started getting into my first and favorite subject: art. Now everyone learns how to draw in preschool, but not the way I learned. I can visualize an object in a house or a Disney character and I draw them without using step-by-step drawings books. Eventually, after taking art classes in 3 different schools, I became an artist. But during my years in school, the major problem I still face is learning the materials in all of my classes. I was born with an intelligent brain but I because I have Asperger's, I am not able to understand things the same way like everybody else.
When I was in seventh grade, I had difficulties with understanding how to answer some simple math problems. So in order for me to get the material right, I was introduced to tutors, who helped me figure out the problems. They taught me how to take notes down, which has helped me a lot. It even helped me while starting out in high school, but I would still not understand any new material. So I received help from other tutors, and I worked hard to get good grades on my assignments and pass my classes. While growing up, the one thing that is tough for me to handle is understanding what people say when I'm told to do something. I can understand what they're saying, but the way I am processing the words though, makes it irritating to live with. Another thing about me that I still struggle with is making sense when I speak, pronouncing the words correctly, and even writing an essay. I can sound out the words when I see it on a book or a sign, but I still can't pronounce it correctly. Also when I talk, I move my mouth in a fast pace, so I don't stop and think before talking.
So after sharing everything that makes me different, my life has been having some ups and downs, but I do learn from them at the end. I am happy to say, I am very proud of who I am and my differences have made me very special, but we are all special. I would never change myself, nor should anyone else, because people appreciate us for who we are. I have accomplished many things that I never thought I could achieve because of my Asperger's, but I did the impossible. I did all those things because my family, my friends, even I believed that I can do it. All of those who are just like me in the autism community, I invite you to share your differences to the world and let everyone know that we are all special in our own ways. After hearing about this scholarship and that it wants to share my story with the world, I feel that people will be inspired by my essay.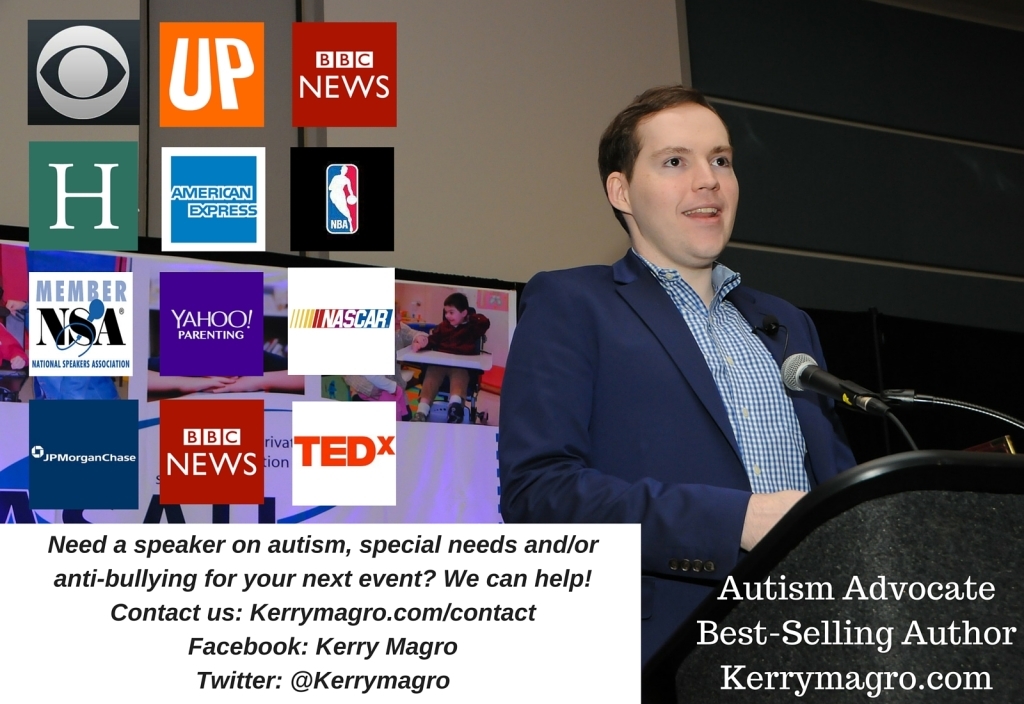 Kerry Magro, an international motivational speaker and best-selling author started the nonprofit KFM Making a Difference in 2011 to help students with autism receive scholarship aid to pursue a post-secondary education. Help us continue to help students with autism go to college by making a tax-deductible donation to our nonprofit here. Also, consider having Kerry who travels around the country speaking about his journey on the autism spectrum at your next event by contacting him here.