This guest post is by Joshua Mack, a young man on the autism spectrum. Jared is applying for our Spring 2017 Making a Difference Autism Scholarship via the nonprofit KFM Making a Difference. You can read more about the organization and how to apply for our scholarship here.
Would you believe it if I told you that I have conquered multiple disorders throughout my life? What if I told you that the nature of these disorders should have kept me from successfully moving through elementary school, even though I am currently a senior in college?
On December 22, 1992, at 2:34 pm a seven-pound little boy was born to proud first-time parents Shirlene and Joseph Mack. Little did they know the challenges that they were going to face as a couple and new parents. All the "normal" things took place, like first words, steps, and a birthday. However, around eighteen months old, life was taking them down another pathway.
At eighteen months old, I started losing the ability to communicate, my social skills and cognitive abilities began to diminish, and I had odd stereotypical behavioral issues. They sought out professional advice, assessments, and examinations, but were told that it was not unusual for boys to regress in their development. However, I eventually became diagnosed with Complex Partial Seizures at four years old, March 1997 and then on October 3, 1997, two and a half months before my fifth birthday; I was finally diagnosed with Autism and later other disabilities. Nevertheless, my parents addressed these concerns with speech and language, aquatic, occupational sensory integration, music, play, vision, and auditory integration training therapies. My mother gave up her career as a registered nurse to involve me in an intensive ABA Program in our home for forty hours plus a week that she named "Treasures of Hope and Faith." I was homeschooled for my preschool, first, second, and latter half of my fifth-grade years, as well as my sixth and seventh-grade years.
I had to overcome many obstacles related to my disability, such as loss of my understanding of language and speech, eye contact, repetitive movements like rocking, spinning, hand flapping, turning the light switch on and off. Additionally, I watched the ceiling fan spin for extended periods of time and watched the steam rise from boiling water. I spent time lining up objects, spinning the wheels on my trains, I sprinkled sand along my peripheral vision and was unable to tolerate large groups of people. I was extremely sensitive to sounds, touch, taste, texture, and could not tolerate water touching my body. My parents decided that one of the goals for me was to be able to function in the "normal" society when they were no longer around. However, I am glad to say they are still here with me. Therefore, they exposed me to everything that I had a hard time tolerating. They never took "no" for an answer from me, teachers, professionals, etc. I am so happy that they did not give up on me because I know this to be true because my younger sister was diagnosed with PPD NOS at around the age of three.
I communicated by pointing at things and making sounds. To grow off of this, my parents and speech therapists taught me basic sign language, so I would have another way to communicate. Also, I used a picture exchange system and social stories as time went on for communication. I also repeated people's words like a parrot. As I matured, my parents brought a Crespeaker Maxx and a portable one for me to use to help me communicate with others. I had to use an FM Auditory training device, which I still use today in college.
It was evident to my parents that trains were an obsession and molded and guided it into a passion and now it is my career path as a Civil Engineer specializing in Design and Constructing Railway Systems. In Spite of my Autism, my parents have always instilled in me the belief that anything is possible as long as I knew where my strength came from and believed in myself. I was never told that I could not do anything; however, instead, it was instilled in me that the more you practice, the better you get at whatever goal you set to achieve. Was it easy? No, I have had to overcome numerous challenges. As a result, I have experienced success every day of my life.
Some of my accomplishments are being a member of Fort Dorchester High School (FDHS) Strings Orchestra for four years, and in my senior year I performed with the College of Charleston Orchestra. I believe that is a result of music therapy from when I was younger. I volunteered as a student teacher assistant with the Dorchester District II School's Gifted and Talented Education for Artistic Youth Program; this was a program that I was a part of third-fifth and eighth grades. I was a student member of the FDHS FIRST Robotics Team 342 as a mechanical/electrical engineer subteam member. I was Patriot freshman of the year in high school. I have received academic and music awards in high school. The most remarkable success in my life is my relationship with Jesus. My parents were told that I would never understand the concept of God or Jesus. Also, I would probably be institutionalized by my teenage years. However, I developed a relationship with Jesus, and this has led to me experiencing academic success throughout my education and positive relationships with others.
I am now a Senior at the College of Charleston and continue to have the support of my family. I have not had any seizures, since my freshman high school year. I had to overcome numerous obstacles, but I continue to keep the "Faith" that all things will work out for me. Additionally, I am very much aware of the possibility that Autism still may continue to affect my cognitive abilities. However, deep in my heart, I believe if I take what my parents have instilled in me that I will continue to have success in life, in spite of the Autism. I continue to educate myself about my disabilities, and I have a support system in place. I now attend College of Charleston as a student in the African American Studies and Music program. It will give me an opportunity to go to college and have my support systems nearby. I hope to inspire other individuals on the Autism Spectrum to believe that anything is possible.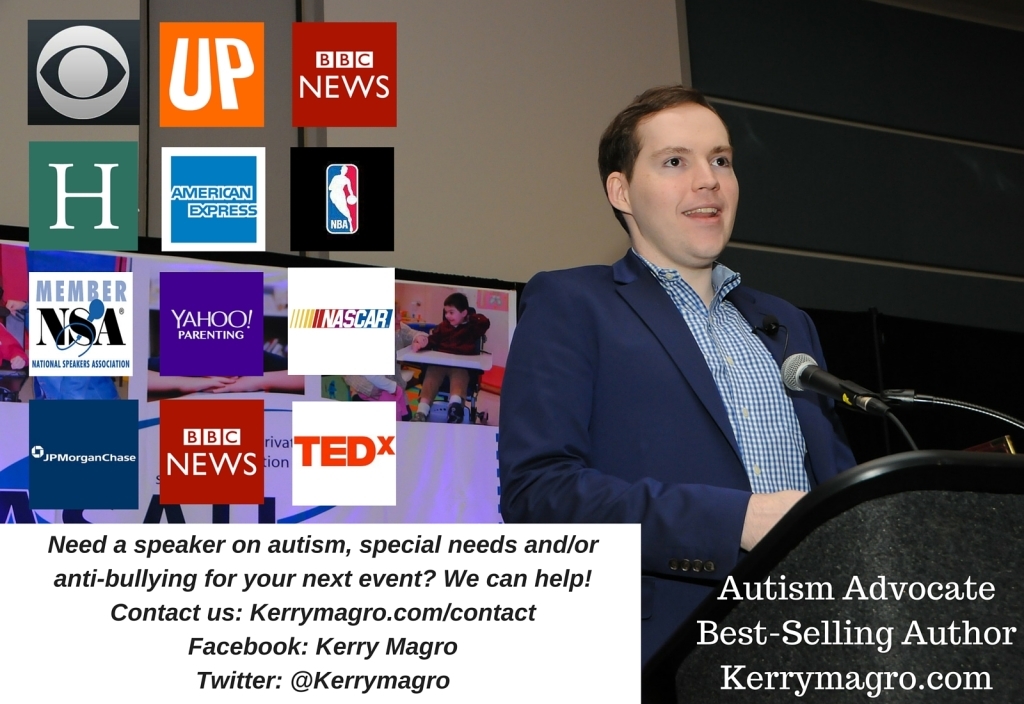 Kerry Magro, an international motivational speaker and best-selling author started the nonprofit KFM Making a Difference in 2011 to help students with autism receive scholarship aid to pursue a post-secondary education. Help us continue to help students with autism go to college by making a tax-deductible donation to our nonprofit here. Also, consider having Kerry who travels around the country speaking about his journey on the autism spectrum at your next event by contacting him here.