This guest post is by Collin Carabine, a young man on the autism spectrum who has been accepted and is attending Huston-Tilloston University majoring in computer science. Collin is applying for the Spring 2019 Making a Difference Autism Scholarship via the nonprofit KFM Making a Difference. You can read more about the organization and how to apply for our scholarship here. You can help our scholarship program continue to help these students by making a donation to our scholarship fund here (the majority of our scholarship program is ran through donors from our community such as yourself so no matter if you could donate anything, whether it be $5 anywhere up to $5,000 it would be making a difference!).
Growing up on the autism spectrum was quite a rollercoaster. It was filled with emotions, challenges, and many different people coming in and out of my life to help me become the man I am today. I was raised like your typical single child in the 90's – spoiled and curious. I was always asking people how things work. At one point, I learned I had special challenges and how my behavior was different and highly inappropriate at times compared to most of my peers.  Although I have faced major challenges with autism, I am very blessed that I had, and still have, a wide support system that helped me overcome huge obstacles. I now want to utilize my unique perspective to help others know that there is hope to having a successful and fulfilling life.
I had an adventurous life growing up. I still remember some of the funniest things from when I was four years old. I remember seeing cartoon movies in the theatre, wrestling with my neighbor's massive sheepdog and playing on a Captain Hook pinball machine. The life I had as an inquisitive child without cares and worries sure was great. At some point, however, I started to feel people were becoming increasingly angry at me. They talked about me, mentally, which I didn't understand at first. Once I figured out what was being said, I was extremely hurt and confused. You see, until then, I always thought that I had acted like a normal child. Apparently, I screamed all the time, pouted and threw chairs when I was corrected and didn't understand what I had done wrong. All I knew was that I was being taken away from my school friends and couldn't figure out why. For years, I had to keep adjusting to different school authorities that had the ability to put me in my place when my parents weren't around. Public school was where I learned a lot of discipline, but I felt their expectations of me were unrealistic. My peers didn't have to do the same things I did. They made it seem that I should have known how to act well behaved, even though I was young and knew that other kids got to misbehave at that age.
This continued into junior high where I transferred over to a new school. Suddenly, friends and family I know seemed to vanish and I was now in a new community that felt louder, obnoxious, and more hateful. Junior high is just plain awful for most kids, so I'm told. Being autistic in junior high was horrendous.  Additionally, both of my parents remarried, and now their new spouses and I had to learn how to live with each other. These new family members didn't understand my thoughts or views. Unlike the new teachers, I now received punishments that were physical that I can still remember. I still have some issues with strange authority figures, but I'm getting increasingly better at accepting help from those around me.
Towards the end of high school, I started to finally understand what possibilities my near-future held. A high paying job, driving, having fun with friends and finding my soulmate was what I expected to have in four years- or so I thought. Man, if I could speak to my past self at that moment, I would tell myself that that's not realistic even for a rocket scientist. I still can't drive, have a complicated relationship with a girlfriend with autism, and am still in college with no job. Yet, I have achieved some pretty major accomplishments recently, so I should give myself credit. Being on the Dean's list for six semesters, in an academic honors society, and working with Nordstrom's to create awareness for disability rights are some of my most recent accomplishments, and I am not even out on my own yet! I don't know what life holds for me in the future, but I'm looking forward to exploring it. I have so many talents and hobbies I'd love to express again after college like cooking, animation, and acting. I'm a creative writer with brilliant stories and am excited to produce something awesome with the right team.
Life was not always easy growing up on the spectrum. It can be confusing and emotional for a lot of people, and I know how they feel. Many autistics I have met are still struggling more than I and they don't think that they can improve. This brings on depression for them and their families. Back in those early phases of my life, I guess most people noticed that I was definitely on the spectrum.  However, I have been fortunate to receive help and encouragement from dozens of aides and therapists. Now, I am so much more functional than I used to be. Most people don't realize that I have autism now. I am so grateful for what I have had and I can be a voice for people who need one. I know that there is always hope as long as you hold on to your dreams, put in the work and allow people to support you. You should also find your passions. For example, I had teachers who would expose me to different activities and that's where I learned my love for drawing. Since then, it has been the best way for me to open up and express myself to lift the burdens that I hold. I can't thank those people enough for showing me my interests and believing in me. This is actually my best advice to a family who is looking to enrich the life of someone on the spectrum; expose your loved one to lots of hobbies that are expressive whether they want to or not. Otherwise, how are they going to know how they can truly flourish? It may be hard work, but we all need to find our outlets and express ourselves for the rest of our lives.
Follow Kerry's journey on Facebook, his Facebook Fan Page, & Instagram!
Kerry Magro, a professional speaker and best-selling author who is also on the autism spectrum started the nonprofit KFM Making a Difference in 2011 to help students with autism receive scholarship aid to pursue a post-secondary education. Help us continue to help students with autism go to college by making a tax-deductible donation to our nonprofit here.
Also, consider having Kerry, one of the only professionally accredited speakers on the spectrum in the country, speak at your next event by sending him an inquiry here. If you have a referral for someone who many want him to speak please reach out as well! Kerry speaks with schools, businesses, government agencies, colleges, nonprofit organizations, parent groups and other special events on topics ranging from employment, how to succeed in college with a learning disability, internal communication, living with autism, bullying prevention, social media best practices, innovation, presentation best practices and much more!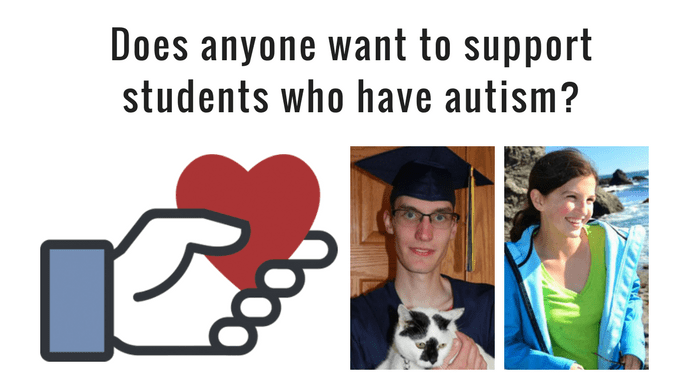 We'd also appreciate if you could take a minute to create a Facebook Fundraiser to support our nonprofit's scholarship fund! You can learn more about how you can do just that here.