This guest post is by Izak Landin, a young man on the autism spectrum. Izak attends Mt. San Antonio College. Izak applied for our Summer 2017 Making a Difference Autism Scholarship via the nonprofit KFM Making a Difference. You can read more about the organization and how to apply for our scholarship here. You can help our scholarship program continue to help these students by making a donation to our scholarship fund here (the majority of our scholarship program is ran through donors from our community such as yourself so no matter if you could donate anything, whether it be $5 anywhere up to $5,000 it would be making a difference!).
My parents already knew I was different before I was born. I already started showing signs of neurological disorders that will affect me in the future at a very early age.
I was born on April 23, 1998 and I needed to go to surgery immediately after my birth because I wasn't breathing when I came out, and I had two seizures before my birth. The seizures will be the first signs of me getting hydrocephalus. After my birth, I was having multiple seizures almost daily. My parents knew there was something wrong with me because I was also going to the hospital every three months for breathing problems which will be the first signs of asthma and I was also going there because of the seizures, but the doctor they took me to at the time thought there was nothing wrong with me. It wasn't until they took me to see a different doctor where he will diagnose me with both hydrocephalus and asthma which was a year later. My parents also took me to another doctor for my breathing problems. He later diagnosed me with asthma and prescribe an albuterol inhaler and a nebulizer that uses Xopenex and I still carry both today in case of another asthma attack. My parents and the doctor were so focus on the major health issues I was having that they did not notice my signs of autism until six months later.
I started having repetitive head and hand motion when I was young. My parents didn't know if it was a result of my surgery or something else, so they took me to the doctor just to be safe. I was also not able to speak until I was four years old. I was then when the doctor realized I had Asperger's Syndrome. When the doctor diagnosed me, he thought I wasn't going to be able to read, do math, or live without a type of schedule. My parents thought otherwise and instead taught me just like a regular kid and I was able to do all three with little complications. Even though I learned how to do these things, I never got rid of my symptoms. I still had repetitive head and hand motion, but it would later turn into pacing when I started middle school. I also have audio sensitivity which only affects me if I am at a party or something similar although it never affects me when I am at a movie theater or listening to music in my own house. I also prefer to be alone and always talk to myself. I can make entire conversations by myself when I am alone or if I am with another person. I never participated in most of my school's activities because of this, although I would later participate in some events like prom or a football game to break myself out of my own shell, and my parents helped me as well. My family had big vacations during summer breaks where we traveled as far as South Dakota with a travel trailer. We made a lot of stops in cities while we traveled and most of those cities would be as crowded as New York City. I admit I had a couple of break downs while we were there, but they passed within minutes and now I always want to travel to Las Vegas, Nevada whenever we have the chance. Even with all these traits and symptoms, I was still able to make plenty of accomplishments in my life.
I participated in The MESA program one year in middle school and senior year in high school. When I was part of the program in middle school, we only did small projects like bottle rockets and some small chemical mixing projects. We did get to go to a small NASA facility in California, although we were only allowed to see the communication center and the airplane hangar. When I rejoined MESA in high school for my senior year, we participated in a robotics competition where we had to put together VEX clawbots and install the programming ourselves. I was also in a program called Cyber Patriot in my freshman year. We were a computer group that specialized in installing anti-malware programs or removing malware in computers. Unfortunately, the program only lasted a year and I wasn't able to join again but I was able to join the swim team for three years. Even when I was in all these programs, I made honor roll all four years of high school. I was also on honor roll all four years of middle school as well. I have completed all these accomplishments after dealing with my neurological problems and by being able to live with autism.
With all the accomplishments I have done, being able to live and support myself with autism is my greatest one. I never ended up how the doctor predicted my life in the past. I plan on living in Arizona in the near future and owning a small house, but until then I am focusing on transferring to a four-year university to get a degree in art and get a career as a concept artist. I hope this inspires others who are on the spectrum to live their lives how they want to live.
Follow Kerry's journey on Facebook, his Facebook Fan Page, & Instagram!
Kerry Magro, a professional speaker and best-selling author who is also on the autism spectrum started the nonprofit KFM Making a Difference in 2011 to help students with autism receive scholarship aid to pursue a post-secondary education. Help us continue to help students with autism go to college by making a tax-deductible donation to our nonprofit here.
Also, consider having Kerry, one of the only professionally accredited speakers on the spectrum in the country, speak at your next event by sending him an inquiry here. If you have a referral for someone who many want him to speak please reach out as well! Kerry speaks with schools, businesses, government agencies, colleges, nonprofit organizations, parent groups and other special events on topics ranging from employment, how to succeed in college with a learning disability, internal communication, living with autism, bullying prevention, social media best practices, innovation, presentation best practices and much more!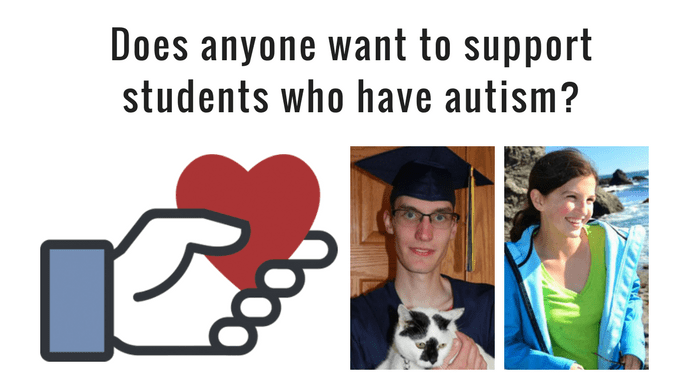 We'd also appreciate if you could take a minute to create a Facebook Fundraiser to support our nonprofit's scholarship fund! You can learn more about how you can do just that here.