This guest post is by Ellen Presti, a young woman on the autism spectrum who has been accepted and is attending Caldwell University. Ellen is applying for the Spring 2019 Making a Difference Autism Scholarship via the nonprofit KFM Making a Difference. You can read more about the organization and how to apply for our scholarship here. You can help our scholarship program continue to help these students by making a donation to our scholarship fund here (the majority of our scholarship program is ran through donors from our community such as yourself so no matter if you could donate anything, whether it be $5 anywhere up to $5,000 it would be making a difference!).
My name is Ellen and I have been on the Autism Spectrum since I was 4. My family and friends have made the biggest impact on my life. They taught me how to not give up, how to accept being different and most importantly, to value those who have accepted my difference.
When I was first diagnosed, my parents have heard these words, repeatedly: 'She won't get into a good college', ' She won't be able to graduate', ' She will have difficulty interacting with people,'. My parents have been stared at and commented on because of my tantrums. My parents would go through rough patches when dealing with me and my outbursts, but they also fought for me. They fought to continue keeping the Arts and Special Ed. program at my elementary school because I loved theater and music. They took the time to learn from FACES about my disability and I thank them.
Throughout elementary school, I learned to control my tantrums at therapy by practicing breathing methods, exercise and being surrounded by the right people because I was often being bullied and did not know how to handle it. Rosie was my first real friend. She lives a block away from me so, I guess you can say we have known each other for a really long time. She made
elementary school so much fun and she distracted me from being sad about the kids that didn't want to be friends with me. When high school came around, Rosie and I were still friends, but I still felt invisible. Then, we met Richard. Richard is like me, special. He's friends with my friend Micah, whom you may know from, the hit show, Speechless. Me, my friend Rosie and Richard have been friends for the longest time. They made me feel like I wasn't alone and they continue to make me smile. I was happy that my friends accepted me for who I am.
I am currently in college and I feel like everything is weighing down on me. Somedays, it gets so bad that I don't want to leave my bed. I don't listen to people anymore if they tell me I can't because I know I can. It is just the fact that my anxiety is telling me that I can't because my brain becomes so overwhelmed that sometimes I can't even think. I am trying my hardest and
that's the most important part of learning. I may not be perfect, but I am putting all that I got into college. When I get overwhelmed, I always have my family and friends on speed-dial and if I can't get a hold of them, I always dance. It keeps my mind flowing and helps me focus on the tasks at hand. It helps me to remind myself to not give up. I may miss a step, but I keep getting back on my feet. I am using that 'superpower' of mine.
My family and friends have had the utmost patience for me. When I was alone, they were the ones to lift me up. They taught me that family is the most important thing in the world. They also taught me that I shouldn't let the ones who deny me get in my head. I may experience personal struggles with college and anxiety, but it gives no one the right to say I can't. To young adults with autism, don't let anyone tell you that you can't do something. You are super! You are extraordinary! Keep your head up and remember, it's not what you have, it's what you do with it that matters.
Follow Kerry's journey on Facebook, his Facebook Fan Page, & Instagram!
Kerry Magro, a professional speaker and best-selling author who is also on the autism spectrum started the nonprofit KFM Making a Difference in 2011 to help students with autism receive scholarship aid to pursue a post-secondary education. Help us continue to help students with autism go to college by making a tax-deductible donation to our nonprofit here.
Also, consider having Kerry, one of the only professionally accredited speakers on the spectrum in the country, speak at your next event by sending him an inquiry here. If you have a referral for someone who many want him to speak please reach out as well! Kerry speaks with schools, businesses, government agencies, colleges, nonprofit organizations, parent groups and other special events on topics ranging from employment, how to succeed in college with a learning disability, internal communication, living with autism, bullying prevention, social media best practices, innovation, presentation best practices and much more!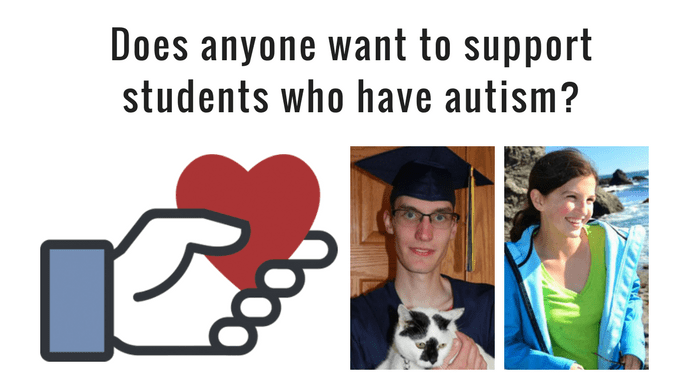 We'd also appreciate if you could take a minute to create a Facebook Fundraiser to support our nonprofit's scholarship fund! You can learn more about how you can do just that here.