This guest post is byMatteo Barila, a young man on the autism spectrum who was diagnosed with autism at 2 and now has been accepted into three colleges and is currently undecided. Matteo is applying for the Spring 2020 Making a Difference Autism Scholarship via the nonprofit KFM Making a Difference started by me, Kerry Magro. I was nonverbal till 2.5 and diagnosed with autism at 4 and you can read more about my organization and how to apply for my scholarship here. I'm trying to make this nonprofit self-sufficient so I can make this my full-time job supporting the special needs community and could use your help.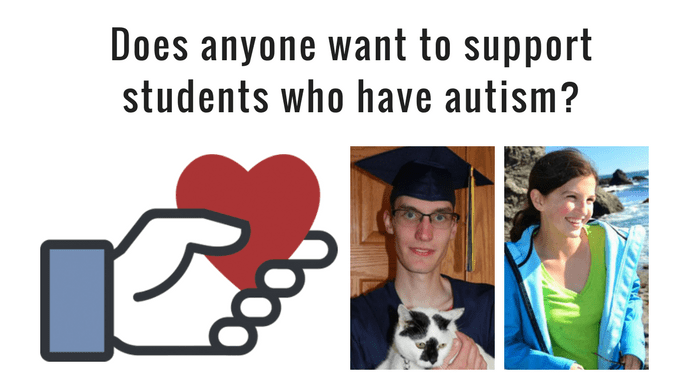 While many nonprofits have hundreds of volunteers fundraising for their nonprofit, I'm just one guy trying to make a big difference for people with autism via this program. With that I hope you will take a minute to consider making a donation to our scholarship fund here so we can keep it running moving forward (the majority of our scholarship program is ran through donors from our community such as yourself so no matter if you could donate anything, whether it be $5 anywhere up to $5,000 it would be making a difference!).
My name is Matteo Barila, and I am 17 years old with Asperger's. Ever since birth, my life consisted of nothing but obstacle after obstacle. This is an opportunity for you to see life through my eyes.
I am currently diagnosed with Asperger'y, OCD, ADD, ADHD, and ODD. It all started in my early toddler years, in which my learning progression was heavily delayed; I had yet to speak my first words and I was slowly falling behind academically. With therapist after therapist, I had made a substantial amount of progress; my motor skills and speech abilities had greatly improved. My academic potential was now back on track and I was finally achieving to the best of my abilities in school.
Once school's true form started to show as I entered the later grades, I had encountered a new obstacle: workload management. As I entered my teenager years, the new material wasn't the issue at hand, but rather the hefty amount of work that was being assigned. With my stress and anxiety, homework was now taking almost six hours every night; I was losing sleep every day and had started falling asleep in school. I was constantly missing valuable material in my classes and my grades were suffering because of my lack of sleep rather than my academic abilities. Towards the end of 8th grade, I had finally felt relief that it was all over; however, I had forgotten about high school entirely.
Like all 8th graders, I had little to no knowledge on high school and its energy. Going into my freshman year, I had done extremely well academically with a 3.7 GPA; however, my sleep pattern had shattered to pieces. I was now spending eight to nine hours on homework alone because of my inability to focus while sitting down for long periods of time. I was getting four hours of sleep almost every night. I had spent every weekend of freshman year catching up on sleep by sleeping almost 13 hours each day, in hopes of feeling somewhat energized for the next school week. I knew that I was capable of overcoming my disabilities and doing well academically and mentally. My school life was a constant unbalance of mental health and academic performance; if I cut homework off and went to sleep early to feel better the next day, then my homework grades would suffer and vice versa. Ever since freshman year, my high school career has been nothing but finding the correct balance between the two.
As a senior, I have my eyes set on not only attending a college, but also to thrive in it as well. I want to be able to go to college and genuinely succeed, rather than go to college because it's a social norm. With my disabilities, I find it difficult to forge my own path into adulthood by myself; however, with the help of my parents and my guidance counselors, I know I can succeed in college and adulthood.
I just want my perspective to be understood on how hard I've worked to get where I am today and as I type this letter. Thank you for your time.
Follow Kerry's journey on Facebook, his Facebook Fan Page, & Instagram!
Kerry Magro, a professional speaker and best-selling author who is also on the autism spectrum started the nonprofit KFM Making a Difference in 2011 to help students with autism receive scholarship aid to pursue a post-secondary education. Help us continue to help students with autism go to college by making a tax-deductible donation to our nonprofit here.
Also, consider having Kerry, one of the only professionally accredited speakers on the spectrum in the country, speak at your next event by sending him an inquiry here. If you have a referral for someone who many want him to speak please reach out as well! Kerry speaks with schools, businesses, government agencies, colleges, nonprofit organizations, parent groups and other special events on topics ranging from employment, how to succeed in college with a learning disability, internal communication, living with autism, bullying prevention, social media best practices, innovation, presentation best practices and much more!