This guest post is by Jarod Heuer, a young man on the autism spectrum. Jared will be attending Ball State University majoring in Geology and Emerging Media. Jared is applying for our Spring 2017 Making a Difference Autism Scholarship via the nonprofit KFM Making a Difference. You can read more about the organization and how to apply for our scholarship here.
The obstacles that society throws at people with disabilities makes it look like you face a world of no opportunity and a lot of negativity. Even though awareness is getting better, the tendency to separate kids who have disabilities is still lingering. I have had to deal with this all of my life. From day one, it just seems like the world tries to reject you just for being different. But as I got older, I realized that these events and experiences made an impact on me and made me who I am today.
When I was 15 months old, I started to have communication issues like no pointing, no words, and little eye contact. My mom thought I was deaf because when she called my name, I would not look up at her, even when she was right above my head. My parents say that I was in my own world most of the time. I would just pay attention to something else like what was in my hand or on TV. So they took me to Bona Vista in Peru, Indiana for testing. They found out my hearing was fine, but I also had a sensory issues. For example, I would only eat certain things like a peanut butter and jelly sandwich. When I was 3 years old, my parents took me to Riley Hospital for Children in Indianapolis. There I was diagnosed with Autism PDD/NOS. They even told my parents right into their faces that I would be in institution and would not even pass third grade. My parents were very upset, my mom especially. This was not acceptable. Adding on to this, I am their only child. My parents could not have any more children. At six years old, all of my grandparents had passed away. My parents searched for answers, treatment, and programs to assist me in life because they know that they will not live forever.
Most of the challenges and hardships I had been through was during my Elementary school years. When I was entering kindergarten, my parents tried to send me to a Catholic Elementary school. Unfortunately, they rejected me because when my mom explained that I was mildly autistic, they said "Oh, we can't handle that." God must have had plans for me because I ended up going to public elementary school. When I entered 1st grade, the teacher I had, Ms. Richey, did research to assist me. She told my parents to attend a seminar that included a Sensory Center group. They focused on 'retraining' my brain to interpret light and sound in a new way. They had me join the Cub Scouts, hoping I would make friends and learn new things outdoors and at my own pace. But the worst of the events in my life that changed me was when my mom had been diagnosed with breast cancer. She went through so much from chemotherapy to losing her hair. I can remember getting really upset when kids at school teased me that she was going to die. At the time, I felt like that hope had been lost, but she still helped me with homework and to get through stuff. By fifth grade, I earned an outstanding academic presidential award, despite all the anxiety and challenges I have been through –including teasing, bullying, and just getting through schoolwork.
Middle school was the year I started to do better academically and make lasting friendships. Two years in a row, I earned the Honest Abe award for my efforts for being willing to help others. I do recall one teacher who said she 'couldn't handle' special students and transferred me and other students like me out of her class. However, I started forming friendships that have lasted years. They didn't care if I was different. They would always have my back and be by my side if I needed them. I made it through Cub Scouts and earned my arrow of light, the highest award given to a Cub Scout, and entered Boy Scouts. I have earned 44 merit badges, but I had to deal with troubles in the troop too. While most people would quit if they were bullied in scouts, I didn't. I stayed because I was not willing to give up easy, and I was determined to get my Eagle rank. For 5 years, I even worked at the Camelot Care Center as a Den Chief by assisting severely disabled scouts with crafts and earning badges too.
High School was the beginning of how I beat more odds than the doctors at Riley Hospital predicted. During my IEP my freshman year, my parents asked the Guidance counselor which classes I needed to take to go to college. I have always wanted to become a paleontologist all of my life which required a bachelor's degree in Earth Science or Geology as well as a master's degree. The counselor, however, told us "Sorry, 'our kids' (meaning special needs kids) don't go to college." This made my parents furious. My mom turned to me and said, 'Don't listen to her. You will go." I shocked the counselor by passing both of my ECA exams. Only then did she finally take me seriously. At the end of my sophomore year, I had received my Eagle Scout rank. I have also earned my driver's license by 16. I volunteered and got a job at McHale Performing Arts Center as a technician. I also became an editor and anchored a few times on the Berry Broadcast (TV show) at my school. I'm in the upper third of my class, and I have been accepted at Ball State University. I plan to major in Geology and Emerging Media.
I dealt with adversity with patience, kindness, and determination, and I became my own person. Never give up. The lesson I learned was to stay determined no matter what life has to throw out you. Have faith in yourself and follow your heart.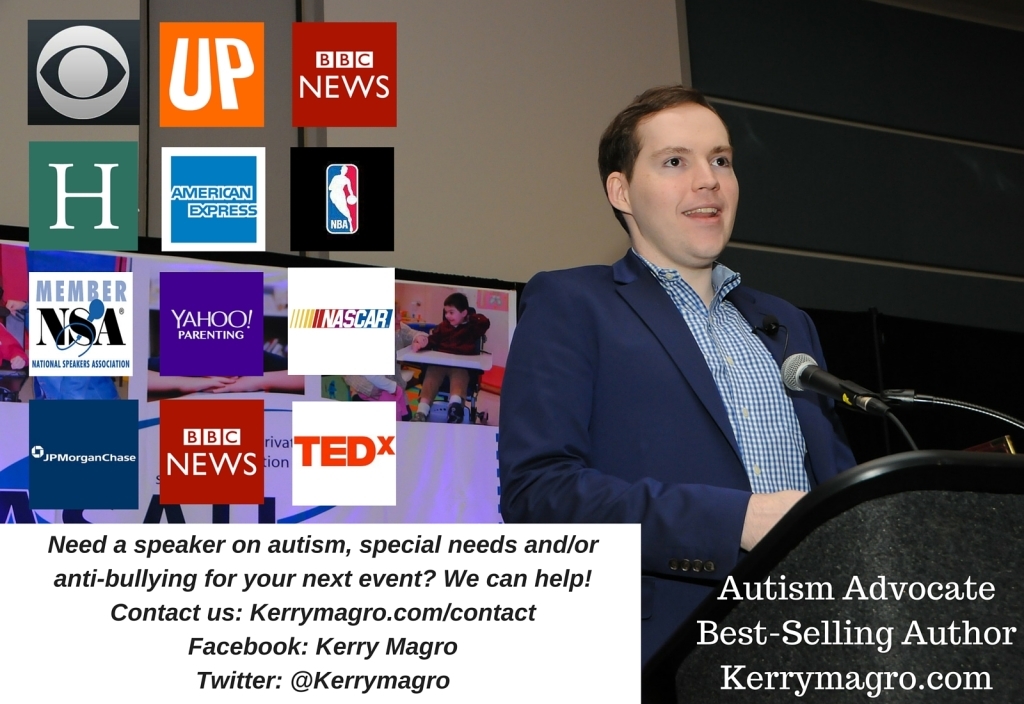 Kerry Magro, an international motivational speaker and best-selling author started the nonprofit KFM Making a Difference in 2011 to help students with autism receive scholarship aid to pursue a post-secondary education. Help us continue to help students with autism go to college by making a tax-deductible donation to our nonprofit here. Also, consider having Kerry who travels around the country speaking about his journey on the autism spectrum at your next event by contacting him here.