This guest post is by Sophia Pearce, a young woman on the autism spectrum who has been accepted into The College of the Florida Keys. Sophia is applying for the Spring 2020 Making a Difference Autism Scholarship via the nonprofit KFM Making a Difference started by me, Kerry Magro. I was nonverbal till 2.5 and diagnosed with autism at 4 and you can read more about my organization and how to apply for my scholarship here. I'm trying to make this nonprofit self-sufficient so I can make this my full-time job supporting the special needs community and would appreciate you taking a minute before reading on to watch the video below to see why this cause is important to me. I hope you can support my nonprofit like I'm trying to support these students with scholarship aid for college. We also do video interviews to highlight people impacted by a diagnosis which you can see via the video below. Learn more on how you can help our nonprofit here.
My name is Sophia Pearce and I would like to share with you how and why I have become the person I am today through my journey with autism. I want to share how it has impacted my education, ignited my love of animals, and inspired my dedication to my community and career goals. It is my wish that others on the spectrum will be inspired and given hope to pursue and live out their dreams.
I started seeing a psychiatrist at the age of four because of many social and emotional problems. I was pretty quickly diagnosed with ADHD, Aspergers, executive function deficits, visual and auditory processing deficits, and problem solving deficits, among other issues. Needless to say I have had to overcome many obstacles and persevere through many challenges to get where I am today. I believe my autism, ADHD, learning and other disabilities have helped shape who I am as a person but they definitely have also shaped my love for animals and my educational journey to one day hold a degree in marine biology/zoology and have a career working with and researching animals.
As I have gotten older many of my disabilities have become less severe and I have learned techniques to help me cope and even thrive despite my disabilities. However, when I was younger (and even now!) I could usually be calmed down by animals or by reading a book filled with animal facts. This has helped my greatly at school and at home. As far back as I can remember animals have always been a part of my life. We had pets, fostered kittens, and my grandparents had a farm with dogs, cats, and horses. I knew from a young age that I wanted a career that involved animals.
Having ADHD and Aspergers, friendships weren't the easiest for me. Unlike most everyone else, social cues, boundaries, and sustaining friendships didn't come naturally to me – I had to work at them. My autism, to this day, affects me socially but I try to improve myself and my social skills everyday. Interestingly however, I have never had any challenges with animals. Animals have never judged or asked me to be someone different. They have always accepted me and because of that I'd like to think we have a kinship with one another based on understanding and respect.
Even though having ADHD and autism came with challenges it came with some amazing gifts as well.  Being hyperactive I tended to be really positive and open. Because of that, and my tendency to be sensitive and caring, adults and animals seemed to be drawn to me. Furthermore, my autism gave me a phenomenal memory for facts that I read, which comes in very handy when I am studying and learning about animals. As I became hooked on learning more and more about them it was hard to divert my attention to other things and now I am quite knowledgable about the animals I love. This has definitely helped my education in these areas and will be a great asset in college classes and my chosen career.
Some of my best learning/educational experiences with animals include traveling to Hawaii, the Caribbean, and Mexico to hike the rain forests and to snorkel where the diversity of wildlife is truly abundant. In Miami and the Keys of Florida there are grass flats and tide pools that I adore to explore and find sea creatures. Since 2016 I have raised monarch butterflies from when the eggs are laid through the caterpillar stage till they hatch from their cocoons as adults. Since then, my mom and I have raised 123 butterflies successfully and returned them into the wild to help rebuild their declining population. Finally, I take great pride in all the volunteer and community service activities I have been involved in that revolved around animals and that will help me in my educational journey – a veterinarian office, a no-kill cat shelter and supporting thrift store, a christian horse camp, the Wildlife Center of Venice, Mote Marine Laboratory & Aquarium, and this summer I will be interning at Big Cat Rescue in Tampa, Florida.
After graduating from Venice High School in 2020, I am going to be an incoming freshman at The College of the Florida Keys in hopes of earning an associates degree and a wide variety of certifications centered around the major of marine biology/zoology. After graduating from the keys I hope to be accepted into one of three universities; University of Miami, Nova Southeastern University, or Florida International University to earn my bachelors and, possibly, my masters degree. With the degree that I receive, I hope to become a research diver, marine mammal/animal trainer, or zoo or aquarium curator.  I would love any of these jobs as it would allow me travel to different locations to research marine life and to work at aquariums or research and rehabilitation centers for marine or other mammals.
As you can see my autism has greatly impacted my life and education and has led me to aspire for a career in marine biology/zoology. I have been fortunate to have a family that supports me, teachers who have encouraged me, and an IEP that helped with my educational and social/emotional challenges. I would like nothing more than to take care of animals and their environment and educate others to do the same. This is my dream…What is yours?
Join us during World Autism Month by RSVPing here for our 'A Night For Celebrating Our Autism Community Virtual Event' on April 20th where we will be spotlighting several members of our autism community like our scholarship applicants!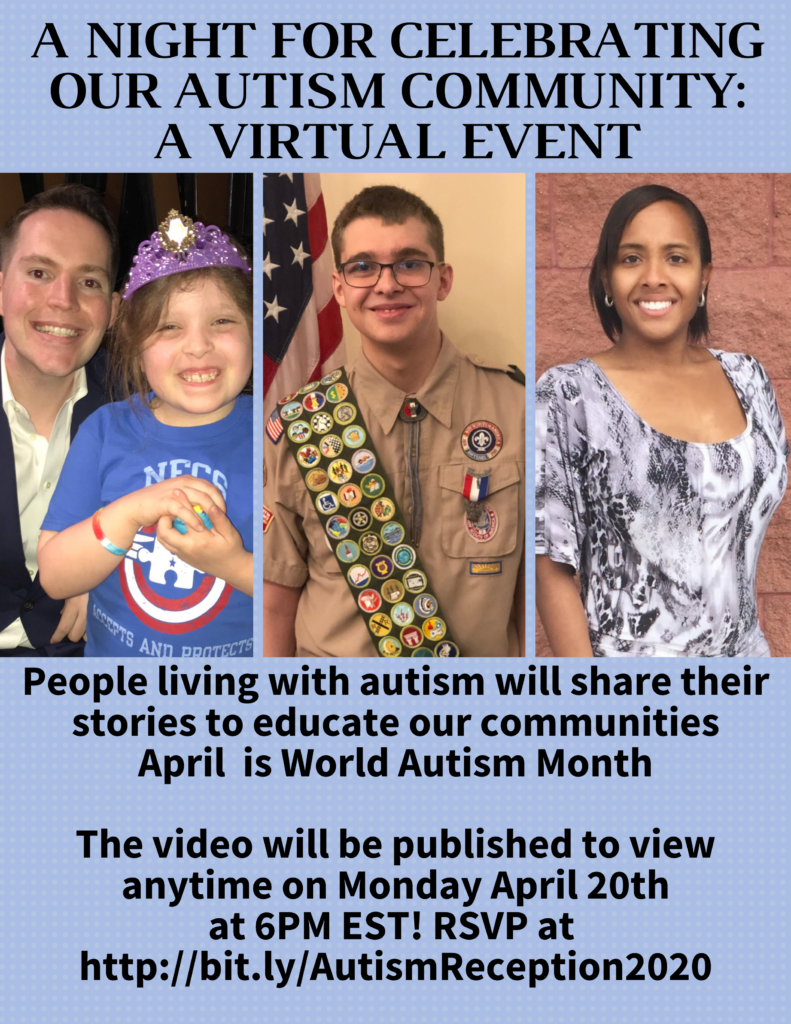 Follow my journey on Facebook, my Facebook Fan Page, & Instagram!
My name is Kerry Magro, a professional speaker and best-selling author who is also on the autism spectrum that started the nonprofit KFM Making a Difference in 2011 to help students with autism receive scholarship aid to pursue a post-secondary education. Help support me so I can continue to help students with autism go to college by making a tax-deductible donation to our nonprofit here.