This guest post is by Ryder Brady, a young man on the autism spectrum who has been accepted into and is attending. North Shore Community College. Ryder is applying for the Spring 2020 Making a Difference Autism Scholarship via the nonprofit KFM Making a Difference started by me, Kerry Magro. I was nonverbal till 2.5 and diagnosed with autism at 4 and you can read more about my organization and how to apply for my scholarship here. I'm trying to make this nonprofit self-sufficient so I can make this my full-time job supporting the special needs community and would appreciate you taking a minute before reading on to watch the video below to see why this cause is important to me. I hope you can support my nonprofit like I'm trying to support these students with scholarship aid for college. We also do video interviews to highlight people impacted by a diagnosis which you can see via the video below. Learn more on how you can help our nonprofit here.
I believe that a large part of who I am is formed around my diagnosis of and experience with Autism Spectrum Disorder. This disorder has helped me grasp my interests in the sciences and has allowed me to explore my own world with a unique perspective. Because of this, while some days are hard, there are other days when my happiness is so intense that it feels as though it exceeds the joys of everyone else on Earth altogether, occasionally to an overwhelming degree.
Science is one subject that makes me particularly happy. Although, I did not realize I wanted to be a scientist until I was older. When I was younger, I genuinely disliked the education system and everything that it entailed. I have Sensory Processing Disorder, as most people on the spectrum do, and school was always far too loud. I had no friends in high school and had dealt with bullies. The emotional torture was so great that it would cause me to come home collapse onto my bed in tears. It worried my parents but it also worried me because I did not understand what was happening. My parents pulled me out of public high school and I was placed in a small school for kids with various needs of support in getting their high school diploma. This opportunity genuinely changed my entire world. I was no longer stressed out at school and my new school was overly accommodating. The staff would do anything to get you to come to school.
When I first signed up for college I did not declare a major and took general education classes. At the time I had no idea what I wanted to study. All I knew was that I was interested in everything: science, English, mathematics, and history. I could have majored in anything because my academic interests were so broad. In fact, the only thing I knew was that collectively all these subjects I was mainly interested in the reasoning and logic behind each individual topic. My brain constantly asks "how does this work", "what is the cause of this", and "what are the outcomes?" Eventually, I had found that science had a foundation in this mindset.
Autism spectrum disorder has always made me curious about the world and now I know that I view the world in a different way. When I was younger I always took my toys apart so I could see how they worked. My favorite toys were Legos and I would build things without instructions, just by using my mind or by looking at the picture on the box. I could pick up a rock as a small child and see an entire universe within the little specks of individual minerals glowing back at me. I have always been so interested in our world and that is why I so dearly want to be a scientist. ​
My autism is like a telescope into the world of science. My brain can count numbers in different colors and take pictures of pages of textbooks with only my eyes. I entirely believe that because of my autism I will be able to change the world someday.
Join us during World Autism Month by RSVPing here for our 'A Night For Celebrating Our Autism Community Virtual Event' on April 20th where we will be spotlighting several members of our autism community like our scholarship applicants!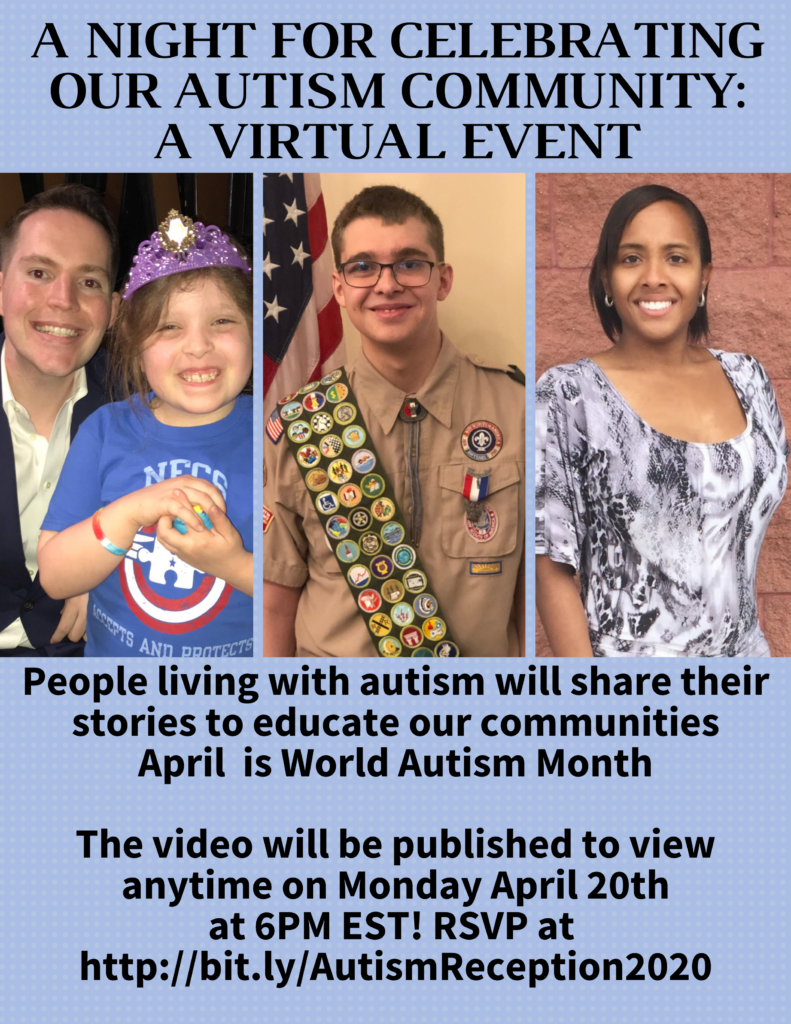 Follow my journey on Facebook, my Facebook Fan Page, & Instagram!
My name is Kerry Magro, a professional speaker and best-selling author who is also on the autism spectrum that started the nonprofit KFM Making a Difference in 2011 to help students with autism receive scholarship aid to pursue a post-secondary education. Help support me so I can continue to help students with autism go to college by making a tax-deductible donation to our nonprofit here.