This guest post is by Brandon Conrad, a young man on the autism spectrum. Brandon has been accepted into Lewis University and will be pursuing a degree Computer Science with a concentration in video gaming. Brandon is applying for our Spring 2017 Making a Difference Autism Scholarship via the nonprofit KFM Making a Difference. You can read more about the organization and how to apply for our scholarship here.
My name is Brandon Conrad. I have Aspergers. This is my story.
It all started when I was four years old. I was diagnosed with autism at that time which is a coincidence, because I didn't remember experiencing anything in my life until I was four. I knew how to eat, sleep, and play with toys, and a bunch of other things that little boys did when they were that young. The first memory I had was my fifth birthday. I had cake, I got presents, I saw a lot of other family members like my aunts and uncles, my grandparents, and my cousins.
I barely remember anything about my childhood years. What I DO remember was being excited when my family had company, I really looked forward to it because I had friends and family to play with, and it used to be the best thing ever for me when kids my age showed up to my house. One of the things that gave me motivation in life when I was a child was video games. I didn't find out about video games until I was five.
My fifth year was pretty big for me. I enjoyed watching cartoons such as SpongeBob, Fairly Odd Parents, mostly the shows on Nickelodeon. I used to play the original Xbox for hours. My favorite games were a Star Wars game, a Spiderman game, some Simpsons games, another favorite show.
My favorite games on the Xbox were the Sonic the Hedgehog games. Sonic used to be the best thing ever up until I was nine. I still play video games to this day and am going to Lewis University to get a degree related in computer science/video gaming. I one day found out when I was six that I had to go to school, I didn't understand what that meant. I remember my mom bringing me to kindergarten and I never understood it. I remember going to daycare before preschool on a bus every day.
It wasn't until I was seven when I remember going into first grade. I remember having an aid helping me throughout my kindergarten to seventh grade years. My first to fifth grade years were really easy for me, mainly because I had an aid; I made numerous friends and was excited to see them when I went to school. Thanks to my aids, the school work was easy to understand. Throughout my early school years, I used to hate loud sounds, I didn't like it when the students were clapping, I didn't like it when I went to lunch and everyone was talking, so I used to rely on earplugs every day up until fifth grade. As for the clapping, the students would just wave their hands really quietly because they knew how I felt about loud noises.
When I was in my third to fifth grade years I was beginning to get used to the school routine, get up, eat breakfast, wait for the bus to arrive and pick me up, get to school. This time around, they introduced to me the sensory room, a small room where I can relax, play with toys, and that's about it. It was even better in fifth grade because the sensory room was bigger, and there were a few other kids in there.
During this era of my life, my mom signed me up for pretty much every single sport you could think of. Maybe not all of them, but I did basketball, baseball, golf, soccer, etc. But the sport I did the most throughout the majority of my life, until my freshman year, was Taekwondo. It helped me become a stronger person mentally and physically. I even ended up getting my second black belt degree. It took seven years to get, but I did it! It wasn't just the activities we did, but I did have some people to have fun with. It was like a mini school if PE was all we did for an hour.
Speaking of middle school, on the first day of sixth grade, I had a lanyard. It contained all the information I needed: my locker, the locker number and the class rooms I would be going to because having multiple classrooms to go to was a huge leap for me. I at least had something that told me where I would be going. For me, sixth grade felt like one of the harder grades because the lessons were harder, the tests were a lot more frequent than I remember them being, and everything just seemed different from fifth grade. But I was able to make it. Sixth and seventh grade were my last two years of having an aid. Everything after that just had a classroom with the teacher and then there was a secondary adult in there that would help out students when they needed it.
When I made it to eighth grade, my favorite year, I felt more involved with people. I wasn't involved with after school activities, except for basketball later on that year, of course this was when getting involved used to be fun for me. I had an easier time interacting with people in my classes in eighth grade; I still find it easy to interact with people to this day.
When I made it to high school, I began to tap into my adulthood. I didn't need an aid anymore, by this time I was used to the cycle; literally the only difference about high school and middle school to me was that the hallways in high school are slightly more complex. That's it.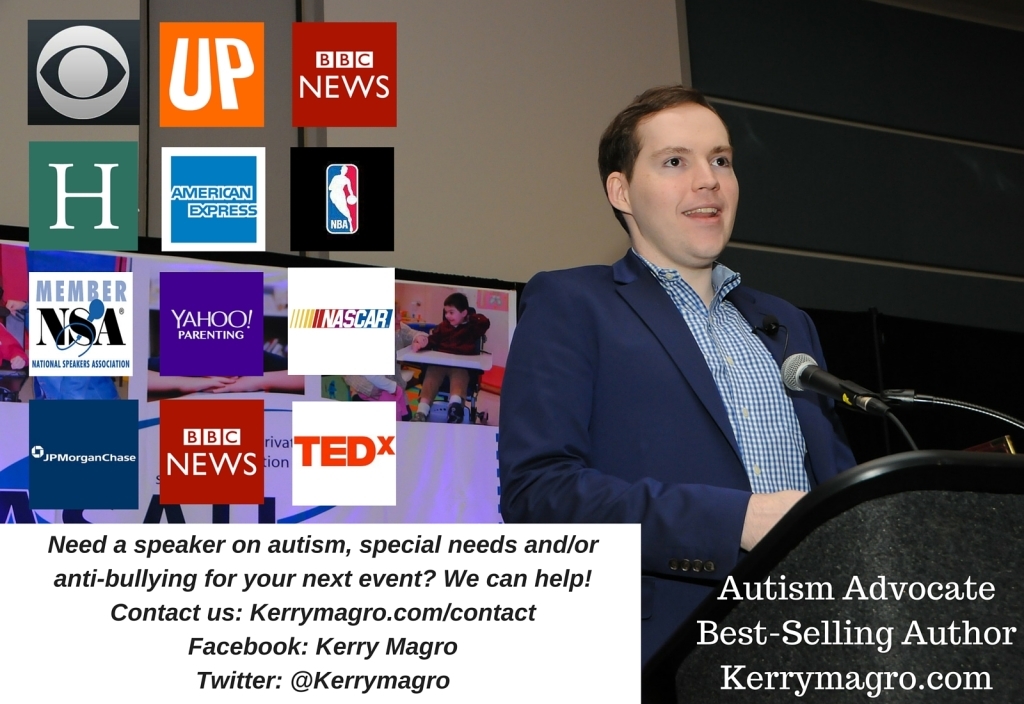 Kerry Magro, an international motivational speaker and best-selling author started the nonprofit KFM Making a Difference in 2011 to help students with autism receive scholarship aid to pursue a post-secondary education. Help us continue to help students with autism go to college by making a tax-deductible donation to our nonprofit here. Also, consider having Kerry who travels around the country speaking about his journey on the autism spectrum at your next event by contacting him here.