This guest post is by Joshua L Edwards a young man on the autism spectrum who was accepted into the Pittsburgh State University. Joshua is applying for the Spring 2018 Making a Difference Autism Scholarship via the nonprofit KFM Making a Difference. You can read more about the organization and how to apply for our scholarship here. You can help our scholarship program continue to help these students by making a donation here (the majority of our scholarship program is ran through donors from our community such as yourself so no matter if you could donate anything, whether it be $5 anywhere up to $5,000 it would be making a difference!).
My name is Joshua Lucas Edwards and I am a senior at Pittsburg State University. I am currently studying toward a degree in social work, so I can counsel youth with disabilities. At Pitt State, I am the vice president of my school's autism awareness club. I am an alumnus of Kansas Youth Empowerment Academy.
As a child, I faced many barriers which held me back emotionally and physically from engaging in the world which I have managed to overcome greatly over time. One of the major keys to my success is my support from my parents. When they knew I was struggling with something and did not understand why, nothing stopped them from learning what they could do to get me whatever additional help I needed for learning or being active in the world. It certainly did not make it any easier to recognize I had Asperger Syndrome because studies on developmental disabilities including Asperger Syndrome were very new when I was growing up.
I did not even get my diagnosis until I was turning 14 years old. Fortunately, one year following my diagnosis, I started high school, and everything would change. As a child, I faced many barriers which I have greatly overcome step by step. In high school, I was assigned a case worker Mr. Eli Kanarek. He had become a very big influence in my life. Mr. Kanarek helped me gain more time for handling tough homework in his study skills classes as well as getting a better grip on basic skills such as writing sentences and paragraphs. Mr. Kanarek took an interest in me not just as a student, but as a person too. When I was growing up, I wanted to be in comedy. So, when we had free time, he would teach me about Edgar Bergen, and how to deal with hecklers and have me listen to a funny Abbot and Castello bit. Along with Mr. Kanarek, I owe a lot of the improvement in my social skills to Mrs. Susan Fisher and Mrs. Laurie Rue. I swear, these two teachers are proof miracle workers exist. During my freshman and sophomore years, they helped me learn further basic skills in social living such as reading nonverbal gestures. These would include rolling of the eyes, recognizing when to change a subject, and many other nonverbal behaviors. It broke my heart when I could not take their interpersonal skills class for a third year. During my senior year of high school another case worker I had been assigned, Pat Durkin encouraged me to speak to the Kansas Board of Education of behalf of the special education offered through out the state.
My goals are primarily to help youth with disabilities become more independent, to meet all personal goals, and pursue all passions regardless of what barriers they face. As a child, I faced many barriers which I have managed to overcome over time. However, while I had a good childhood, there were things I did not know I could have done in that time if not for these barriers to power through. Ever since I was little, I always knew I wanted to work in entertainment. Unfortunately, one of if not the strongest of the barriers I faced was not being able to verbally express myself. It is because of this issue that my parents never knew that I wanted to make videos online. I also did not know who to ask or where to look for information. Strategy and decisiveness were two things I also struggled with when growing up. Thinking independently, in other words was not as easily for me as for most people my age. When I started community college, I met my future business partner and friend for life, Austin Myers. I learned Austin was on the spectrum like me, though you would not really know it without him telling you. He was going to school to become an animator like his hero Walt Disney. Thanks to Austin's encouragement and coaching, I know how to use a tripod, film with a camera, upload footage in a computer, upload on YouTube. Austin has also been a big help with editing and adding effects. Our channel is over a year old and already we have over 1,100 views.
One year after I met Austin, I would meet another friend who I can only say has made my life that much more special. Rachel Eichman is one of the sweetest, strongest, talented, intelligent young women I have ever had the pleasure of knowing. She loves acting singing, and swimming and participates in the Special Olympics yearly. Last year, when Rachel told me she wanted to make her own YouTube channel because I inspired her, I was speechless. No one had ever said I had inspired them like that before. Though to be honest, she said she was inspired by me and the hit show "icarly." I could not blame her, of course, because that was where my inspiration for internet videos came from. She has struggled with developmental disabilities like I have, but she is more strategic, active, and self-asserting than I could ever hope to be. For less than a year, I have been coaching her on what she would need for her own YouTube channel and she has been making more and more progress without my help. She is becoming very independent, and she is so much like me.
The more I thought about what great friends I have and how much their lives have been like mine, the more I realized I was anything but alone. There are other people with my passions and my struggles all over America. If I were to name one thing I have gained from my time with Austin, and Rachel, and studying at Pittsburg State, it is that I finally have self-respect. This self-respect is something I want to help all youth with disabilities obtain. I want to help all youth with disabilities have the resources, confidence, support, and autonomy to pursue what ever passions or goals drive them to be who they are. No one, for any reason, should feel they have to limit who they are.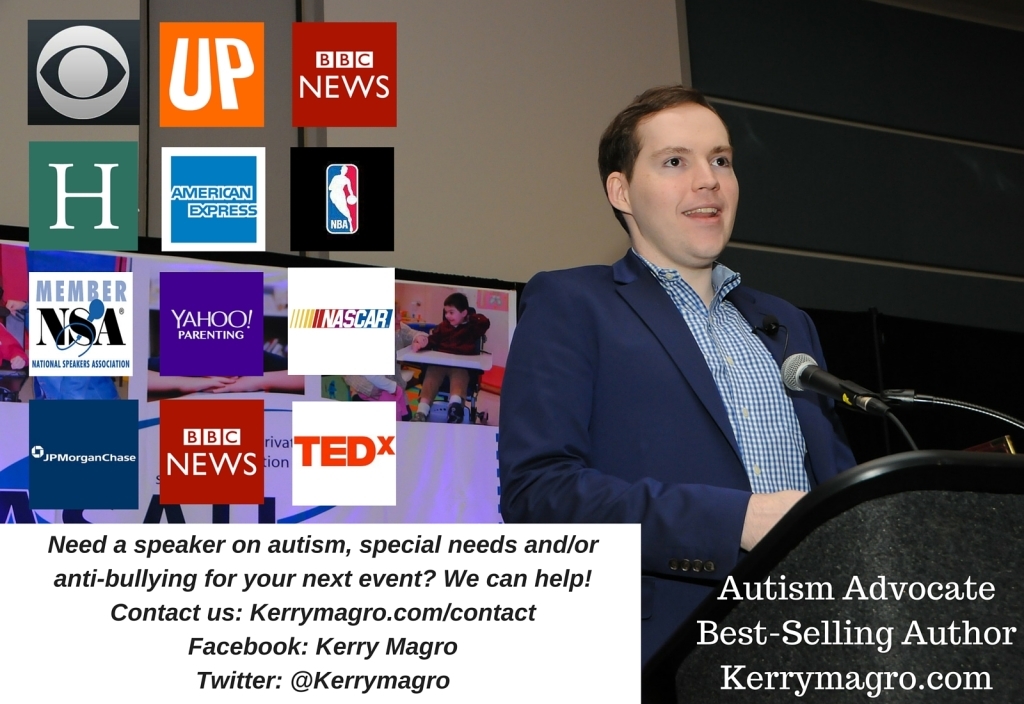 Kerry Magro, a professional speaker and best-selling author who is also on the autism spectrum started the nonprofit KFM Making a Difference in 2011 to help students with autism receive scholarship aid to pursue a post-secondary education. Help us continue to help students with autism go to college by making a tax-deductible donation to our nonprofit here. Also, consider having Kerry, one of the only professionally accredited speakers on the spectrum in the country, speak at your next event by sending him an inquiry here.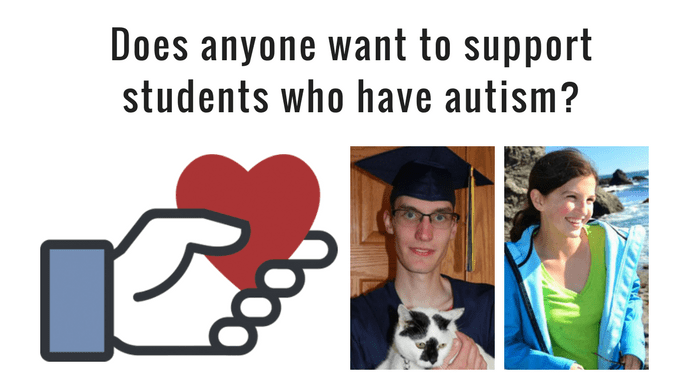 We'd also appreciate if you could start a Facebook Fundraiser to support our nonprofit's scholarship fund! You can learn more about how you can do just that here.