I've always believed you can find inspiration from a lot of different places. For me my inspiration has come from The Tonight Show Starring Jimmy Fallon on NBC. Between the lip-sync battles and celebrity appearances, it's hard not see him show up on your televisions and social media feeds on a daily basis. I first took notice of Jimmy when I saw him in the movie he starred with Queen Latifah in 2004 in Taxi where he plays a NYC cop. With all the singing he did I almost instantly realized similar traits we both shared. For one, we can sing really really high.
Once Jimmy took over for Jay Leno I was hooked. He had a confidence about himself on the set that was something I was missing as a kid. His ability to have his show become a viral hit was also something that has inspired me. I wanted to make autism awareness and education a viral hit in our communities.
Than something amazing happened.
As a motivational speaker for the past five years I've made a great deal of connections. One of them was a man who owns a media company group that were looking for another talk show host to round out their Spring TV schedule. He approached me after hearing my background and asked if I'd like my own show! A few weeks later I responded to him with a TV series concept that blew him away.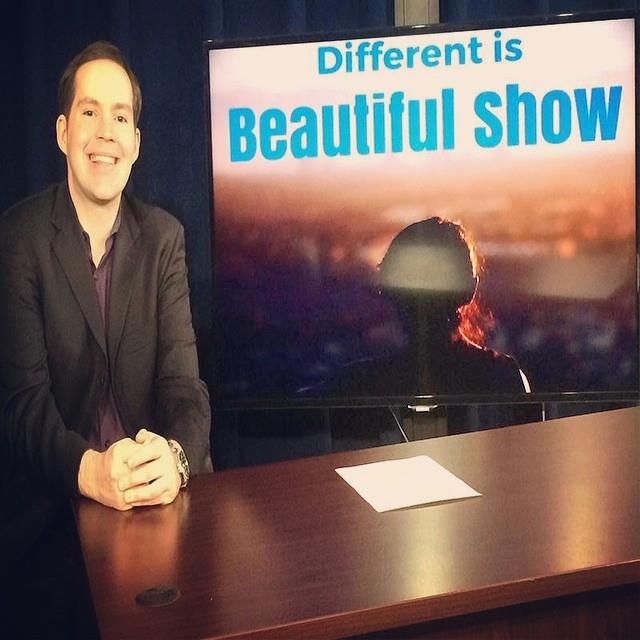 I can now say I host the 'Different is Beautiful Show' a cable TV show on Comcast in Jersey City, New Jersey where our motto is that normal is just a dryer setting. To date we've had guests like The Tonight Show that have featured doctors, disability advocates, guardians, politicians and many more who are making a difference in their local communities.
Today I'm one of the only cable talk show hosts to have autism in the country.
I wanted to take the opportunity with this blog to thank Mr. Fallon for his work. You've volunteered with Autism Speaks in the past for our events such as our '4 Miles of Hope' event as part Team Up! With Autism Speaks in New York City and that makes you stand out as even more of a class act. From some who has followed your work to someone who hopes to one day follow in your footsteps I'm very grateful to you.
For those reading this, I hope you know that great things are possible in our community. We all have goals and we all want to progress to live out their dreams. We also need role models for us to look up too. For me, Mr. Fallon has given me that time and time again… Thank you for that.