This guest post is by Jared Hites, a senior at Hermantown High School who is on the autism spectrum and also has ADHD. Jared will be attending Itasca Community College in the Fall of 2017 and plans to pursue an Engineering Degree. Jared is applying for our Spring 2017 Making a Difference Autism Scholarship via the nonprofit KFM Making a Difference. You can read more about the organization and how to apply for our scholarship here.
My parents say I was a "normal", healthy and happy baby. I met all the developmental milestones and check marks. They noticed I was acting different at age four. This led to my first diagnosis of ADHD. I was started on medications and an IEP (Individualized Education Plan) in Kindergarten. I did well at first, however, my parents still felt something else wasn't right. My parents wanted the best for me in school and to not fall behind. My parents weren't afraid of "labels" being put on me, they just wanted whatever help was available to me. For this I am lucky because so many people are afraid of being labeled as different. Afraid that they will be pigeonholed onto a certain path because of the label and excluded from opportunities.
I spoke in monotone and had no facial expressions. I couldn't maintain eye contact while I talked to anyone, even my parents. My eyes would dart and look to the side. I also twirled my hair for comfort. In Kindergarten I always played by myself at recess. I remember finding a rusty metal car brake the first day of school and bringing it proudly home. I didn't socially interact with my classmates. I would never ask the teacher for help either, even when I clearly didn't understand. My mom says she can't remember the day I stopped laughing, smiling and wanting to be hugged and touched. She gets teary eyed when she tells me this. She says she still loves me the way I am. Sometimes she tells me I must give her a hug or let her give me a kiss on the cheek. I do this, I see it makes her happy, but I don't really feel the need for this contact.
My parents inquired further help seeking out a Pediatric Developmental Specialist. Finally at age seven I was diagnosed with PDD-NOS. My parents questioned whether I specifically had Aspergers but were told I didn't fit this exactly. I had already been on an IEP because of my ADHD, but nothing was added or changed to this with my new diagnosis of PDD-NOS. I don't think teachers are educated enough on how to adapt teaching styles to students with high functioning Autism. So many teachers are stuck with the same teaching style for all students. When in reality a more flexible/individual teaching approach would benefit all students.
My mom would pick me up from school and I would explode the moment I got in the van. My brothers would be excited to see me and say "Hi Jared" and I would just yell at them, I couldn't help myself. It was so tiring to try to act right and fit in during the school day. To this day trying to think like a Neurotypical person is very stressful and tiring. My mom always told me she was glad I was able to keep it together at school and let loose in the safety of home.
In school I continued to play alone. I never initiated social contact, however, if I was invited I would willingly join in, but still be quiet. I had a neighbor, Matthew, he was one year younger than me. I would sometimes ask my mom to have him come over to play. But I would always go off and play by myself and ignore him.
I remember always getting upset if my parents changed the plan of the day. I wanted to know exactly how many stores we were going to. The extra stop added to the day really stressed me. I still need to know the exact plan and any deviation stresses me.
Finally the summer after ninth grade I went to counseling sessions to help me understand myself better. I'd been struggling with some classes and having problems at home because of this. I learned I actually did think different. My parents learned how to word things differently so I'd clearly understand expectations. I have struggled less in school since and things are much happier at home. I earned privileges I didn't have before. I don't think my parents or I really understood that PDD-NOS was on the Autism Spectrum. We thought the IEP could fix all my school and personal struggles and it didn't. I have become my own self-advocate. We gave the teachers handouts that explained I was on the Autism Spectrum and how I function and think. It was a success my grades improved. It was the first time my parents and I believed I actually could attend college and be successful.
My classmates know I'm quirky and they accept me. I don't get teased at all. I think they think "oh that's just Jared". I don't have a "filter" to my thoughts and ideas most of the time. I just speak what is on my mind. My mom is afraid this will get me beat up or injured someday. However, I am learning to keep some of these thoughts in my head.
I got a job last summer working at Home Depot as a Lot Associate. I'm learning to interact with people in the "real world" and being responsible for a different schedule. I have continued to work during the school year successfully. I even received compliments from coworkers about being a hard worker.
I think high functioning Autism is being shown in a positive light. Many career paths also seek employees with the mind set of Autism. Autism traits are seen as positive qualities.
As Temple Grandin said "Autism is a part of who I am". I personally wouldn't want to change anything about myself. It makes me who I am, Jared, and I like me. I like being different.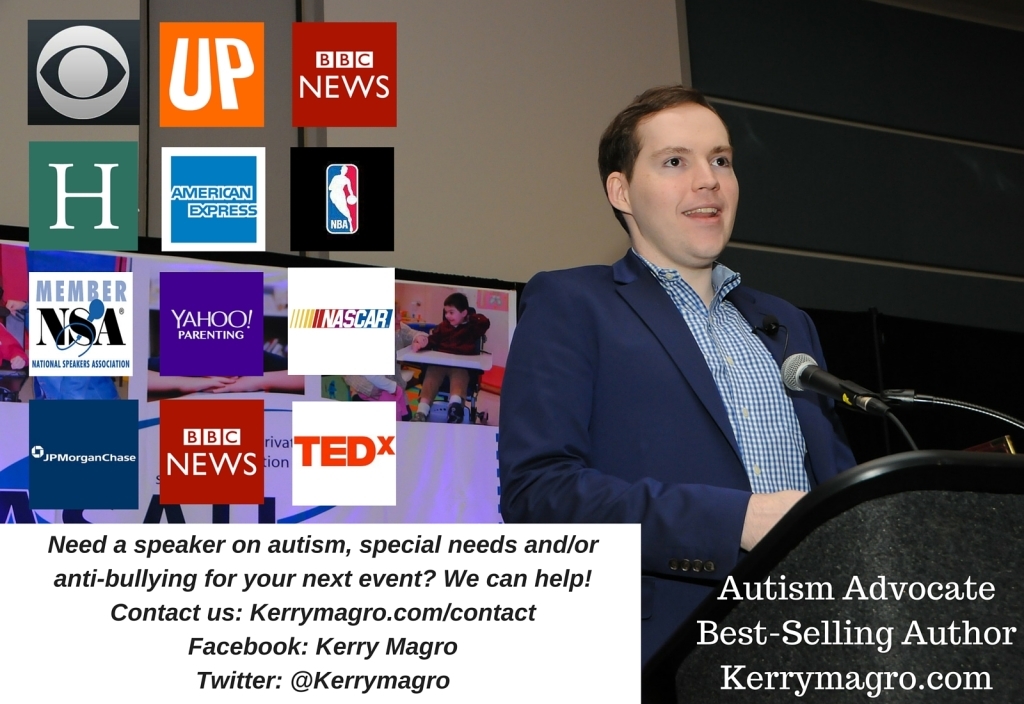 Kerry Magro, an international motivational speaker and best-selling author started the nonprofit KFM Making a Difference in 2011 to help students with autism receive scholarship aid to pursue a post-secondary education. Help us continue to help students with autism go to college by making a tax-deductible donation to our nonprofit here. Also, consider having Kerry who travels around the country speaking about his journey on the autism spectrum at your next event by contacting him here.