This guest post is by Dalton Weathersby, a young man on the autism spectrum. Dalton currently attends the University of South Carolina. Dalton is applying for our Summer 2017 Making a Difference Autism Scholarship via the nonprofit KFM Making a Difference. You can read more about the organization and how to apply for our scholarship here.
I am Dalton Weathersby. I am from Lexington, SC and I am twenty-years-old. I am currently a student at the University of South Carolina. I love maps, numbers, and computers.
It all began when I was three-years-old when I was diagnosed with Asperger's, although I did show signs of it earlier, such as laughing when I got in trouble. I began pre-school in a self-contained classroom and was held back since I was not socially ready for kindergarten. Elementary school had its difficult moments. There was one week where I had meltdowns three times. I was also on a routine and any changes could spell disaster. If there was a substitute teacher, or even if the teacher was late, I would meltdown. A fire alarm could also result in a meltdown. Some of my meltdowns included: ripping posters off the wall, punching teachers, and knocking over tables. In other cases, there were times where I refused to do classwork. To make matters worse, there was no autism resource room in my school until I was in fifth grade, so I was usually sent home after most of the meltdowns. The resource room made a big difference as the number and intensity of the meltdowns decreased. A textbook example was on a field trip to the USS Yorktown in Charleston, SC. On the way there, I realized that, instead of Goldfish, my mom accidentally packed the Chicken in a Biscuit crackers. Had this even been just one year prior, I may have melted down over the change. Instead, I ate the crackers and discovered a new food that I liked.
Middle school also had a resource room and the meltdowns almost stopped. During my three years of middle school, I only had three meltdowns and each one was minor compared to elementary school. Also, two of the three happened in sixth grade. Eighth grade was another trial. The first half played out as normal, other than the first two weeks. However, the second half was much harder as my grade in math slipped from a B to a D. I also, once again, found it hard to focus on work, but not for the same reason as elementary school.
High school had its ups and downs. The first semester of freshman year had some of the similar problems as the back half of eighth grade, but this time my English grade fell to a D. Action had to be taken, so I eventually decided to drop down from the Honors English II course. Just when I thought the grade could come back up, there was another setback, as the class had a long-term substitute. In the end, during a period of four months, I had three different English teachers. To many other people, this would be their breaking point and to some autistic people, many meltdowns will follow. However, I persevered, did not melt down, and got the grade in English up to a high C. A year later, it felt like the autism was winning. After having no meltdowns since middle school and during the first year of high school, it felt like, for at least two school days, I was falling apart. During World History class, there was a lot of noise and I could not do my work, so eventually, I threw my school issued iPad. The following Monday, I broke a window in the same class. I was thinking to myself "How could this happen? It hasn't happened like this since the fourth grade." Thankfully, I turned it around and I am 100 percent confident that those two days will never happen again. The final two years of high school had a fair share of stressful days. I would argue that some were even more stressful than that ill-fated Friday and Monday, however I kept it together. I even got all A's in both junior and senior year.
While college has just begun, it had its fair share of moments. I took a Viking Mythology class, thinking it would be an easy A, and got out with a B. I also found it hard to join clubs while living ten miles from campus. In fact, I only joined one club during my freshman year of college. On the other hand, I earned President's List during the Spring 2017 semester and I am planning to live on campus in the Fall. Life is like a roller-coaster, it is filled with ups and downs. Your reaction to those ups and downs will determine your personality, friends, and outlook.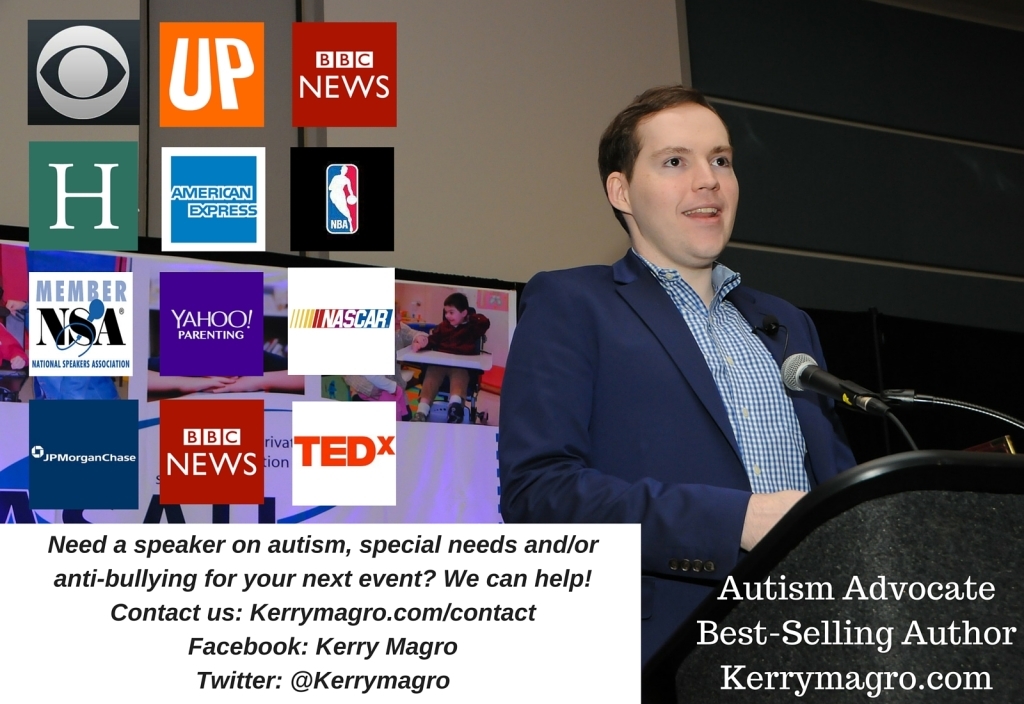 Kerry Magro, an international speaker and best-selling author started the nonprofit KFM Making a Difference in 2011 to help students with autism receive scholarship aid to pursue a post-secondary education. Help us continue to help students with autism go to college by making a tax-deductible donation to our nonprofit here. Also, consider having Kerry, one of the only professionally accredited speakers on the spectrum in the country, speak at your next event by contacting him here.