This guest post is by Charles Clifford Samson, III a young man on the autism spectrum who will be attending Southeastern Louisiana University in the Fall. Charles is applying for our Spring 2018 Making a Difference Autism Scholarship via the nonprofit KFM Making a Difference. You can read more about the organization and how to apply for our scholarship here. You can help our scholarship program continue to help these students by making a donation here (the majority of our scholarship program is ran through donors from our community such as yourself).
Charles Clifford Samson, III was born into this world on a warm summer day in August of 2000. He hit every developmental milestone at just the right time, so you can imagine how surprised his parents were when he ended his second grade school year and his teacher told them that she thought Charles may have autism.
Fast forward to present day 2018 and I have surprised even myself on my journey of growing up with autism. My journey hasn't always been easy, but honestly for me it hasn't been that bad. I think it has been harder for my parent's as they saw the differences or struggles between me and my neuro-typical siblings. When my Mom talked to me about having high functioning autism (Asperger's Syndrome) it didn't seem to faze me. I didn't really feel different and honestly, I still don't.
I did go through different types of therapies growing up for my fine motor skills for my handwriting that was not spaced properly, social skills to learn how to have empathy and speak without being so monotone, and gross motor skills to also help me with my muscle tone all of which helped me when I was younger. When I got to high school though, I asked if I could quit being pulled out of class for therapy because I felt like that made me more "different" than I actually felt I was. It was embarrassing to be pulled out of class and I didn't like missing the class time and having to make up the work I missed. I didn't feel like I needed the therapy at that point because I honestly felt like I was just fine the way I was. My mom agreed to not having me pulled out even though she wasn't sure it was best for me, but she did and still does have teachers and therapists watching out for me to be sure I am socializing and interacting with others appropriately as social skills have been my biggest hurdle to get over.  I am pleased to say that over the last few years I have made great improvement in socializing with friends even though outside of school I still prefer to be by myself more.
I interact with teachers and other adults in my life much better than I did previously although I know I still have work to do in this area. I plan to become a teacher when I finish college so I know I will definitely have to continue to work on my public speaking and talking with my peers. But for now, I am improving from where I was as this school year I have even come out of my comfort zone by volunteering to present projects first in class, as well as getting in front of the camera conducting interviews in my digital media class (which I never thought I would want to do).
I really don't talk about being autistic as I don't let it define me and I don't want people to look at me differently, but I definitely am proud of the accomplishments I've made with the skills I needed to improve and I know that if I set my mind to it I will continue to make progress and that I can achieve anything I set my mind to.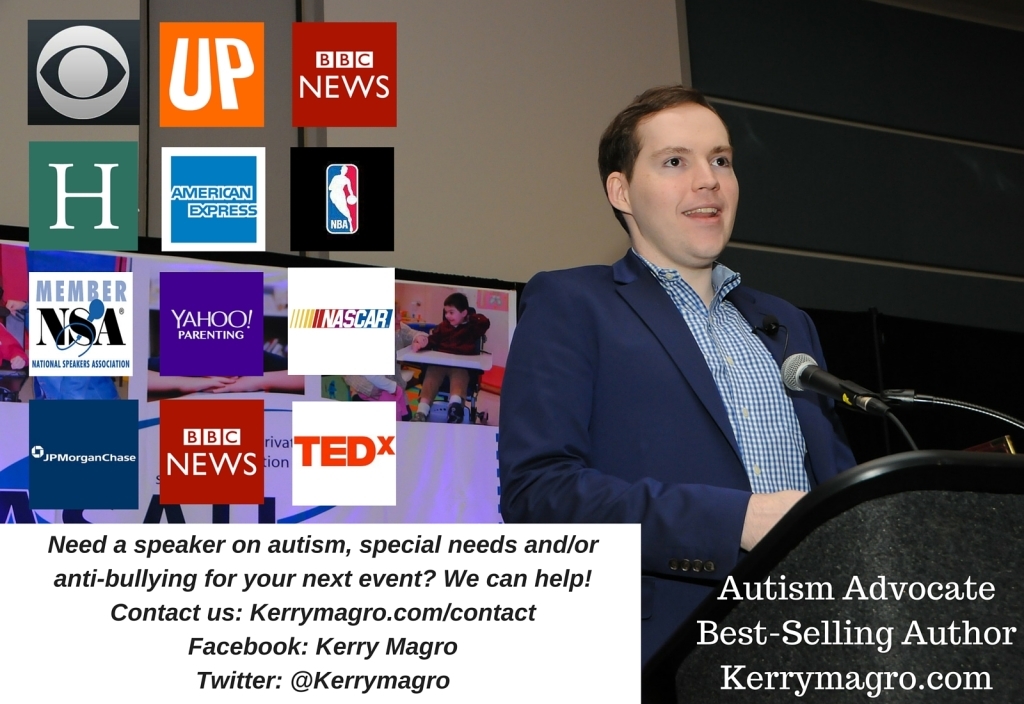 Kerry Magro, a professional speaker and best-selling author who is also on the autism spectrum started the nonprofit KFM Making a Difference in 2011 to help students with autism receive scholarship aid to pursue a post-secondary education. Help us continue to help students with autism go to college by making a tax-deductible donation to our nonprofit here. Also, consider having Kerry, one of the only professionally accredited speakers on the spectrum in the country, speak at your next event by contacting him here.