This guest post is by Aria Schottelkotte, a young woman on the autism spectrum who has been accepted and will be attending the Middle Tennessee State University where she'll be majoring in Audio Engineering & Production with a minor in Psychology. Aria is applying for the Spring 2020 Making a Difference Autism Scholarship via the nonprofit KFM Making a Difference started by me, Kerry Magro. I was nonverbal till 2.5 and diagnosed with autism at 4 and you can read more about my organization and how to apply for my scholarship here. I'm trying to make this nonprofit self-sufficient so I can make this my full-time job supporting the special needs community and would appreciate you taking a minute before reading on to watch the video below to see why this cause is important to me. I hope you can support my nonprofit like I'm trying to support these students with scholarship aid for college. Learn more on how you can help our cause here.
Not to brag or anything, but I have a fabulous case of autism. Despite the fact that it comes with some genuine perks, there are a few hurdles it poses as well. For example, due to the nature of the disorder, the person who has it is the very person who can't observe it and understand it. I lack the interpersonal skills needed to step outside of myself, evaluate my actions and personality, and realize the shortfalls I need to address.
People with autism must be willing to accept help and feedback from our immediate community in order to function well in society.  That was not, typically, how I rolled.
My parents first noticed something was a little wonky when I was ten years old.  I could write songs off of four chords and some improv, but I didn't have any friends to come over and play music with and hang out.  By age twelve, I was writing original music and playing in a band with my sisters (www.triplethetrouble.com) all around the Midwest and South.  We produced an EP, opened for bands like Smash Mouth and Spin Doctors, and were fielding interests from various music agents. Such notoriety should have made me one of the most popular girls in school. The problem was, off the stage, my social skills were awkward and I just couldn't see it.  All I knew, was that I was alone and hiding in the library to eat my lunch.
Autism is like an ice cream sundae; everybody starts with the same basic flavors, but the toppings can vary from person to person. One might not like to be touched, while another could be loud and outgoing. From the outside, I look "normal."  Inside, however, it's a different story; I can't read facial expressions very well. So, understanding the nuances of what's being said and what's being implied is like having a conversation in two different languages, but I only speak one.
Most autism cases are diagnosed young, but because I was so high-functioning, my family and I didn't figure it out until I was almost fifteen.  To me, autism meant I would immediately be "labeled" and shipped off to the special ed classrooms and isolated even more.  Remember the "not how I rolled" part?  I was frustrated, stubborn, angry and most of all, terrified.
My family tried therapies and therapists, but nothing worked and honestly, I didn't believe I was worth the effort-until the beginning of this year. The most important part of getting my confidence back was educating myself. I used the researching tools I had been taught in school to compile information on the type of autism I had, and what I found utterly blew my mind. Not only was autism different for everyone, but some great people in history were just like me: Alan Turing, the father of modern computation, Lewis Carroll, author of Alice Through The Looking Glass, and even Adam Young, also known as electro pop sensation Owl City!
I also went to my AP Psychology teacher for more information. She told me that autism has been around ever since humans were, well, human. During medieval times, undiagnosed children were often mistaken for changelings because of their quiet, yet odd and curious nature. Some families sent them to become highly successful shepherds, but others, feared because of what was thought to be "faerie magic", weren't so lucky. As modern society became louder and busier, scientists began to see a higher rate of cases of autism as more and more families moved to metropolitan areas. The combination of a high-stimulus city environment and the increased stress of a more charisma and extroversion-based American culture led to more children being unable to pass as neurotypical. More people weren't "becoming autistic", the world was just getting more difficult for them to navigate.
Finally, I was ready to face my challenges armed with the most powerful tool of all: knowledge.  We found a new therapist who specialized in high-functioning kids like me and helped me apply what I learned to real life. This meant thinking before I spoke, modulating my voice, and looking really, really carefully at people when they were talking. It was hard and tedious, but I was laser-focused and determined.  I knew if I wanted to work with others, I had to dig in because I had a lot of catching-up to do.
Since then, a play I wrote, produced, directed and acted in was chosen for the Cincinnati Fringe Festival and received great reviews, I'm developing solo music and have found a super group of friends. I have to work at communication every single day, but I know I wouldn't be nearly as creative without my autism. If there's anything I've learned on my journey, it's that knowledge truly is power. People are afraid of the things they don't understand, and my education gave me the tools to conquer that fear. I even got to teach my classmates, broadening their views of the world in turn. Now my sights have turned to learning more about what my autism helps me be so passionate about: music. There's always more to discover, and I have a solid launchpad to be the best artist I can be. What makes me different also equips me to be extraordinary, and your belief in that would mean the world.
Join us during World Autism Month by RSVPing here for our 'A Night For Celebrating Our Autism Community Virtual Event' on April 20th where we will be spotlight several members of our autism community like our scholarship applicants!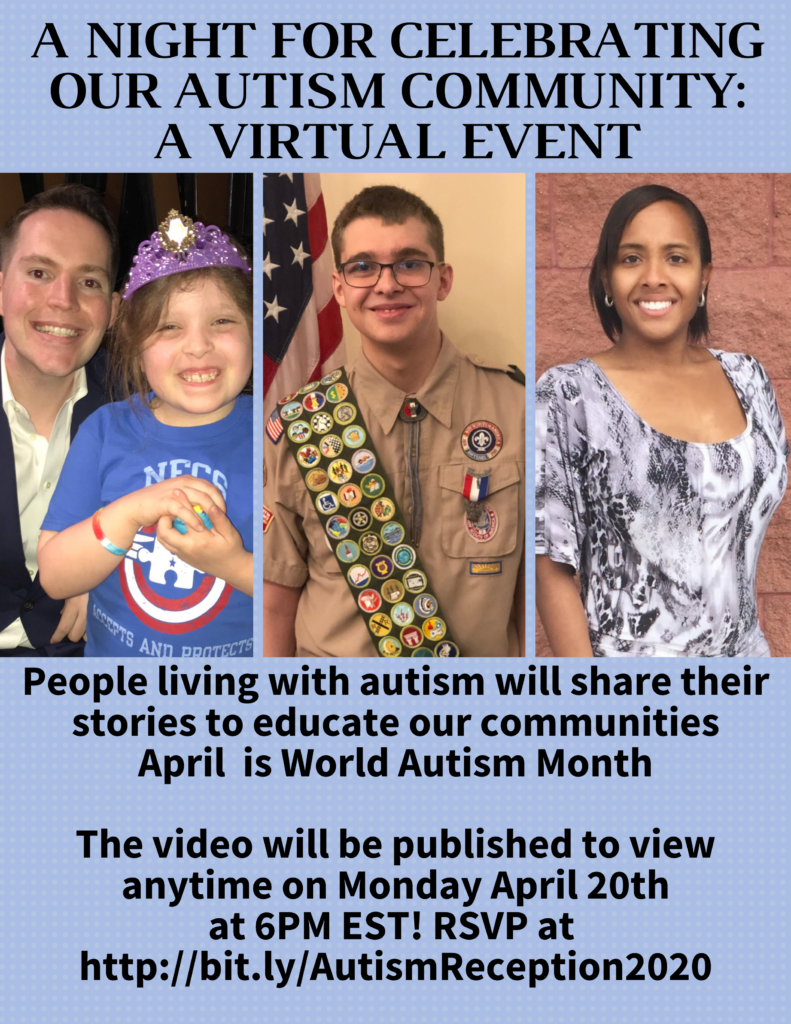 Follow my journey on Facebook, my Facebook Fan Page, & Instagram!
My name is Kerry Magro, a professional speaker and best-selling author who is also on the autism spectrum that started the nonprofit KFM Making a Difference in 2011 to help students with autism receive scholarship aid to pursue a post-secondary education. Help support me so I can continue to help students with autism go to college by making a tax-deductible donation to our nonprofit here.