This guest post is by Annika Schoenbaechler, a young woman on the autism spectrum who has been accepted into Western Kentucky University where she'll be majoring in Pre-Med in the hopes of one day becoming a ER Physician. Annika is applying for the Spring 2020 Making a Difference Autism Scholarship via the nonprofit KFM Making a Difference started by me, Kerry Magro. I was nonverbal till 2.5 and diagnosed with autism at 4 and you can read more about my organization and how to apply for my scholarship here. I'm trying to make this nonprofit self-sufficient so I can make this my full-time job supporting the special needs community and would appreciate you taking a minute before reading on to watch the video below to see why this cause is important to me. I hope you can support my nonprofit like I'm trying to support these students with scholarship aid for college. Learn more on how you can help our cause here.
My name is Annika Schoenbaechler.  I am a senior at The Academy of Louisville in Louisville, Kentucky.  The Academy is a small school with much individual instruction which allows me to more easily focus my efforts on learning.  The Academy offers an environment which allows me to feel comfortable despite my struggles with autism, ADHD and anxiety disorder.  Unlike many of my teachers in schools I attended previously, the teachers at The Academy have experience educating students with various disorders and learning differences.
My struggles with school became noticeable in the third grade.  My teacher told my parents that I was writing very slowly to the point that I could not get words written on paper before the teacher erased the board.  My parents had a gifted-child psychologist evaluate me.  The psychologist diagnosed me as a twice-exceptional child.  Twice-exceptional children are exceptionally intelligent but also have learning differences and usually struggle socially.  The psychologist said I had an IQ around 140, but I suffered from dysgraphia, slow processing speed, autism and ADHD.  I spent the next four years struggling at various schools.  I felt like I was smart enough to do the work but I was much too slow to keep up with the class.  I was very frustrated and I hated school.
During the summer after my seventh grade year, my parents enrolled me in Access School in Davie, Florida.  Access School offers the Arrowsmith Program, which is based in Toronto, Canada.  The Arrowsmith Program helps students strengthen weak cognitive capacities underlying various learning differences. Frankly, the Arrowsmith Program saved my educational career by helping me to overcome dysgraphia and slow processing speed.  My parents had me tested after the program to assure that I had overcome these differences.
While overcoming my learning differences has allowed me to learn more effectively, I still struggle sometimes because of my autism and ADHD.  I sometimes have trouble understanding others and often ask teachers or my parents how I should have behaved differently.  I often am too loud, especially when I get excited.  My teachers and parents often ask me to talk more quietly.  I also suffer from mood swings, often being overly excited or upset very quickly.  I also struggle from having an obsessive behavior which causes me to want to do some trivial things repetitively or some things only a certain way.  This obsessive behavior would cause me to get in trouble occasionally with teachers who did not understand students like me with autism and ADHD.  For example, I was often disciplined for filling in the enclosed spaces of the letters on my worksheets and other such obsessive tendencies.  My ADHD causes me to struggle in keeping focused on a discussion, thus I often lose track and sometimes interrupt others.  I also feel that my autism really affects my sleep.  My parents say that I have had trouble sleeping since I was 2 years old and I never took naps.  I have much trouble getting to sleep, often not being able to sleep until 2am or later.
Looking back at the years of struggle and frustration, I am proud of myself for continuing to work hard and always try my best.  I am a very fortunate to have parents that give me all the support I could ever need.  I am also very grateful for the Arrowsmith Program, which helped me overcome my differences and gave me the ability to learn without struggle.  Though I have still struggle with my autism, anxiety ADHD, overcoming my learning differences has allowed me to make good grades and score very well on tests, including a 32 on my ACT.  I am now a confident learner and excited to go to school everyday.  I have gained early acceptance to Western Kentucky University, though I am applying to other post-secondary schools as well.  I look forward to majoring in Pre-Med and I dream to become an ER physician someday.
Join us during World Autism Month by RSVPing here for our 'A Night For Celebrating Our Autism Community Virtual Event' on April 20th where we will be spotlight several members of our autism community like our scholarship applicants!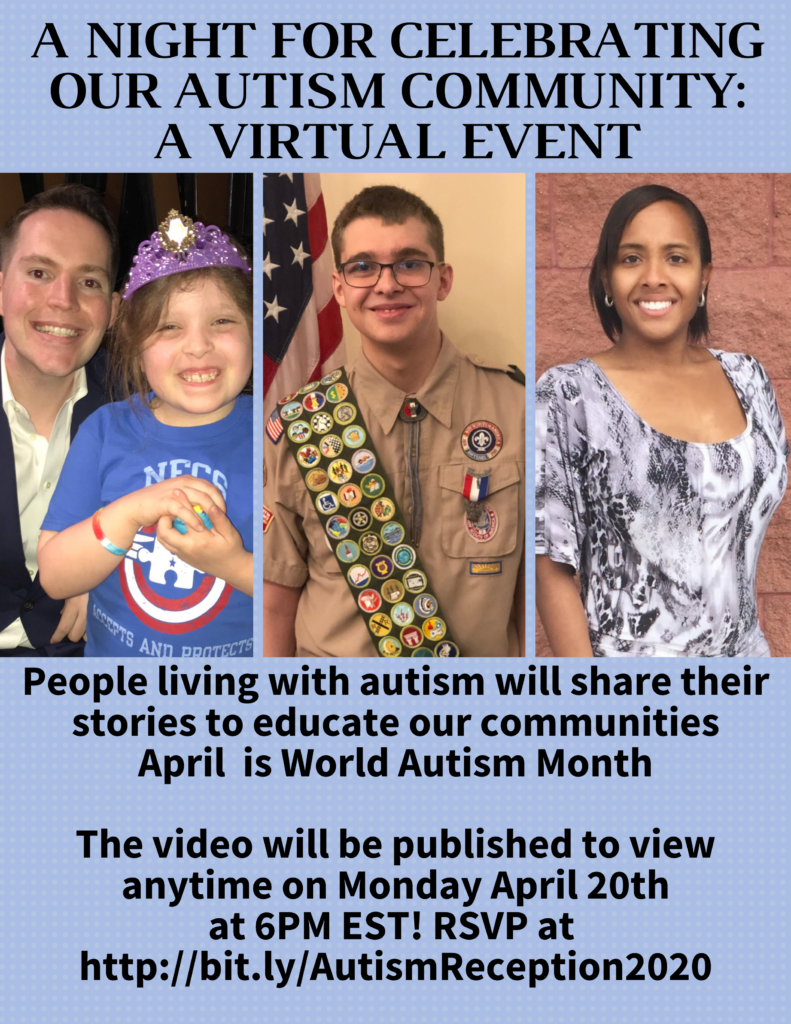 Follow my journey on Facebook, my Facebook Fan Page, & Instagram!
My name is Kerry Magro, a professional speaker and best-selling author who is also on the autism spectrum that started the nonprofit KFM Making a Difference in 2011 to help students with autism receive scholarship aid to pursue a post-secondary education. Help support me so I can continue to help students with autism go to college by making a tax-deductible donation to our nonprofit here.