This guest post is by Abigail Chang, a 21-year-old adult on the autism spectrum. Abigail is currently a college student at Cal State Long Beach and is pursuing a Bachelor's degree in Journalism with a double minor of Information System and Chinese. She was born and raised in Los Angeles, California. Abigail is applying for our Spring 2017 Making a Difference Autism Scholarship via the nonprofit KFM Making a Difference. You can read more about the organization and how to apply for our scholarship here.
Growing up with autism was often difficult. I was placed in special education while my siblings were in a general education class and they were able to live in a 'normal' school life without me. I wasn't good at talking to people until the end of elementary school. There was only one person that approached me and wanted to get to know me. We became best friends, but then she moved away. I never saw her again, and now I was back in my unsociable life. I was also back in the special education life with little knowledge on what general education really is.
Growing up with autism during middle school had worsen when I wasn't making friends. A lot of students would make fun of me for not being able to make friends and not being socially active. It was devastating. However, I thought about my mom on how she quit her job just to spend more time with me when she found out that I had autism at the age of three.
Finally, when I was going to a community college to finish up my general education, I was going to be a mainstream classroom just like so many others so that I can take general-education classes like my siblings did from their time in school. They have no idea on what I've been through, and so, I was on my own for the first time and it felt great! I could pick my classes in my own time and I could get almost whatever I wanted! However, I still needed help from some people and most of the help were from my family.
I want to thank my family and my older brother: who guided me with my graduation process from high school to college. To my sister, I know we usually fought since we were kids, but that was my beginning of my speaking process. We fight and fight over stupid things. We still do, but not as much as before. Also my mom, who quit her job just to be with me and support me all the way until she can relax enough to find another job to support me and my siblings.
Even though I still required assistance from the disability program, I strive to do what everyone else is doing. Getting an education, applying for internships, and much more. I should be doing more of this now since I am currently a new transfer student that is attending a four-year public school. I am still dealing with limits due to my autism such as speaking to groups and making my ideas since it does take time for me to process an answer. I'm still working on my speech and learning process as of now.
At least I am pursuing a college degree, learning about life and having the most supportive family. They will always be there for me.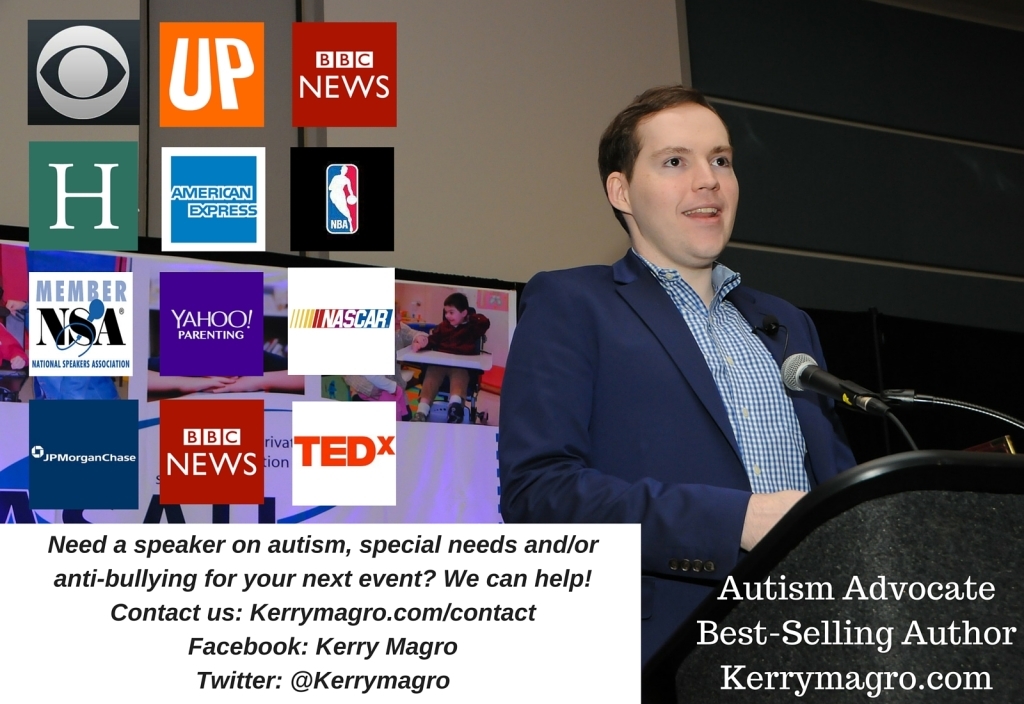 Kerry Magro, an international motivational speaker and best-selling author started the nonprofit KFM Making a Difference in 2011 to help students with autism receive scholarship aid to pursue a post-secondary education. Help us continue to help students with autism go to college by making a tax-deductible donation to our nonprofit here. Also, consider having Kerry who travels around the country speaking about his journey on the autism spectrum at your next event by contacting him here.