This guest post is by Ashley Fieber, a young woman on the autism spectrum who has been accepted into UNC-Chapel Hill, Furman University, Elon University, and Gardner-Webb University. Ashley is applying for the Spring 2020 Making a Difference Autism Scholarship via the nonprofit KFM Making a Difference started by me, Kerry Magro. I was nonverbal till 2.5 and diagnosed with autism at 4 and you can read more about my organization and how to apply for my scholarship here. I'm trying to make this nonprofit self-sufficient so I can make this my full-time job supporting the special needs community and would appreciate you taking a minute before reading on to watch the video below to see why this cause is important to me. I hope you can support my nonprofit like I'm trying to support these students with scholarship aid for college. Learn more on how you can help our cause here.
At age nine, I was known to tear through books and scramble up trees with equal verve. I could never stop moving or thinking with that fire coursing through my veins, and I cherished the same flame of existence that I imagined was burning in all living creatures. My parents saw the flame as well, but like my teachers, they noticed nonconformity to societal norms. After a series of dull evaluations, I was spat out with the diagnosis that has been rewriting my story ever since: Autism.
The official explanation for the late discovery was that Asperger's Syndrome in females is not often diagnosed, usually because of our abnormal display of social adaption. We are far more outgoing than our male counterparts: I was the epitome of bubbly and talkative! I struggled to rationalize this deviation from the typical autistic child. In fact, in my naivety, 'autism' was simply a confusing, meaningless attempt to decipher my individuality. I did not feel different from anyone else, so why were the doctors telling me otherwise?
Of course, you cannot just wish away a condition of this sort. My disparity with 'neurotypical' society became increasingly apparent as I moved into my early teenage years. I can recall a myriad of struggles in finding acceptance from my peers, getting caught in misunderstandings, and demonstrating embarrassing social incompetence. I failed to understand implied meaning and missed key social cues that stereotypical people would normally notice. Despite a bold, vivid personality and my ability to quickly accumulate friends, I irritated those that became close. In my lack of consideration for others' feelings, I made consistent social errors that drove peers away. My autism was also accompanied by everything from OCD, ADHD, sensory processing issues, and anxiety to a stress-related hair-pulling disorder called Trichotillomania. It seemed like a recipe for disaster.
Some days, I must simply pause and be thankful for the gifts that also accompany my diagnosis. I was fortunate enough to have Asperger's Syndrome, on the high-functioning end of the Spectrum. It has been theorized that brilliant minds such as Albert Einstein and Sir Isaac Newton might have had similar conditions. Reading that the same recipe you thought spelled disaster can actually be a recipe for greatness? It is a bit unbelievable, but inspiring nonetheless—and potentially true! I have many differences, but I am also academically gifted. I have a frustrating, but often useful tendency to understand the complex rather than the simple. I offer a unique perspective and thought process, a fierce passion for both raw science and fantastical literature, and the ability to hyper-focus on tasks until I see them through. Being stubbornly persistent in a medical research career means I will be the one who keeps going when everyone else has given up and gone home.
Ultimately, I have realized the potential lying in my uniquely autistic perspective, and now I yearn to finally utilize my God-given talents to mend our broken world. Even my natural disadvantages have some value: as lessons learned. Refining myself even through making mistakes, I have improved so much that new friends are shocked when I eventually reveal that I have autism. Despite my occasional fear of venturing outside my secure little bubble and my characteristic inclination to remain strictly academic, I have recently been extending myself in ways I never envisaged. Last school year, I attended high school full-time, after two years of taking half my classes online. In the past, I particularly struggled with excessive enthusiasm regarding my favorite subjects (taking the form of talkativeness in class) but in the end, I triumphed over that weakness. I took social skills classes, engaged in socially-driven activities and programs such as the IGNITE Program with the Autism Society and the Davidson College Buddy Club for special needs students, gained self-control, and took that challenge head on! I am now applying for college and pursuing my dreams, despite it being an intimidating process for someone like me. My autism is a part of me, but I will no longer allow it to define me, which is why I will succeed.
No more hesitation…
Join us during World Autism Month by RSVPing here for our 'A Night For Celebrating Our Autism Community Virtual Event' on April 20th where we will be spotlighting several members of our autism community like our scholarship applicants!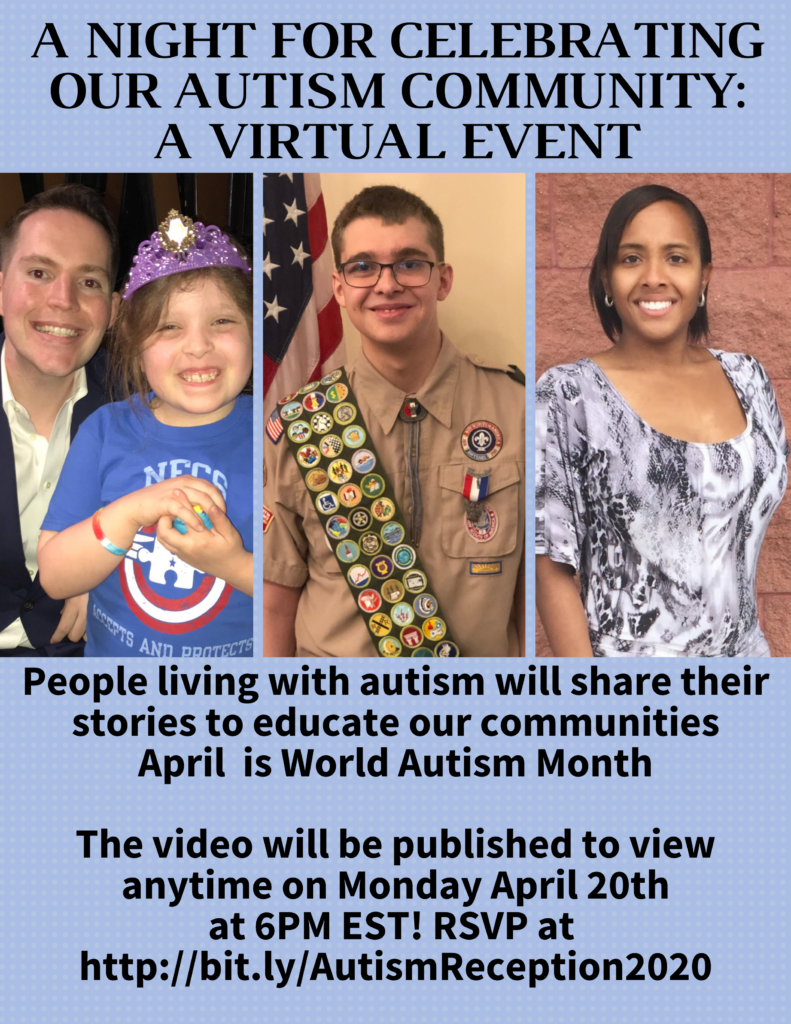 Follow my journey on Facebook, my Facebook Fan Page, & Instagram!
My name is Kerry Magro, a professional speaker and best-selling author who is also on the autism spectrum that started the nonprofit KFM Making a Difference in 2011 to help students with autism receive scholarship aid to pursue a post-secondary education. Help support me so I can continue to help students with autism go to college by making a tax-deductible donation to our nonprofit here.