This guest post is by Mason Carter, a young man on the autism spectrum who has been accepted and will be attending Miami University, Oxford where he will be majoring in Engineering. Mason is applying for the Spring 2019 Making a Difference Autism Scholarship via the nonprofit KFM Making a Difference. You can read more about the organization and how to apply for our scholarship here. You can help our scholarship program continue to help these students by making a donation to our scholarship fund here (the majority of our scholarship program is ran through donors from our community such as yourself so no matter if you could donate anything, whether it be $5 anywhere up to $5,000 it would be making a difference!).
I am a student who has personally overcome adversity and disabilities to become a productive member of our community and am planning on an industrious career in Engineering.
I am on the autism spectrum, however I am very high functioning, and since I got straight A's, my symptoms were not recognized by my school. I often would make noises and fidget, especially when the classroom would get loud and chaotic. I didn't know why, but I had trouble conforming in the classroom. I didn't find out until later that I was on the Autism Spectrum. I did not receive services for my issues and in fact was often bullied by students, and sometimes allowed to be bullied by some teachers that thought I was behaving this way on purpose. I was physically attacked on a weekly basis by other kids. I was finally put in with a group of students that were violent and misbehaving so badly, it almost pushed me to near suicide. At this point, I no longer cared about what happened to me, was depressed, and didn't want to live.
My parents finally withdrew me from my local school and enrolled me in an Online Public School. I was very nervous because I didn't like computers which I would now have to use all day to do my lessons. Although I was way outside my comfort zone, I was now able to concentrate on my studies and was no longer in a bullying and abusive environment.
Through the new school, I started receiving services for my disabilities. This also put me outside my comfort zone, but I eventually started to trust people again. Though I didn't think I was any good, my parents tried to encourage me to continue with my interests in art and making things out of wood and paper. I always was fascinated with and enjoyed Origami, Art, and had an interest in Woodworking. As time went on, having folded hundreds of models, I mastered the skills of complex Origami by folding a multitude of complex models. I went on to make my own foil backed specialty papers, and folding models that sometimes took me over 10 hours to fold. I have even gone on to create and document some of my own models. I have wanted to share my love for the art and help others develop the required skills. I have since taught Intro to Origami Classes for children at our local library as community service to help others.
Another passion of mine has been woodworking, so my parents enrolled me in a few classes at our local Rockler Woodworking Store, and as my skills grew, they purchased equipment to allow me to create many creations out of wood, using a scroll saw, band saw, lathe, planer, etc… I am mostly self-taught with most of my skills from watching hundreds of hours of YouTube videos on a variety of woodworking and finishing techniques. I have developed skills in many different woodworking processes. I have created a multitude of custom items from wood, such as cutting boards, band saw boxes, lathe turned items, custom turned pens, etc. Examples of my work are here:
https://brad2161.wixsite.com/mtcartanddesign
I am now using my skills to give back to the community like in an event to custom turn Pens for First Responders, making beautiful pens turned on a lathe for Police and Firemen.
Over time, I have developed some self-confidence, and many skills that will help me be productive, while striving for academic excellence. I have been accepted to Miami University, Oxford, and plan to attend in the fall of 2019 studying Mechanical Engineering. I hope to be able to help others with disabilities like me.
Follow Kerry's journey on Facebook, his Facebook Fan Page, & Instagram!
Kerry Magro, a professional speaker and best-selling author who is also on the autism spectrum started the nonprofit KFM Making a Difference in 2011 to help students with autism receive scholarship aid to pursue a post-secondary education. Help us continue to help students with autism go to college by making a tax-deductible donation to our nonprofit here.
Also, consider having Kerry, one of the only professionally accredited speakers on the spectrum in the country, speak at your next event by sending him an inquiry here. If you have a referral for someone who many want him to speak please reach out as well! Kerry speaks with schools, businesses, government agencies, colleges, nonprofit organizations, parent groups and other special events on topics ranging from employment, how to succeed in college with a learning disability, internal communication, living with autism, bullying prevention, social media best practices, innovation, presentation best practices and much more!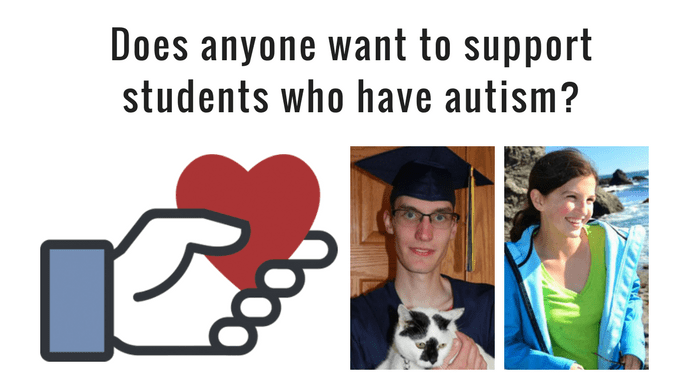 We'd also appreciate if you could take a minute to create a Facebook Fundraiser to support our nonprofit's scholarship fund! You can learn more about how you can do just that here.