This guest post is by Vinh Xuan Michael Tran, a young adult on the autism spectrum. Vinh current attends Southeastern Community College where he's getting an Associate of Arts. Vinh is applying for our Spring 2017 Making a Difference Autism Scholarship via the nonprofit KFM Making a Difference. You can read more about the organization and how to apply for our scholarship here.
When I was a young boy, I was a silent person that really didn't want to interact with other people at first. This was difficult for me and made me very scared. But there is a support instructor who guides me differently in the hope that I can achieve in learning and explore talking at the same time. For example there is a special classroom for the disabilities service program.
In elementary school, two special instructors Miss Rumley and Mrs. Johnson, helped these students to improve by reading more, practicing writing and other special-related activities. It has helped me, but I still have a long way to go. In middle school, there was also another special program that is similar to elementary school but with new and advance techniques to help improve and learn new skills.
The program continued in high school where the ESL program helps students whose English is their second-language. They help improve English grammar and testing on each subject to see where each of the student's skill is at. After graduation from Mt. Pleasant Community High School, I continued to participate in the disability and TRIO programs at the SCC West Burlington Campus in effort to help me continue on my education career. This would happen while I was getting help with test taking that depended on my class, workshops to improve my study skills, and others.
For the TRIO program, it also allows TRIO students to visits any college campus in hopes to find out what 4-year colleges each student would like to continue their education act.
Learning has felt like it's been hard and easy at the same exact time. Compared to other students, it was hard for me when I would have to communicate using a native language with my parents while using the English language to communicate with students, instructors, and others.
Also, I'm very busy trying to get my assignments done on time while studying for upcoming tests. Sometimes it's difficult to find time when I have to practice on my language where it doesn't give me the time to study other things. But sometimes, I was able to take a break between classes and to take a break from homework. That allows me to regain my energy and continue to work on my assignments.
When I look at my notes it is helpful for me because it makes my assignments very simple. I would like to tell other students with autism to not give up. You need to stay motivated and also start exploring new opportunities for careers. Don't forget to work with your parents, friends, and other people that you know who will help you improve your skills and allow you to continue to purse your dreams.
Finally, don't be shy and worry about a lack of communication with your parents or friends. They will try to help you improve communication that will help you feel more comfortable.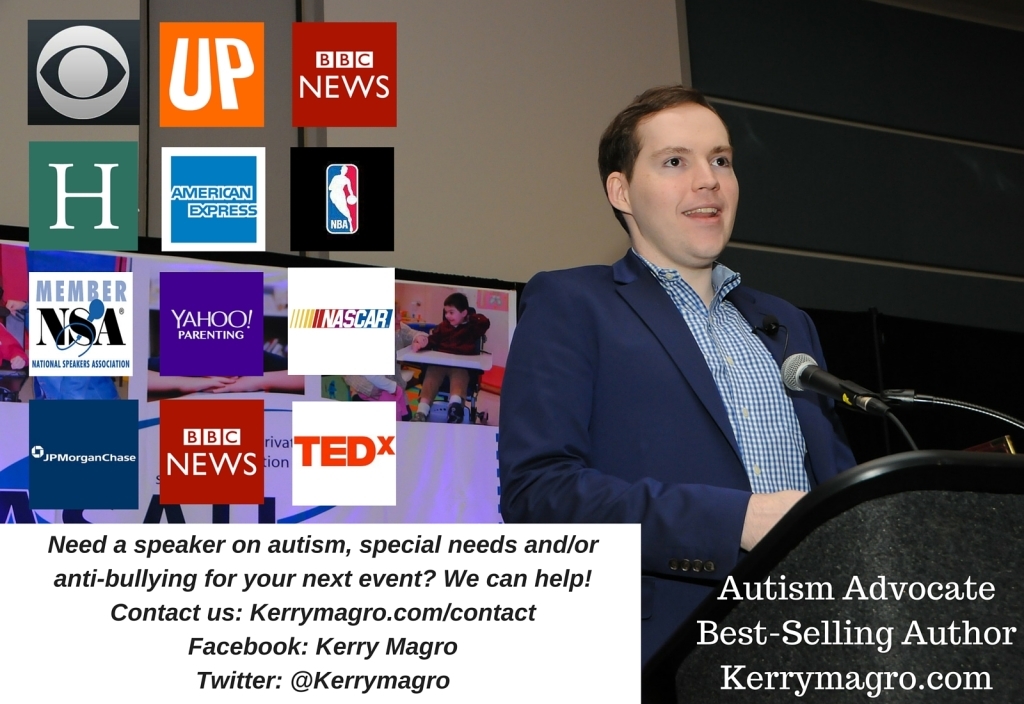 Kerry Magro, an international motivational speaker and best-selling author started the nonprofit KFM Making a Difference in 2011 to help students with autism receive scholarship aid to pursue a post-secondary education. Help us continue to help students with autism go to college by making a tax-deductible donation to our nonprofit here. Also, consider having Kerry who travels around the country speaking about his journey on the autism spectrum at your next event by contacting him here.