This guest post is by Faith Butterfield, a young woman on the autism spectrum who has been accepted and is attending Citrus College where she is majoring in Fine Arts. Faith is applying for the Spring 2020 Making a Difference Autism Scholarship via the nonprofit KFM Making a Difference. You can read more about the organization and how to apply for our scholarship here. You can help our scholarship program continue to help these students by making a donation to our scholarship fund here (the majority of our scholarship program is ran through donors from our community such as yourself so no matter if you could donate anything, whether it be $5 anywhere up to $5,000 it would be making a difference!).
I dealt with the challenges of autism since I got into preschool. Experts said I needed to be in a special class. I proved them wrong. Then I attended 3rd grade where I was fully included in a classroom full of normal kids which during recess, I was isolated from the kids tricking me. After 6th grade, I went to junior high school where I was forced to separate my friends and was placed in the disabled quad where I met someone from kindergarten. It inspired me to write a poem called a Thousand Faces which was based on my own experiences with discrimination and I was turned down from performing at the talent show which the school staff members said it was offensive.
">Later on, I went to School of Arts and Enterprise for high school and I had the first two years with no discrimination til I was not allowed to attend summer camp which led to my school working together to end discrimination for good. At college I had good grades of 3.8 and was on the President's list. But in 2017 I was disruptive in ENG 99 and was forced to withdraw from the class and in 2018, I was forced to leave Elementary Algebra because it was so stressful which it was too hard for me that made me want to cry about it. But I learned how to overcome anxiety through meditation.
">My goals are to get an associate degree and get a Bachelor's Degree in Fine Arts, complete my vocational training so I can get animation jobs in the animation industry. I am interested in auditioning for the role of an autistic character like me from the Neurodiversity TV pilot for ABC. My location is Pomona, CA and I am an aspiring animator, actress, and entertainment industry artist. I was diagnosed with autism at age 2 in 1999 and the doctors said that I was retarded so my parents went to an assessment to get into preschool which I knew the alphabet, color, and languages, and numbers. Then they putted me in a county class for cognitively delayed children like me, but I proved them wrong which I had an IQ of 140, and later my parents filed a state complaint which they fought for inclusion for me to be in a normal classroom until I got into 3rd grade. Later on in my childhood, I met David Mehnert my old mentor from age 7 to 14 which I developed the skills of languages, world culture, art, entertainment, music that became my gifts of autism for the rest of my life. In 2004, I had my first art show at the Claremont Art Museum and was featured in the book Artism: The Art of Autism which featured my first professional work for the Savant Academy which David Mehnert was the founder of.
Later on in elementary school, I taught my friends the sound of smell which however, some of the kids were tricking me which was bullying. After 6th grade, I went to El Roble Intermediate School from 7th to 8th grade which they forced to separate me from my friends and put me the disabled quad which I wrote a poem called a Thousand Faces based my experiences of segregation against autism and the Talent Show rejected me because it was discriminatory. After that, I went to School of Arts and Enterprise for high school, which I found refuge from discrimination until I was not allowed to go to summer art camp which was discrimination against me due to autism. So my former school got together to end segregation against people with autism and include them into the art class for good. I am currently studying at Citrus College as an fine arts major with GPA of 3.8 and I am on the President's List. My volunteer experience was that I was doing caricatures to raise money for Autism Speaks, Services Center for Independent Living, Autism HWY Chalk Festival, and Learning Disabilities Association. In 2018, I won the Academy of Dreams Award for my animated short My Heart Flies at the Palm Springs International Animation Film Festival. I do animation, voice acting, and improv with Spectrum Laboratory which is a non profit organization founded by Jason Weissbroad in 2015. I also write and illustrate books with Workshop 2.0 which is a charity founded by Janet Tashjian in 2016 which I published my first children's book Mouse in the Penthouse which is on Amazon. I had my first acting role in the Special Olympics PSA in 2018 which I played my self-drawing in the office late at night which is my typecast. I was featured in the Citrus College Clarion article called Motivated by Faith in 2017 which I became an activist for inclusion since 7th grade at age 13.
Currently, I am one of the character designers for a documentary called Schtlitze One of Us based on the life of the legendary sideshow performer and a live action animated short called Boys Don't Wear Dresses which wrapped up filming.
Follow Kerry's journey on Facebook, his Facebook Fan Page, & Instagram!
Kerry Magro, a professional speaker and best-selling author who is also on the autism spectrum started the nonprofit KFM Making a Difference in 2011 to help students with autism receive scholarship aid to pursue a post-secondary education. Help us continue to help students with autism go to college by making a tax-deductible donation to our nonprofit here.
Also, consider having Kerry, one of the only professionally accredited speakers on the spectrum in the country, speak at your next event by sending him an inquiry here. If you have a referral for someone who many want him to speak please reach out as well! Kerry speaks with schools, businesses, government agencies, colleges, nonprofit organizations, parent groups and other special events on topics ranging from employment, how to succeed in college with a learning disability, internal communication, living with autism, bullying prevention, social media best practices, innovation, presentation best practices and much more!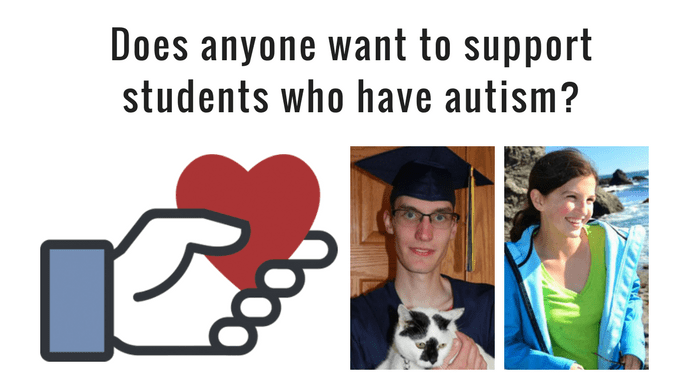 We'd also appreciate if you could take a minute to create a Facebook Fundraiser to support our nonprofit's scholarship fund! You can learn more about how you can do just that here.