This guest post is by Brendan Minck a young man on the autism spectrum who has been accepted into Truckee Meadows Community College. Brendan is applying for the Spring 2020 Making a Difference Autism Scholarship via the nonprofit KFM Making a Difference started by me, Kerry Magro. I was nonverbal till 2.5 and diagnosed with autism at 4 and you can read more about my organization and how to apply for my scholarship here. I'm trying to make this nonprofit self-sufficient so I can make this my full-time job supporting the special needs community and would appreciate you taking a minute before reading on to watch this video below and subscribing to our Youtube page here to get to learn more about the work we do in the community.
I hope you can support my nonprofit like I'm trying to support these students with scholarship aid for college. Learn more on how you can help our cause here.
My name is Brendan Minck.  I am 18 years old.  I am autistic.  My mom says I came into the world backwards (breech) and have been doing things in my own, different way ever since.  I am in my first year of college.  The path to here has been filled with stress and struggles.  It's also been filled with accomplishments and pride.
I was first diagnosed with autism by a Developmental Specialist at Stanford University in California when I was 21 months old.  My parents noticed I had missed some key development milestones (walking and talking) and decided to have me tested.  Although I don't remember any of it, I am told I was put through a series of tests and observations.  I was happy though.  I didn't know I was different.
What came out of all the testing was that my language was pretty impacted and I had typical autistic sensitivities to sound, light, taste, balance, and personal space.  I was diagnosed with Pervasive Development Disorder – Not Otherwise Specified (PDD-NOS) which was known as "atypical" autism.  At 3 years old, the school district tested me and found that I was smart!  I could read, knew colors, and shapes.  My parents considered holding me back when it was time to start Kindergarten because I was immature, but the school district said no, that I was intellectually ready and that they'd deal with emotional immaturity.
Grade school was good and bad.  I would get overwhelmed by all the noise, and just shut down.  I would crawl under the desk or put my hands over my ears.  My first friend, Sophie, who I met the summer before first grade (because our moms became friends), was in class with me and she would put her hands on my face and calm me down.  I would often just sit alone at recess, not knowing how to join social groups.  This is when my social anxiety started to be seen.  There were the typical bullies who shook my confidence.  As I went through school, some teachers understood me and accommodated me, others did not.  Those who didn't made life painful and shook my self-esteem.  I didn't always understand what was expected of me and didn't know what to do, so I just did nothing.  The school recommended medication for me and my parents tried it, trying to help me.  All it did was make me sleepy.  The school also recommended another school because they feared that as I headed to Jr. High I would be a target because I was being singled out by certain kids.
I was able to get into a great college-prep charter school, and from 5th to 8th grade I excelled.  I was on the honor roll and had friends!  The school was smaller, offered more structure, and it seemed that more kids like me went there.  Overall, it was a lot of work but I liked it and I did really well.  I was looking forward to high school.
However, high school is when things got bad.  The expectations at this school jumped and I couldn't keep up.  I wanted to, but the stress was overwhelming and I began to shut down.  Within a month I was failing – from honor student to failure.  I had meltdowns that I could not control.  I was at my lowest.  By junior year I was thinking about not wanting to live.  My parents were really scared for me so they talked about changing my school for my senior year.  I was willing to try anything so I said sure.
That school was Innovations High School, a high school with a unique learning curriculum.  It is a Big Picture Learning school and everything changed for me there.   If I didn't understand, they would change the way they taught.  They didn't force me into the typical academic box like the other schools tried to do.  They accept kids who have struggled with certain life experiences (i.e. family struggles, abuse, bullying, autism, etc.), and teach them in a safe, encouraging environment where everyone is treated equally and with respect. When I first got there, I was scared because I thought the first day was going to be terrifying, but it ended up being amazing. It felt great there and not only was I getting help that I needed, they also accepted me for exactly who I was as a person.  I discovered that I had a talent for creative writing and slam poetry.  English (language) had always been my biggest struggle, but with the freedom to express myself and with support, I blossomed.  Thanks to all the help from my teachers and peers, I graduated with an advanced high school diploma. I was also selected Outstanding Graduate, received a cash award and certificate, and got to speak to a group of about 200 people.  Now THAT was terrifying!  I'm pretty sure I will never be a public speaker!  High school ended on a high note and now I'm pursuing college.
I am now at a junior college studying to first earn an associate's degree in Computer Science and Programming. My goal is to transfer to a 4-year university to earn my bachelor's degree.   I have always been fascinated by computers, and I enjoy programming in Java and Python.  My hope is that when I graduate, I will land an IT job at a company that will accept and value those who "live outside the box" like me.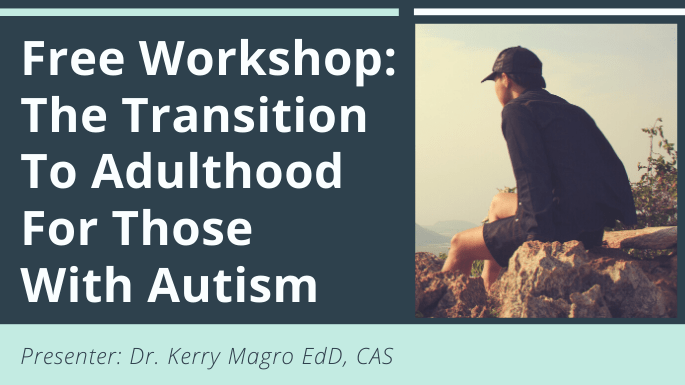 Join us for our Free Workshop "The Transition To Adulthood For Those With Autism" on 4/30 at 8PM where I'll be talking about topics such as our autism scholarship program  – Register at: https://zoom.us/webinar/register/WN_vofL2kFjRBCSHGJ5JcfyVA
Follow my journey on Facebook, my Facebook Fan Page, & Instagram!
My name is Kerry Magro, a professional speaker and best-selling author who is also on the autism spectrum that started the nonprofit KFM Making a Difference in 2011 to help students with autism receive scholarship aid to pursue a post-secondary education. Help support me so I can continue to help students with autism go to college by making a tax-deductible donation to our nonprofit here.