This guest post is by Jonathon Negron a young man on the autism spectrum who is graduating from High Tech High School in New Jersey and will be attending Hudson County Community College. Jonathon is applying for the Spring 2020 Making a Difference Autism Scholarship via the nonprofit KFM Making a Difference started by me, Kerry Magro. I was nonverbal till 2.5 and diagnosed with autism at 4 and you can read more about my organization and how to apply for my scholarship here. I'm trying to make this nonprofit self-sufficient so I can make this my full-time job supporting the special needs community and would appreciate you taking a minute before reading on to watch this video below and subscribing to our Youtube page here to get to learn more about the work we do in the community.
I hope you can support my nonprofit like I'm trying to support these students with scholarship aid for college. Learn more on how you can help our cause here.
2020 is a monumental year, a time that will be written in the history books for decades. To me, 2020 is the year of my next big step, but for my personal and professional life as a wrap up high school and prepare for my undergraduate studies. During this already tumultuous time, I've been trying to use my time wisely, and it has allowed me to reflect on how my diagnosis has affected my life, from my days in grade school to my next step in life. Having a learning disability not only raised the bar of academic achievement, but it also made me a frequent victim of bullying. My attention deficit had the ability to derail my train of thought at any moment, and I had to work twice as hard to achieve my goals, while others tried to take advantage of my predisposition. This is the biggest problem we face as autistics: the stigma regarding our ability to do what we do best.
We like to think the outside world is a very open place, a place where even with our setbacks; we can be on the same playing field as everyone else. I can say that my resilience and determination has kept me going, and has allowed me to get on the path to climbing up and becoming the best version of myself. However, I can acknowledge that there are still more hurdles to jump over, and it is undeniable that not everyone on the autism spectrum has been able to say the same. I remember being in grade school, having to be on my toes about the looking, sneering, and targeting from others. I was not only emotionally abused by their insults, but I was physically attacked and bullied by other students. Someone forcibly pushed me down the stairs. Another kept intentionally misspelling my last name to the n-word (my school at the time was predominantly white). There was even a time where I was in the bathroom, and 3 other boys cornered me, beat me up, and threw my head against a sink.  I still remember the names of all those who've hurt me; the mental scars run deep.
Time has healed the wounds, and has converted these acts of hate into glimmers of hope. To combat those who've wronged us, the autistic community needs to come together and learn about ourselves. They say knowledge is power, and when we are aware of what makes us different from others, we'll be able to act on it. This stigma about us is no more than a distraction from the truth that makes us shine so bright: we are strong. The extra work we undertake to assimilate into society goes mostly unnoticed, but we take the liberty to go even further.
Harlan Ellision once wrote: "For without pain, there can be no pleasure. Without sadness, there can be no happiness. Without misery there can be no beauty. And without these, life is endless, hopeless, doomed and damned." This is a quote we all should by as members of the autistic community. We've all experienced pain physically and emotionally, and it is easy to believe you can only feel that pain. But within the pain, there's always a glimmer, a ray of sunshine that penetrates through known as hope and determination. Everything we have encountered happened for a reason, and it's up to us to make the best of it. Pain is there to be a reminder of all we have to look forward to, all that's left to explore.
I've connected with other autistic peers, and we've all heard the slurs and insults. But as a group, we all chose to rise above them, focusing on what we like and what we do. We don't need to hide in the shadows because there are doubters; we need to do the opposite and show the world that their doubts fall on deaf ears. The world is looking for equality, and allowing equal opportunity those with disabilities, including autism, without stigma is just one way the autistic community can move forward.
Especially in a time of disease, social distancing, and the creation of a new normal, unity is more of a necessity than ever. We need to band together as the autistic community and showcase our strengths to the world, no matter how minor you think they may be. The world is an extremely diverse place; even if you think you aren't enough, just remember that there is no measuring stick to success. Autism isn't something to be ashamed of; it is something to take pride in. Now, it's our time to shine, our time to show the world our power. We hold the world's most uplifting stories, the next big idea, the next story no one's heard yet. Once you find your footing, don't be afraid to let it out; we'll all be waiting for you.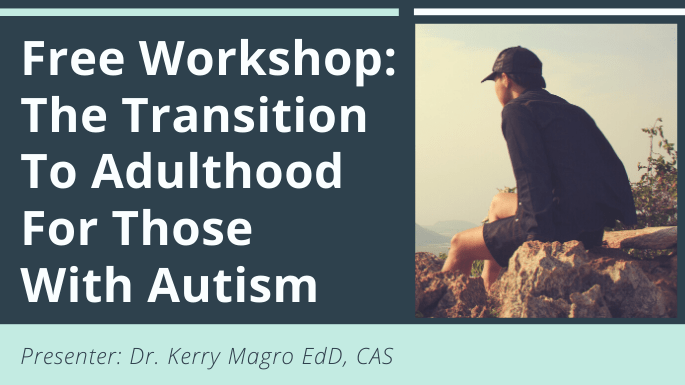 Join us for our Free Workshop "The Transition To Adulthood For Those With Autism" on 4/30 at 8PM where I'll be talking about topics such as our autism scholarship program  – Register at: https://zoom.us/webinar/register/WN_vofL2kFjRBCSHGJ5JcfyVA
Follow my journey on Facebook, my Facebook Fan Page, & Instagram!
My name is Kerry Magro, a professional speaker and best-selling author who is also on the autism spectrum that started the nonprofit KFM Making a Difference in 2011 to help students with autism receive scholarship aid to pursue a post-secondary education. Help support me so I can continue to help students with autism go to college by making a tax-deductible donation to our nonprofit here.