What a heartfelt story of community in Tempe Town Lake, Arizona. As first reported by ABC 15 Arizona, a teen with autism was playing Pokemon Go with his mom outside when two college-age men squirted barbecue sauce on him. They followed up by saying, "Yes, we got the r-word."
His sister, outraged by what the men did went to their local Arizona Pokemon Go Community Facebook Page to share about the incident. The photo she posted to the page is below…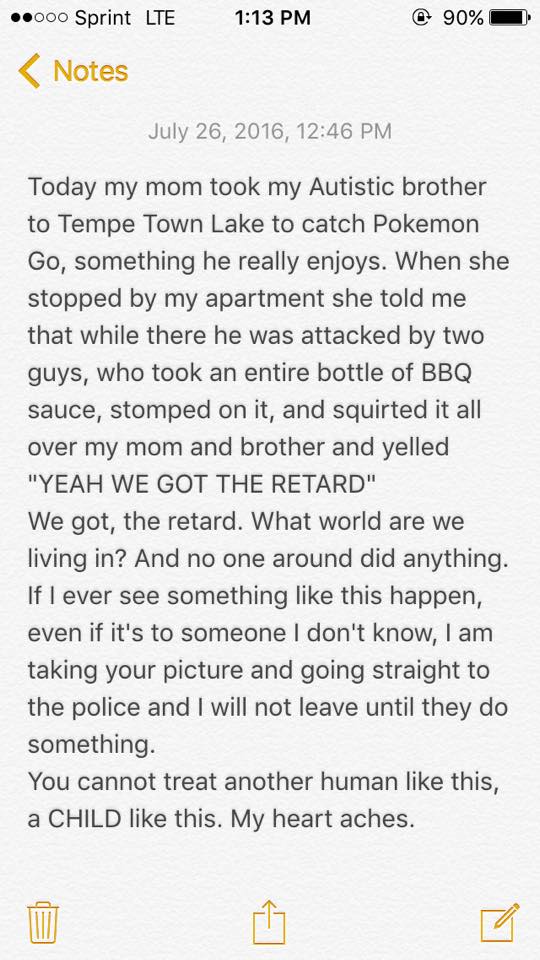 The response from this post led to countless members in the Arizona community gathering together where they came up with the idea to arrange a Pokemon Go hangout with the teen with autism who was bullied. They gave him gifts that included t-shirts and a large toy Pikachu.
Kindness can go a long way in our community. This story among others makes us realize the harmful effects bullying can have on our loved ones. More awareness and education in our schools and society are needed to help fight the epidemic of bullying. We currently give talks around the country to schools and communities about bullying prevention based on our personal experiences being bullied growing up on the autism spectrum. If you are interested in learning more please contact us anytime here for more details!
You can read more about this story at ABC 15 Arizona here.