This guest post is by Sean Harris, a young man on the autism spectrum. Sean has been accepted into University of New Hampshire's Honor Program where he'll be attending in the Fall of 2017. Sean is applying for our Spring 2017 Making a Difference Autism Scholarship via the nonprofit KFM Making a Difference. You can read more about the organization and how to apply for our scholarship here.
My name is Sean Harris and I am a senior at Plymouth Regional High School in Plymouth, NH. I was diagnosed with autism in third grade and have worked hard to overcome the struggles associated with it. As a result of my hard work, I was admitted to the University of New Hampshire's Honors Program and will be attending in the fall. This is the story of how I became who I am today.
Since I was very young, I was advanced academically. I learned to read and do math before I entered school. While academics and learning were never struggles for me, being comfortable in social situations was.
In elementary school I got in trouble almost every day because of disruptive behavior. My teachers would call home and tell my parents that I was having a hard time sitting still, I would say and write inappropriate things, and I would act silly and not take things seriously. A lot of the times that I got in trouble were because other kids in my class would get me to do things that they knew I would get in trouble for, but they thought were funny. I never really understood that what I was doing was not appropriate in that situation. When I would attend other social events like camps or church play groups, the same things would happen and I would find myself having to get picked up and brought home. I didn't like to play in groups, so when we had friends over to my house, I would play alone more than with the other kids.
My teachers thought that I had ADHD and I started medication for that. The medicine made me angry and sick, and it didn't help my anxiety. I tried to do play therapy but that didn't help, either. Then in third grade I was finally diagnosed with Asperger's Syndrome.
After I was diagnosed, the school began a program called "Think Social" with me, and that helped me to start to recognize situations and make better choices. The biggest help for me was that when I was in sixth grade, the school decided to move me up to seventh grade because I was way ahead of my class academically. This made me feel good and made my other classmates look up to me. This was a feeling that helped inspire my success and drive in high school.
Before entering high school, I had made some close friends mostly through music. I had long, blue hair and looked much differently than I do today. I still love music and still play my guitar, but it was my academic and outdoor interests that helped shape who I am and helped me overcome many of my social anxieties.
Two things happened during my freshman year that had major impacts on me. First, the coach of the school's quiz bowl team approached me and asked me to try out. I was never very competitive, but I came to a few practices and realized that I was really good. In November, we had tryouts for the television show "Granite State Challenge" on New Hampshire Public Television. I ended up being on the show for all four years of high school. In addition, I have been part of three history bowl teams that have attended the national championships in Washington D.C., participated in two national geography individual championships in Washington D.C., and I was the Vermont National History Bee individual champion this year at the varsity division. I also finished runner-up in the New Hampshire competition. Our quiz bowl team was undefeated state champions in the New Hampshire Quiz Bowl League this year, and we will be attending the Small School National Championship Tournament in Chicago for the second year in a row. My personal success and the success of my team helped me gain self-confidence and learn how to work as a part of a team, which will be important as I continue into my field of study, environmental science.
Additionally during my freshman year I realized that I loved learning languages. I took Spanish in school, and also picked up French online. During the summer of my freshman year I took a big leap of faith and left home for three and a half weeks to go to a French Immersion camp in Quebec. I had to not only learn a new language, but also learn to live with and socialize with people I didn't know in a town that I didn't know. I ended up loving the program so much that I went back for a second time the next summer. My language skills grew so quickly that I was able to achieve a passing score on the French AP exam before I even took the AP course.
The experience of being away at the immersion camps helped me gain the confidence to attend the St. Paul's Advanced Studies Program in Concord, NH, during my junior year summer. This was a six week intensive study program with the top juniors from across New Hampshire. The social aspect of the immersion program really helped me get comfortable more quickly, which was important because the workload was intense. I studied ecology and got first hand experience with many different aspects of environmental science. I also worked as a member of a team to complete a major project around water quality at the end of the program.
Studying ecology and environmental science is important to me because I love the outdoors and believe it is critical that we protect the environment. I am an avid hiker and am proud to say that in a matter of less than two years I completed my goal of hiking all 48 of the New Hampshire 4000 foot peaks. I also hope to complete all the 4000 foot peaks in New England in the next few years.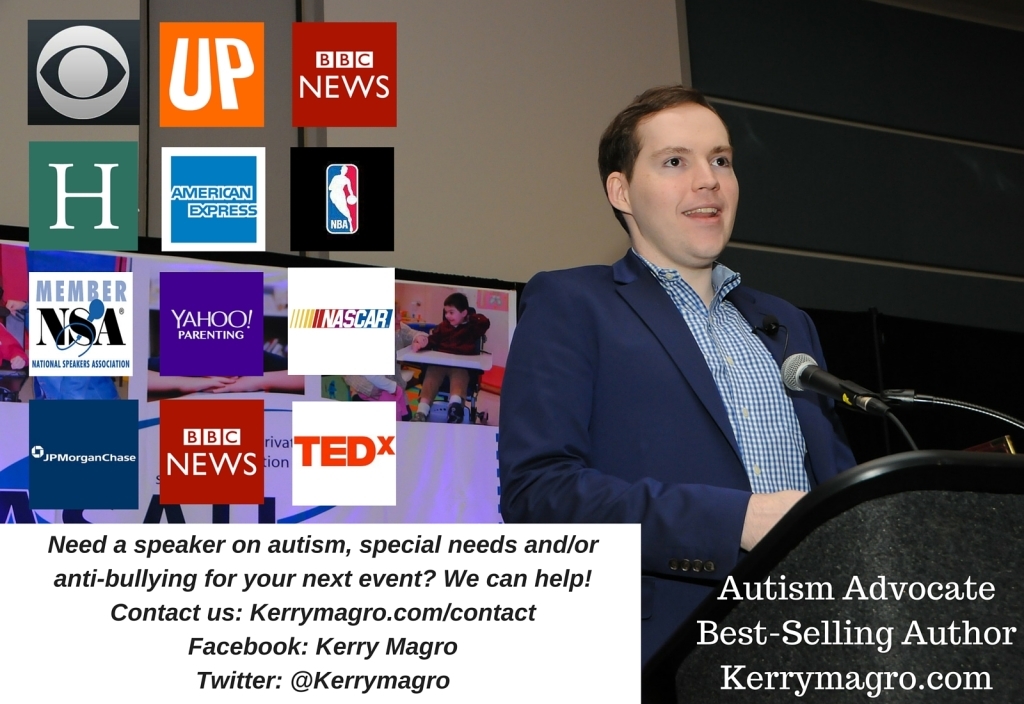 Kerry Magro, an international motivational speaker and best-selling author started the nonprofit KFM Making a Difference in 2011 to help students with autism receive scholarship aid to pursue a post-secondary education. Help us continue to help students with autism go to college by making a tax-deductible donation to our nonprofit here. Also, consider having Kerry who travels around the country speaking about his journey on the autism spectrum at your next event by contacting him here.