This guest post is by Rachael Iczkowski, a young girl on the autism spectrum. She takes voice, piano, jazz dance, acting, gymnastics, and aerial arts lessons. She has even walked the runway in New York and Detroit. She today has written blogs about her experiences and views on being autistic. Have a guest blog you'd like us to share with our readers? Learn more about submitting your piece to our site here.
What is autism?
According to the dictionary autism is a pervasive developmental disorder characterized by severe deficits in social interaction and communication, by an extremely limited range of activities and interests, and often by the presence of repetitive, stereotyped behaviors.
Now let me tell you my definition of autism…
I personally do not feel or look any different than the so called "normal" child. I do at times feel shy and socially awkward. I also have sensory and fine motor issues, I only like a limited number of foods. I get easily obsessed with things that interest me and get totally absorbed in it. For example: I have 36 American Girl Dolls.
How do I compare to the dictionary meaning? To a certain degree I do fit the definition, but not completely, because there are different degrees of autism. From high functioning, that's me, to severe.
Do people treat me differently?
Absolutely!
Why, because I do struggle socially and academically. I need more repetitive instruction and get easily frustrated when I don't understand. Teachers are supposed to be educated on how to teach special needs children, but at least in my case I feel that they don't "get me," therefore, I am being cyber (online) schooled currently.
On the positive side, I feel that I understand and have more patience with other special needs children because I know what they are going through. Certain people and even teachers tend to lose their patience with me because I do not grasp things as quickly as a so called "normal" child does. When I would work with a group of students they would not give me a chance to add my input to the project because they felt I didn't understand the project fully and would have nothing useful to add. They did not take the time to know me and find out that I do have a lot to contribute.
Sometimes when I am with a new group of people, like at school. I feel awkward and have a hard time finding where I fit in. At times other kids see me as odd or different because I have trouble interacting. Overall, I don't feel people are intentionally mean, they just do not understand that I have a disability because my appearance doesn't indicate that I do. A lot of the time people just get impatient and don't want to take the time to get to know me. When people do take the time I can be very social and outgoing because I feel comfortable with them. For instance when I am in a new situation I can be shy and quiet.
However, when I start to feel more comfortable I can start to be more outgoing. It just takes me longer than the average child to feel accepted. Some children just do not want to take the time to get to know me better, which can be hurtful.
What do I like about myself? I love to volunteer and help others. I am also very generous with my friends. When you get to know me I am a very loving and compassionate person. I have a huge heart, filled with love and lots of humor as well. Those that take the time to know me, see this 100%. Those that don't, well, they are truly missing out.
I have a huge interest in music and want to pursue a career in the performing arts.
I am very lucky that I have an understanding and supportive family. My brother, Jason, and I have a great relationship and have a lot of fun together. I get my generosity from my mother. She also shown and taught me how to be loving, caring and accepting of others.
So, what is autism?
That is a very hard question to answer. There are so many degrees to autism and no one autistic child is like the other.
So here I am…
I am Rachael…
I am Autism…
I am ME…
and
I LOVE ME!❤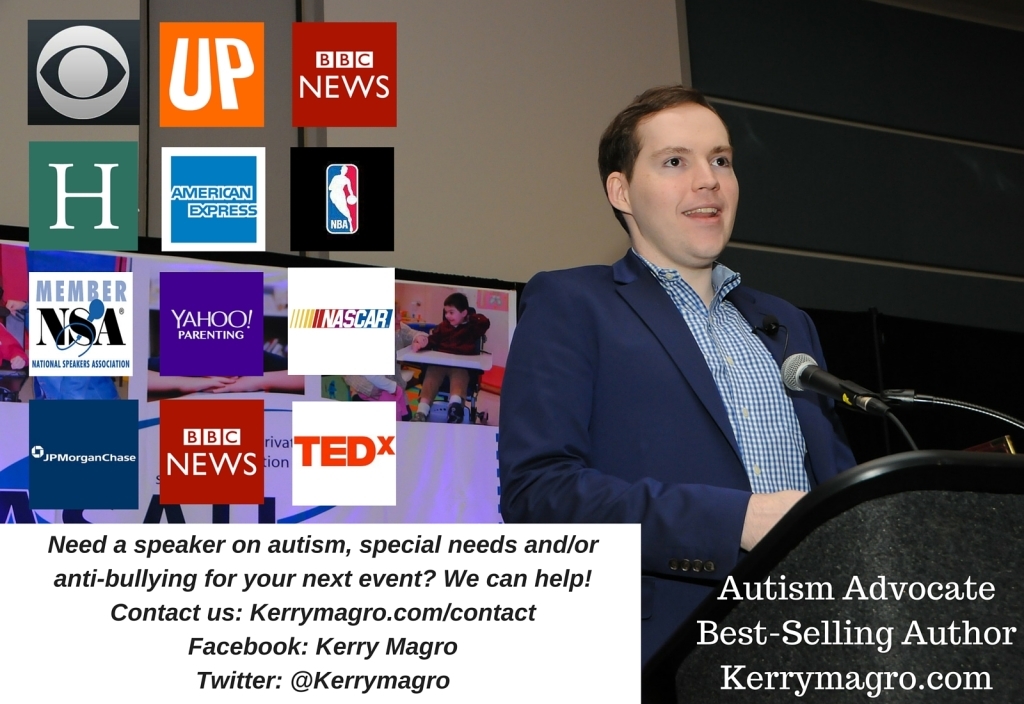 Kerry Magro, a professional speaker and best-selling author who is also on the autism spectrum started asking for blog submissions to his website Kerrymagro.com to highlight others in our special community! Have a guest blog you'd like us to share with our readers? Learn more about submitting your piece to our site here. Also consider having Kerry, one of the only professionally accredited speakers on the spectrum in the country, speak at your next event by sending him an inquiry here.