This guest post is by Stella G, a young woman on the autism spectrum who has been accepted and is attending Berklee College of Music. Stella is applying for the Spring 2019 Making a Difference Autism Scholarship via the nonprofit KFM Making a Difference. You can read more about the organization and how to apply for our scholarship here. You can help our scholarship program continue to help these students by making a donation to our scholarship fund here (the majority of our scholarship program is ran through donors from our community such as yourself so no matter if you could donate anything, whether it be $5 anywhere up to $5,000 it would be making a difference!).
I am an unlikely achiever. I stumble daily—literally from sensory dysregulation, ADHD, impulse control, and vestibular and proprioceptive dysfunction and lack of coordination; metaphorically from mood dysregulation, anxiety, challenges with my social and emotional skills, and slow processing speed and learning disabilities. Every moment is unpredictable; I balance precariously. I fight to regulate my senses, emotions, and body-in-space. It is only once I fall that I can pick myself up, rebalance from my misstep, and move forward.
Through music composition I steady myself. Rooted on the piano bench, rapt in sound, improvising melodies and harmonies, quickly notating ideas, I am in command. My dysregulation, stress, anxiety, instability—my obstacles—become music. I work my tension into minor triads or uncomfortable intervals, possibly a tritone. Gaining calm and control, I conclude the Largo movement and the music develops into a brighter Allegro, or Vivace. I might boldly attempt triplet passages, with accelerando.
My musical expressions, arising from my challenges, have won awards nationally and internationally. I am an ASCAP Morton Gould Young Composer Award winner. Concert halls in Boston, Manhattan, St. Louis, Honolulu, Canada and Italy, have echoed with sounds of my compositions. I have received commissions from members of the Edmonton Symphony Orchestra in Canada and had my work played by members of the Hawaii Symphony Orchestra. My pieces have been performed at renowned venues such as Old South Church in Boston and Lincoln Center in New York. At each performance and with every award, I recall my unsteady journey to this blissful moment. I relish and savor the present.
Music has always been my passion. As a constantly overstimulated, dysregulated infant, I am told that my sanctuary was my tight bassinet, listening, riveted to the mobile playing music above me. From kindergarten through elementary school, car rides home from the nightmare that was public school would be soothed by Mozart, Mendelssohn, Beethoven, or Brahms; on rainy days, I would be the distraction—harmonizing nonstop with the rhythmic swish of the windshield wipers, much to my parents' annoyance. In high school, Sunday was my sacred day: my day to compose. I loved Sundays, and still do—sitting at the piano composing calms me from the commotion that is the world around me. It allows me to consume myself in my own world; a place where I understand the rules and can move freely without confusion. I struggle to organize my thoughts, speech, time, schoolwork, and bedroom, yet oddly, with ease I am able to organize twenty-five instruments into a composition for symphony orchestra.
Since I can remember, composing always makes the hard work of developing difficult skills, tutoring, therapies, doctors' appointments, and reflection, more bearable. I have a refuge. I also have a voice in a language that I speak without difficulty. One that reaches and moves others. In this way, I am myself and also find a place for myself in the neurotypical world.
My goal is to be a professional classical music composer. When I compose, I am at my best. I am smiling. I feel capable and confident. I am happy. Since becoming a teen, my parents have instilled in me the need to develop self-advocacy skills, and work toward independence and financially supporting myself. Through music composition, I know I can succeed. I have already laid the foundation from which to build a career. For these reasons, I choose to pursue a degree in music composition.
Tomorrow I may wake up feeling physically or emotionally insecure. I might struggle to make sense of a friend or teacher's facial expression or tone, be overwhelmed by assignments, become dysregulated and frustrated as I struggle to tie my shoe, or be over-stimulated by fluorescent lighting. Yet, I will seep into the piano bench. I will start anew, equipped with blank staff paper and a pencil. I know I can achieve; I've done it before. I will right, and write, my woes into wins.
Through my music I hope to bring beauty and joy to others, and inspire strength in them to confront their challenges. My dream is that one day a child will be so moved by my music that she will say, "I too want to write music!" Or, when someone needs cheering up, he will hear my music and say, "I feel much better." Most of all, I hope that a person with similar struggles to mine will listen and say, "Wow, I now know that one day I too can achieve and excel at my passion!"
Here are some links to some of my original music compositions:
Led, a Trio for Alto Flute, Vibraphone, and Violin
Evening Story For Oboe and Piano
Structurae Modorum For Oboe and Bassoon (atonal)
Trio for Viola, Cello, and Piano
Follow Kerry's journey on Facebook, his Facebook Fan Page, & Instagram!
Kerry Magro, a professional speaker and best-selling author who is also on the autism spectrum started the nonprofit KFM Making a Difference in 2011 to help students with autism receive scholarship aid to pursue a post-secondary education. Help us continue to help students with autism go to college by making a tax-deductible donation to our nonprofit here.
Also, consider having Kerry, one of the only professionally accredited speakers on the spectrum in the country, speak at your next event by sending him an inquiry here. If you have a referral for someone who many want him to speak please reach out as well! Kerry speaks with schools, businesses, government agencies, colleges, nonprofit organizations, parent groups and other special events on topics ranging from employment, how to succeed in college with a learning disability, internal communication, living with autism, bullying prevention, social media best practices, innovation, presentation best practices and much more!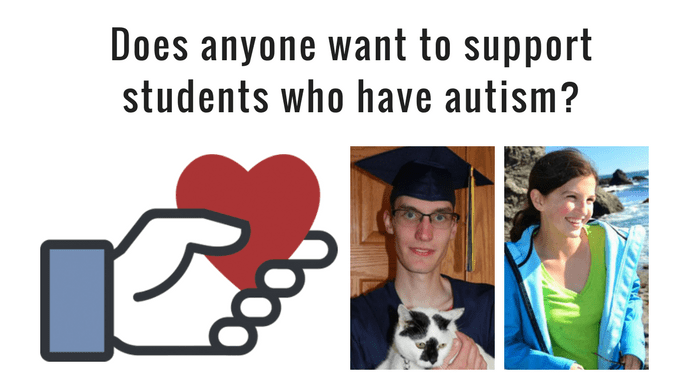 We'd also appreciate if you could take a minute to create a Facebook Fundraiser to support our nonprofit's scholarship fund! You can learn more about how you can do just that here.