This guest post is by Seth Tiffan, a young man on the autism spectrum. Seth will be attending University of Idaho with a major in Accounting. Seth is applying for our Spring 2017 Making a Difference Autism Scholarship via the nonprofit KFM Making a Difference. You can read more about the organization and how to apply for our scholarship here.
Autism spans a spectrum such that each person faces a different set of challenges. While some people have heightened sensitivities to certain things, have trouble dealing with change, or get easily frustrated by situations, I was fortunate not to have really struggled with those things. For me, my biggest obstacles were understanding social and higher level language as well as processing complex information and processes. These things often made school difficult for me. I generally had to work harder than my fellow classmates to achieve the same academic results. While I was always friendly and tried to be outgoing toward my peers, I had no real friends. This was partly due to the fact that I couldn't read the social cues that would help me fit in. They just weren't patient enough to get to know me. The fact that there were only 12 kids in my class (I went to a very small school) meant that opportunities for friendship were limited. However, I had less difficulty relating to kids younger than me and to adults. My mother always commented that I could "schmooz a room" whenever I was around a group of adults I knew.
My parents invested a lot of time in me to help me overcome some of my social and academic challenges. They always believed in me and "set the bar high." They never allowed me to use my disability as an excuse for not accomplishing anything that was set before me. In contrast, few of my teachers in high school truly believed in my abilities, but some did. One positive experience in high school was being involved in my school's FIRST Robotics competition. I enjoyed working with my hands, going to the competitions, and I even built a mobile storage cabinet for my team as my senior project that is still used by the team today. I also helped start a game club for autistic teens in my community. Despite the challenges I faced in school, I did graduate third (out of twelve) in my class. Our school's academic advisor even started to cry a little as he related to the audience some of my accomplishments and challenges over the years.
Fortunately there is life after high school! I start working on my Associates degree at Clark College in Vancouver, Washington in 2014. My community college experience was much more positive than my high school experience. Because people didn't know me, they had no preconceived ideas about me and most didn't judge me. I met Will, my first true friend, who went out of his way to get to know me. We are still in touch to this day and I value our friendship. I found that professors and disability support service personnel at Clark College were much more accommodating of my needs than was true in high school. This made my community college experience much more successful and enjoyable.
College was taxing but I did earn my AA degree in 2016. I decided to take a gap year to get some real world work experience. I applied to the Washington Department of Vocational Rehabilitation (DVR) who was supposed to help me find a job ideally working with my hands, which is something I am good at. This was my first exposure to government bureaucracy and it was frustrating. I was once again exposed to a mindset that I was only capable of so much and the job bar was set low. This was one of discouraging facts about working with DVR. I had to take more of an active role than I thought which made me wonder how someone who was not as high-functioning as me could ever survive this process. I pretty much found my current job on my own and this gave me a lot of confidence. Having a job has proved to me that I can get and keep a job, and this was a necessary first step toward living an independent life. Having a job has allowed me to buy my own car, pay for insurance, pay for living expenses, and save for completing my college education. I am planning on attending the University of Idaho to pursue a degree in Accounting this fall. I know this will be a challenging major, but I know I will succeed because I have learned over the years that there is nothing I cannot achieve if I set my mind to it and work hard. Autism won't hold me back because it doesn't have to.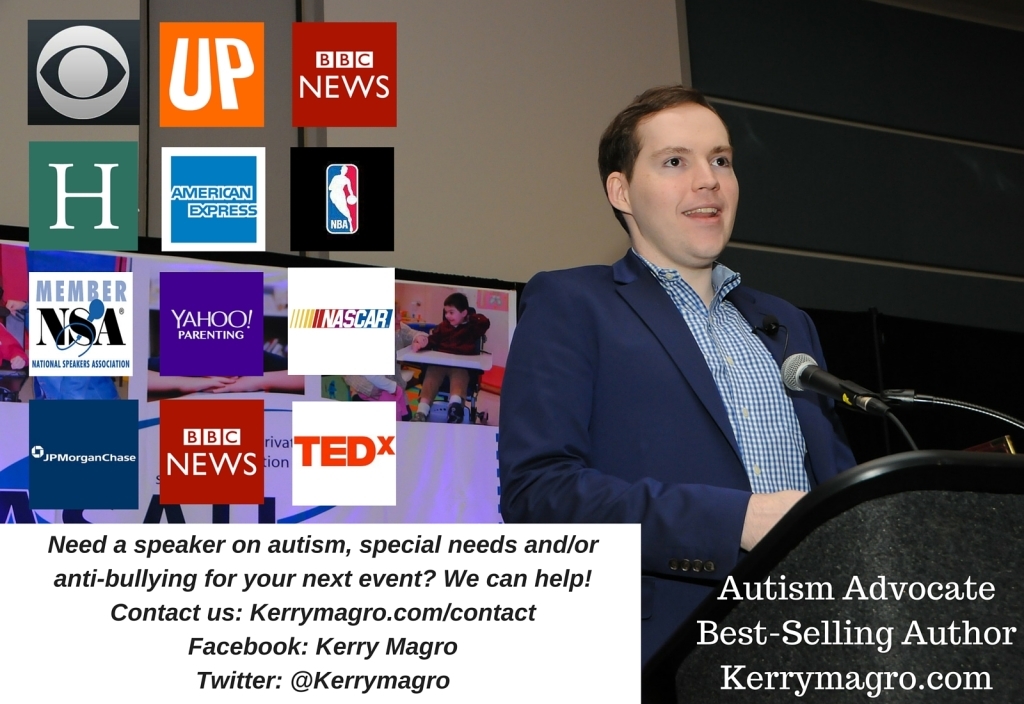 Kerry Magro, an international motivational speaker and best-selling author started the nonprofit KFM Making a Difference in 2011 to help students with autism receive scholarship aid to pursue a post-secondary education. Help us continue to help students with autism go to college by making a tax-deductible donation to our nonprofit here. Also, consider having Kerry who travels around the country speaking about his journey on the autism spectrum at your next event by contacting him here.