This guest post is by Jonathan Battle, a young man on the autism spectrum who has been accepted and will be attending California State University, Monterey Bay. Jonathan is applying for the Spring 2019 Making a Difference Autism Scholarship via the nonprofit KFM Making a Difference. You can read more about the organization and how to apply for our scholarship here. You can help our scholarship program continue to help these students by making a donation to our scholarship fund here (the majority of our scholarship program is ran through donors from our community such as yourself so no matter if you could donate anything, whether it be $5 anywhere up to $5,000 it would be making a difference!).
Let me introduce myself. My name is Jonathan Battle and I'm 18 years old. I am currently a senior who attends to Millennium Charter High School. Animating. drawing, and writing are my hobbies. I live with my mom and dad in a small and peaceful community called East Garrison. I also have three older siblings, but they live in Los Angeles.
When I was attending preschool back in Los Angeles, I was diagnosed with autism. There are some challenges of autism that have been difficult to overcome. Bullying, for example, was one of my biggest challenges. Back in elementary school, I was picked on and made fun of by students in other classes. They treated me as if I did not fit into the school community. The student would usually call me names and try to hit me for no reason without getting caught or being reprimanded by the teachers and staff. I didn't even have the heart to tell on them because they would call me a "snitch."
In middle school I learned to get along with some of my enemies. We worked together in group projects and started to get along. Things really changed when my mom recommended a high school with a bully-free zone. At Millennium Charter High School, I now have lots of real friends and I am really happy.
Another thing that I had a hard time adjusting to was dealing with the schedule and time changing at school. I would feel a little worried about being late. Each semester my classes would change. Sometimes the times for arrival at school and the departure from school would even change. The school would even change the times of how many minutes will have until each class starts and how long we're supposed to stay in each class. I just didn't want to be reprimanded by the teachers of staff.
Luckily, I started to learn my way around the school and attend on time. Now I'm a senior with perfect attendance. Because of that, I've been earning lots of certificates every month. Attending to school on time is one of the priorities a good student follows. The teachers and staff are relying on us.
So, these are some of the challenges of autism I've been facing. Now, I'm glad to be in an environment where there are no bullies. I am also able to attend my class periods easily. I'm continuing to improve everyday. Some of us are diagnosed with autism and we must work hard to overcome challenges.
Follow Kerry's journey on Facebook, his Facebook Fan Page, & Instagram!
Kerry Magro, a professional speaker and best-selling author who is also on the autism spectrum started the nonprofit KFM Making a Difference in 2011 to help students with autism receive scholarship aid to pursue a post-secondary education. Help us continue to help students with autism go to college by making a tax-deductible donation to our nonprofit here.
Also, consider having Kerry, one of the only professionally accredited speakers on the spectrum in the country, speak at your next event by sending him an inquiry here. If you have a referral for someone who many want him to speak please reach out as well! Kerry speaks with schools, businesses, government agencies, colleges, nonprofit organizations, parent groups and other special events on topics ranging from employment, how to succeed in college with a learning disability, internal communication, living with autism, bullying prevention, social media best practices, innovation, presentation best practices and much more!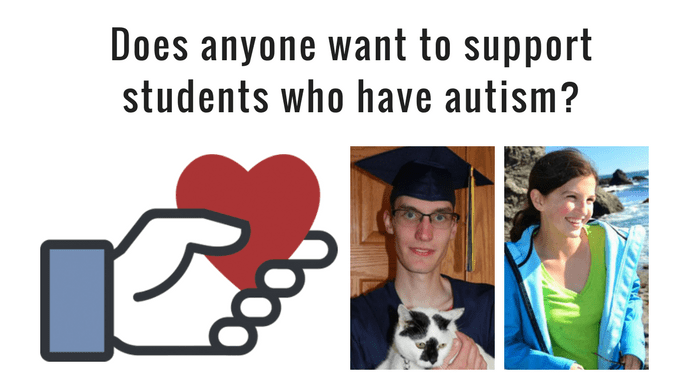 We'd also appreciate if you could take a minute to create a Facebook Fundraiser to support our nonprofit's scholarship fund! You can learn more about how you can do just that here.