This guest post is by Christian Jones a young man on the autism spectrum who has been accepted into UC Irvine or San Diego State University for Mechanical Engineering. Christian is applying for the Spring 2020 Making a Difference Autism Scholarship via the nonprofit KFM Making a Difference started by me, Kerry Magro. I was nonverbal till 2.5 and diagnosed with autism at 4 and you can read more about my organization and how to apply for my scholarship here. I'm trying to make this nonprofit self-sufficient so I can make this my full-time job supporting the special needs community and would appreciate you taking a minute before reading on to watch this video below and subscribing to our Youtube page here to get to learn more about the work we do in the community.
I hope you can support my nonprofit like I'm trying to support these students with scholarship aid for college. Learn more on how you can help our cause here.
Throughout my 17 years of life, I have had to overcome a select amount of challenges.  The most significant educational barrier that I have faced is that I am diagnosed with autism. Autism is a developmental disorder that impairs my ability to communicate and interact with others. I was diagnosed with autism when I was 6 years old. I have had some difficulties with social communication and social interaction. At times, have found it hard to begin or carry on a conversation with not only strangers, but with known associates and family members. It would cause some of our family members to question what was wrong with me because my hug was soft and not clutching or because I did not want to hug them when greeting at family gatherings.
My parents accepted the journey of having a child with autism and stayed positive. They understood their behavior, decisions and actions impacted me in my formative years. Autism has affected me in school because it made it more difficult for me to make friends and communicate with my teachers. However, I did not allow my disorder to stop me from being successful in the classroom. To help with my communication, my parents enrolled me in a speech class at my school. In this class, I practiced how to respond in certain situations that helped build my confidence for real life experiences. My family also assisted in bettering my communication by having a daily talk with me and my siblings. We would converse with each other about current events, our days and other interesting topics.
To make me a better communicator with my teachers and peers, I joined a social group for teens with autism. I decided to join this group because it gave me the opportunity to communicate with my peers and gain the perspective of others. This allowed me to also make friends and learn new things about other people. With all things considered, the biggest things that I learned from the group was how to maintain a conversation. This was vital because I gained knowledge of how to properly and effectively communicate. Having autism has made life challenging but not hard. I know that I think differently than others and I have to work a little harder at expressing myself and understanding other's feelings. I am very smart and intelligent and I see things in ways that others don't. My mother has always told me that I don't have a disability, but that I have special abilities. Throughout my education I have reminded myself of that and embraced my autism even though others may not.
Stimming, flipping and/or spinning my pencil/pen, glasses, or other object in my hand excessively is another behavior I would do. I can remember my parents at first would not say anything or stop my behavior, then at some point they didn't say anything at all to me. I believe they felt that if it wasn't bothering anyone and if we were alone at home or not causing unnecessary attention to be drawn towards me, they didn't say anything. As I got into middle school and high school, they would say more if it also appeared I was in another world and loosing time while doing schoolwork or cleaning my room.
Despite having these challenges, my differences are a unique part of my identity. I have maintained a 3.8 Grade Point Average as an academic scholar in the Engineering Pathways Program at my high school. It hasn't stopped me from being involved at school, playing sports and volunteering in the community. I have received acceptances and plan to continue my success and education by attending either UC Irvine, San Diego State University, Long Beach State University or California State Polytechnic University.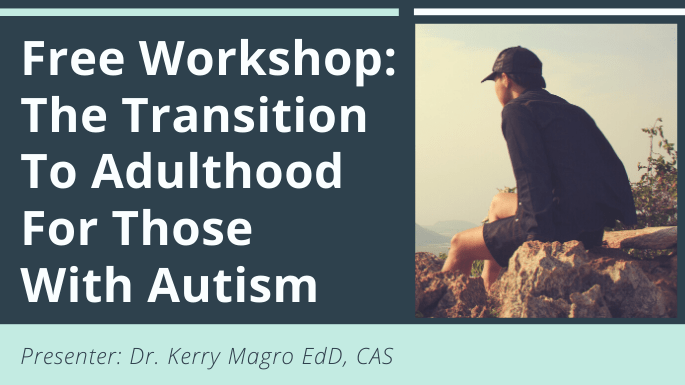 Join us for our Free Workshop "The Transition To Adulthood For Those With Autism" on 4/30 at 8PM where I'll be talking about topics such as our autism scholarship program  – Register at: https://zoom.us/webinar/register/WN_vofL2kFjRBCSHGJ5JcfyVA
Follow my journey on Facebook, my Facebook Fan Page, & Instagram!
My name is Kerry Magro, a professional speaker and best-selling author who is also on the autism spectrum that started the nonprofit KFM Making a Difference in 2011 to help students with autism receive scholarship aid to pursue a post-secondary education. Help support me so I can continue to help students with autism go to college by making a tax-deductible donation to our nonprofit here.