This guest post is by Marques Brockington, a young adult with autism who will be attending Eastern University in the Fall. Marques is applying for our Spring 2018 Making a Difference Autism Scholarship via the nonprofit KFM Making a Difference. You can read more about the organization and how to apply for our scholarship here. You can help our scholarship program continue to help these students by making a donation here (the majority of our scholarship program is ran through donors from our community such as yourself).
Well…how to begin? I mean, I know logically that's where all stories began is the beginning. As stereotypical as that sounds, it's not as easy as it seems. Because of my autism, remembering events earlier then when I was seven or eight years old is very difficult. But, where are my manners. My name is Marques Brockington. As for my memory, most of it comes in various bits and pieces, but I'll do the best to tell my story in a cohesive fashion.
The earliest I can remember was going to a school close to my two-story apartment that I shared with my great grandmother. This was when I was around six or seven years old. I am told that I was diagnosed shortly before that. During that time, many people suggested that I be put on some form of medication for my behavior in school and in public. I don't remember learning much while in my first school, especially not it's name since I only remember it as "The Octopus school." This is likely because I was watching a cartoon for children during that time and something about the school reminding me of that, so I kinda just joined the two.
Anyways, I only remember two major things from my time in the school. The first was when the group would come around for story time. I would hide behind the puppet show theater and play with a stuffed iguana. The second was that one time I got locked outside for not being able to count from one to ten in Spanish. When this first happened, I did not realize the magnitude of the situation until I told my mother a few years later, who naturally was very upset. My mom eventually deciding that the current school system where I went did not have the autism support that I would need, moved us from Philadelphia to Norristown P.A.
When I finally started going to elementary school, a lot time was spent getting valuable social skills. On the side, I went to various different counseling programs. During my time in elementary I also gained a interest for reading. Once I moved into middle school, I continued getting various help in developing social interaction skills. I did so well that people began to doubt whether or not I had autism anymore.
I would eventually start getting into writing from the different writing projects I was given in reading class. During seventh and eighth grade I wrote down a number of short stories and began developing ideas for novels. Before I moved to high school, my mom decided that she no longer wanted me to go to public schooling. So she found a new private school for me to attend. Before I could officially attend however, I had to go to the school for an interview. Previously, the school had seen a evaluation report of mine and believed that I would not be a good fit because of my autism. After the interview that all changed. They claimed that it would be a "blessing" for me to attend the school and eagerly awaited my first year.
That same year I also began volunteering at my local zoo. My responsibility was to show the guests various facts about the animals in the exhibits as well as provide various objects, known as the bio facts. Next year I joined my school's track team and we won the district championship. I myself made varsity for the team and the next year was part of the winning relay team. That summer I would intern a summer wilderness camp for three weeks. This had been the longest period I had ever been away from home and had to spend a lot of it putting my "self advocacy training" to work. During the next school year, I was asked to join the school's touring choir. This involves traveling around to different churches and performing miniature concerts. We also would eventually take a trip to Canada to perform in a mass choir.
Now to present day, I am a senior in high school. It's been quite the journey, and I feel quite old. I learned a lot in the past four years about religion, politics, myself and how fit I into society. I've learned about writing and literature, and aspire to be a professor to teach creative writing in college. But, I am still learning, still growing, well not as much as before, but metaphorically speaking. To be honest, I don't think we will ever stop learning. If we ever did, life would get pretty boring.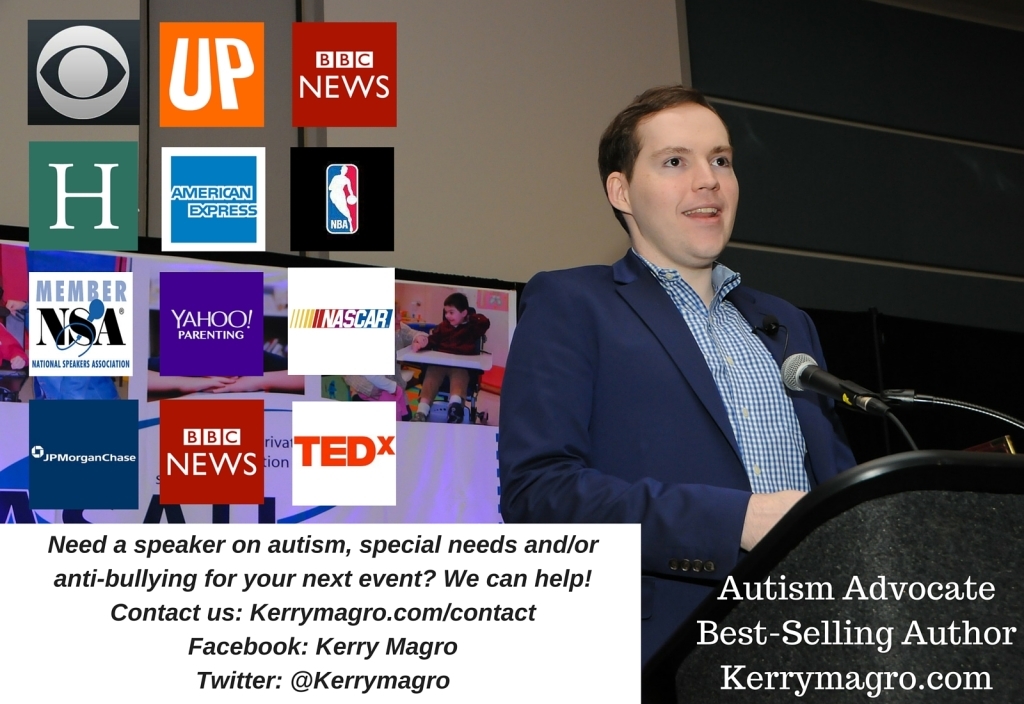 Kerry Magro, a professional speaker and best-selling author who is also on the autism spectrum started the nonprofit KFM Making a Difference in 2011 to help students with autism receive scholarship aid to pursue a post-secondary education. Help us continue to help students with autism go to college by making a tax-deductible donation to our nonprofit here. Also, consider having Kerry, one of the only professionally accredited speakers on the spectrum in the country, speak at your next event by contacting him here.