This guest post is by Andres Angarita, a young man on the autism spectrum who has been accepted and will be attending Vanderbilt University. Andres is applying for the Spring 2019 Making a Difference Autism Scholarship via the nonprofit KFM Making a Difference. You can read more about the organization and how to apply for our scholarship here. You can help our scholarship program continue to help these students by making a donation to our scholarship fund here (the majority of our scholarship program is ran through donors from our community such as yourself so no matter if you could donate anything, whether it be $5 anywhere up to $5,000 it would be making a difference!).
My name is Andres Angarita and I will be attending Vanderbilt University in this coming Fall. I am excited about what I will be learning and how I will be growing mentally within the next four years. It is a blessing that I was given the opportunity to be accepted in this amazing school, I am excited about what God has in store for me. Within the four-year program, I want to learn many things: for self-improvement and self-growth; I know that what I seek I will find in this University. I have many goals for the next four years, from educational to personal and all to benefit people around me, society, and love ones.
My educational goals consist of learning the material/skills and how I can implement it in my everyday life. I do not have an exact goal of what I want to study but I know that when I do decide, it will for the benefits of others. I do know that I want to start and finish my four-year degree because I know it will benefit me in the long run. My personal goal connects to what my educational goal, which is to grow in my understanding and how I can grow within the society that I live in. I want to be able to take care of myself, my family, and be an impact to the people around me.
With the help of the University and its staff, they will be able to guide me in my journey. Even though I am not sure how my journey through this four-years will look like, I know that I will find amazing people that will be there to help me. I expect that everything that I learn from there, will some way help me in my everyday life, even outside of school. I know that every question that I may have, doubts, or concerns, the University will help me answer them and help me grow.
I came from another country, not know what the future would hold for me and my family. I am thankful to God and My parents for all the sacrifices they given for me and my brother. I would not be here today without them, let alone the opportunity to be accepted in this amazing school. My dad who sacrificed a lot to help me get to this point of my education career, now I stand today to continue to progress. I want to love my family and help serve others in whatever I choose to do in my four-year of school.
Follow Kerry's journey on Facebook, his Facebook Fan Page, & Instagram!
Kerry Magro, a professional speaker and best-selling author who is also on the autism spectrum started the nonprofit KFM Making a Difference in 2011 to help students with autism receive scholarship aid to pursue a post-secondary education. Help us continue to help students with autism go to college by making a tax-deductible donation to our nonprofit here.
Also, consider having Kerry, one of the only professionally accredited speakers on the spectrum in the country, speak at your next event by sending him an inquiry here. If you have a referral for someone who many want him to speak please reach out as well! Kerry speaks with schools, businesses, government agencies, colleges, nonprofit organizations, parent groups and other special events on topics ranging from employment, how to succeed in college with a learning disability, internal communication, living with autism, bullying prevention, social media best practices, innovation, presentation best practices and much more!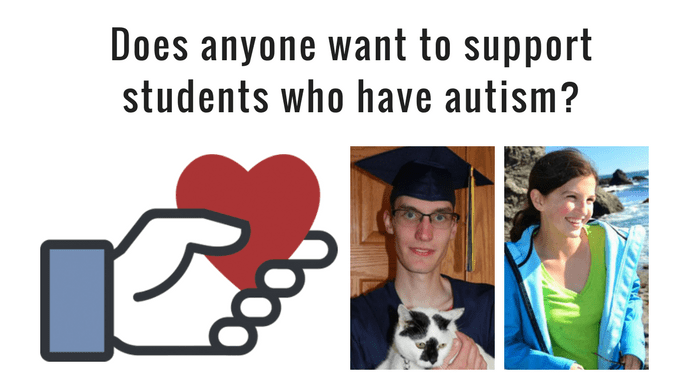 We'd also appreciate if you could take a minute to create a Facebook Fundraiser to support our nonprofit's scholarship fund! You can learn more about how you can do just that here.