This guest post is by Kenneth Brown II a young man on the autism spectrum who was just accepted to Morehouse College. Kenneth is applying for our Spring 2018 Making a Difference Autism Scholarship via the nonprofit KFM Making a Difference. You can read more about the organization and how to apply for our scholarship here. You can help our scholarship program continue to help these students by making a donation here (the majority of our scholarship program is ran through donors from our community such as yourself).
My name is Kenneth Alan Brown, II. I start my personal statement with sharing that I have Autism. I do this not because Autism defines who I am, however living with Autism helps to explain my obstacles and the accomplishments I have made despite my learning deficits.
I was born on October 24, 2004 and was the only child the first four years of my life. My parents describe me as a happy child who loved to play with toy guitars, drums, and wind instruments. I often hummed and danced to The Jackson Five's song ABC and Alicia Keys' "If I Aint' Got You". However, at the age of 2, I seldom spoke words. During this time at a doctor visit, while standing on a multi-color tiled floor, the doctor said, "stand on the blue square", and I did. Then he said, "point to the letter 'Q' on the eye chart" and I did. Although I could not speak, I got all the answers correct.
Soon after the doctor's visit I was diagnosed with Autism. My mother shared how she cried at night and would rub my head and say "Lord, if KB has to have Autism, I ask that he be that example which inspire other mothers who are crying inside like me". My mon and dad set weekly, monthly, and yearly goals and helped me advance!
As a toddler, I often sat on my grandmother's lap banging away on the piano as my late grandfather joined in with his harmonica. From the age of 3 to 5, I participated in a music and movement class in Santa Monica, I also started Kajukempo Karate, and my grandma took me to group piano classes. I continued with private piano lessons with Yale Accordion Academy and Greg (drummer for Donna Summers) at Delian Music from age 5 – 8. My grandmother felt, I was ready to move on, so she enrolled me The Southeast Symphony (SESA)where I selected the trumpet to play; maybe because I had a huge framed picture of a child looking like Louis Armstrong playing a trumpet hanging in my bedroom. My first trumpet teacher was the legendary Ricky Washington father of the great Kamasi Washington. I also received private lesson with Drew Ninmer who was in the movie "Whipflash". I started learning trumpet from the best.
While in elementary school I received speech services and resources in the general education classes to help my learning. School had good points, like learning how to play basketball during recess and eventually being in the starting line-up at the schools undefeated basketball team. Unfortunately, it was where kids felt I was different and began to tease, bully, and hurt me. One girl nicknamed me "Aut" short for autism, one kid place post-its on my back-pack with bad words, then someone stole my back pack and everything in it, and a group of boys tried to video tape me in the bathroom stall. It was the worst time in life. But music helped lifted me up.
Middle school was wonderful. Century Community Charter had nice teachers, my classmates were proud of me and I fit in. I joined Second Mt Carmel Missionary Baptist Church where I played right next to my elementary school's trumpet teacher, Jimmie Williams. I also played with Ricki "88 fingers" Turner, Lyndon (who played with Esperanza Spalding, amongst others) on the drums, Ron Roseboro(from the group Rose Royce, amongst others) on base, Taki Mori (played with Chaka Khan, amongst others) on and Donn Bynum of "Bootie Collins" (also played with Lionel Richie & the Commodores) on sax. When I turned 12, I left SESA and joined the Inner-City Youth Orchestra (ICOYLA) under the leadership of Charles Dickerson.
ICOYLA continues to be the highlight of my life; I performed as first chair at great venues like, Los Angeles Concert Disney Hall, Los Angeles Staples Center, the Wilshire Ebell Theater, Forest Lawn, etc. I performed with MC Hammer and was the opening performer for a tribute for Sammie Davis, Jr. Some members of my ICYOLA trumpet line have played with RB artist Robin Thicke, Mary J Blige, Charlie Wilson, and Dr. Dre Ruthless Records.
I arrived at Hamilton Academy of Music and Performing Arts after one year at Bishop Montgomery. Hamilton was known for its music, so I transferred because I knew I wanted to be a professional performer. At Hamilton, I participated in the Jazz band and the Winds Ensemble. I played in competitions and earned several certificates for "Outstanding Performer".
High school continues to be a challenge with a lot of teasing and name calling from my basketball teammates and even shaming from a teacher who told me I was "incapable of learning". I wrote a letter to the teacher and said, "that was hurtful and watch me learn". These were painful moments, but the music made me stronger.
My life is not Autism, my life is MUSIC. Music is humbling because I am sharing my life in the form of music with others. Music is gratifying because I am grateful for my family and musicians who saw me for me. Although I still have obstacles, I know they are not greater than my aspirations to attend college in preparation for a career in music performance. I am ready to continue this journey in College!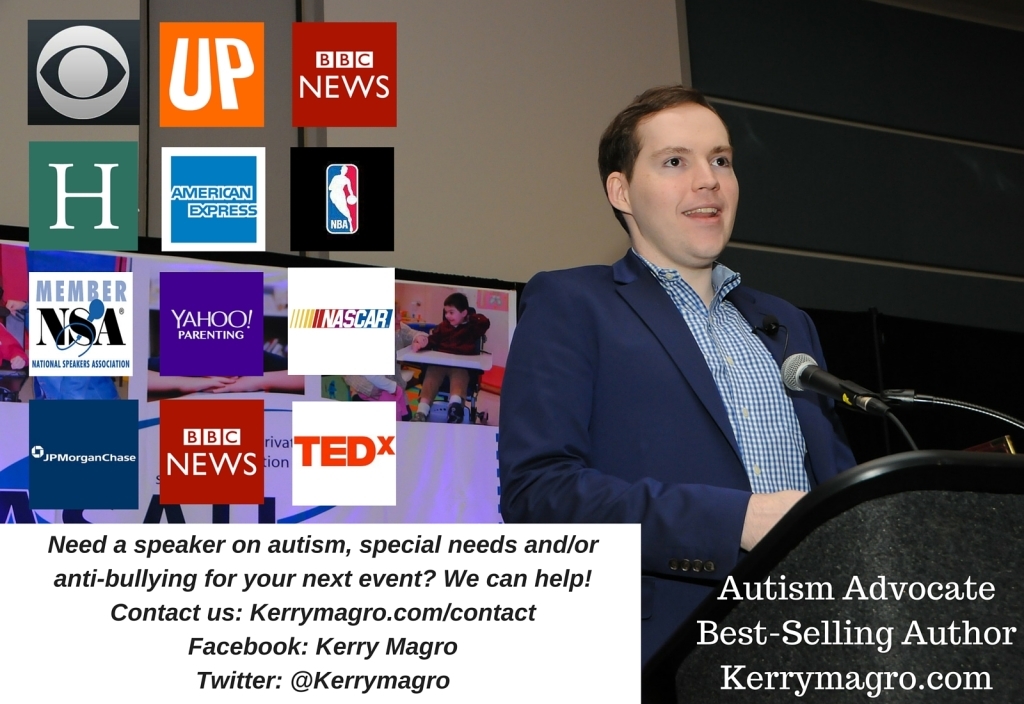 Kerry Magro, a professional speaker and best-selling author who is also on the autism spectrum started the nonprofit KFM Making a Difference in 2011 to help students with autism receive scholarship aid to pursue a post-secondary education. Help us continue to help students with autism go to college by making a tax-deductible donation to our nonprofit here. Also, consider having Kerry, one of the only professionally accredited speakers on the spectrum in the country, speak at your next event by contacting him here.