This guest post is by Kameron Conner, a senior at Lake Ridge High School who is on the autism spectrum. Kameron will be attending Tarrant County College in the Fall of 2017 where his main focus of study will be in the medical field, specifically Physical Therapy. Kameron is applying for our Spring 2017 Making a Difference Autism Scholarship via the nonprofit KFM Making a Difference. You can read more about the organization and how to apply for our scholarship here.
"Do Not let ASD define who you are. Be an example to others and fight against the odds despite your challenges. Persevere and continue to be Awesome with Autism."
Living with ASD does not mean that you have to give up on your dreams and goals. My name is Kameron Conner and I was diagnosed with autism (PDD-NOS) when I was in the fifth grade. Earlier on, I was labeled with a learning disability when I was in the first grade. I had to persevere and stay on course despite my challenges. The challenging experiences that I have been going through in school are being singled out for persecution, people saying that I would not be anything, being called all kinds of names that were highly untrue of me, criticized, and harassed. When I was 11 years old, my parents kept me back a year in the 5th grade because I was not emotionally and academically developed to be promoted to the 6th grade. During my junior high school years, I went through a lot of struggles. The first year of junior high was very difficult. I dealt with a lot of negativity towards me but I did not let that define me from getting better each day and doing what I needed to do. I knew I was there for a purpose. I worked hard and became the most improved student being promoted from my 8th grade class.
Since then, I moved on to high school where I have faced even more challenges trying to fit in socially. It has been extremely hard to make and keep friends due to communication differences. I am a dedicated student within my resource classes and enjoy participation in the JROTC program where I have received several academic achievement awards as well as becoming a 2nd lieutenant platoon leader. At this present time, I am on the honor roll and growing in confidence. I also received an academic teacher's choice award. By seeking after school tutoring and applying quality study habits, I have been able to excel academically. In order to continue being successful academically, I seek outside tutoring services and support. I also receive speech therapy to help me improve my social skills and communication.
I am a senior and look forward to graduating in June 2017. I am excited about my next chapter in life and continuing my education. My goal is to be an achiever despite what others say and think of me. Yet my main goal is to become an inspiration and a testimony for other people that may struggle with the same challenges as I do. I would like to demonstrate that no matter what your struggle is, with hard work and perseverance you can do anything you put your mind to.
Through this process, I know that I have still yet a lot of growing to do and I know that there are still obstacles that I have to overcome. I have great support in my family and they have placed high expectations on me to succeed despite my challenges. My overall outlook is not to quit and not give into my failures. I have strong faith that no matter what the challenge is I can do all things through Christ.
I will continue to persevere and be the exception to the norm of what people may think autism looks like. I will be "Awesome on the Autism Spectrum"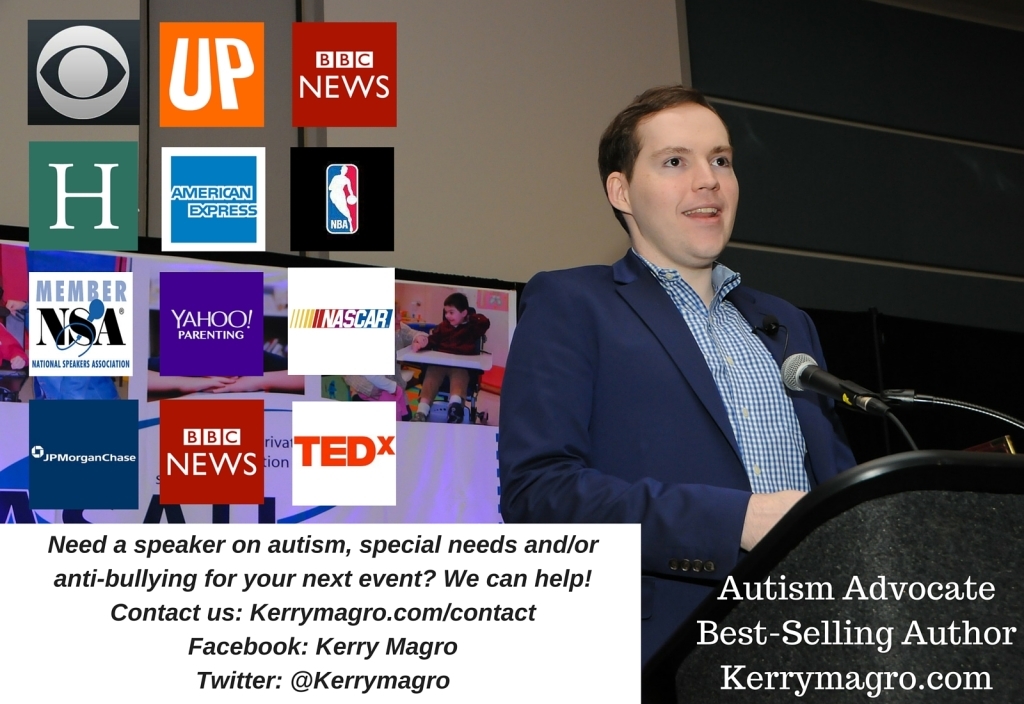 Kerry Magro, an international motivational speaker and best-selling author started the nonprofit KFM Making a Difference in 2011 to help students with autism receive scholarship aid to pursue a post-secondary education. Help us continue to help students with autism go to college by making a tax-deductible donation to our nonprofit here. Also, consider having Kerry who travels around the country speaking about his journey on the autism spectrum at your next event by contacting him here.