This guest post is by Brandon Beltran, a young teen on the autism spectrum. Brandon will be attending Florida Atlantic University. Brandon is applying for our Spring 2017 Making a Difference Autism Scholarship via the nonprofit KFM Making a Difference. You can read more about the organization and how to apply for our scholarship here.
I am a young men of many talents and accomplishments, and make sure I do my best. I had a rough start in life, yet that didn't truly stop my determination. When I was a young boy, I never really understood the world around me; how the land is different, how cultures were different, and how I was different. My mother and father left me because I was "different", and I believe my mother and father left me because they didn't want the responsibility of taking care of a child who was "different". I was a child with many imperfections, for I have autism.
I also have Asthma, Celiac Disease, and Type 1 Diabetes. I learned the harsh reality of not having parents that love and care and it was lonely, but my brother, on the other hand, didn't see me as an imperfection, but someone who was special. I have lived with my brother for as long as I remember. He was only around 22 years old when he took me in. He loves me like any other child and as I got older, I learned that nobody is perfect, the word is just a meaning of something or someone ideal and I don't see it that way because what is one's definition of perfect and the next person's definition?
When I was in Middle school it was hard for me to keep up with the class, I could barely read and I had a hard time understanding simple things, I needed a lot of extra help. I would also go to therapies after school. It was harder for me to do things because I was picked on and teased because of my Autism, there were a lot of things that other kids did that I couldn't do, people knew I was different. When I started High School I went into mainstream classes that was difficult as well but after a while I was doing much better. I still had to get accommodations for the extra time and for testing.
With all the help and therapies I have overcome a lot of my obstacles, this school year I joined two clubs and it has helped approach people because we are there for same thing and it makes it a little easier to be more social. My brother has had a rough start in his life as well and he understands the meaning of hard work and determination. This shows me that in order to achieve a life, one must break through his/her limits and embrace for who you are, and I am happy to be me. I'm a teen who does have problems and has limitations, yet I accept them and I truly want to learn about the world, my life lessons got me to this point in my high school education and I've overcome many obstacles like bullying, the hardships of being misunderstood, and learned to accept my autism.
In order to be successful in life, you must accept who you are and no matter what happens, you must never stop pursuing your goals and follow your dreams. My experiences shaped who I am today. I know the world isn't a perfect place and I know that there will always be obstacles in life, but that's ok. Everyone is different and everyone does have a different experience, it doesn't matter if you have Autism or not; In fact, Autism is becoming more common. I want my life experience to be an example of how even if you have a very rough start in life there will be always someone who will understand how you feel and you must take a stand for who you are and embrace yourself.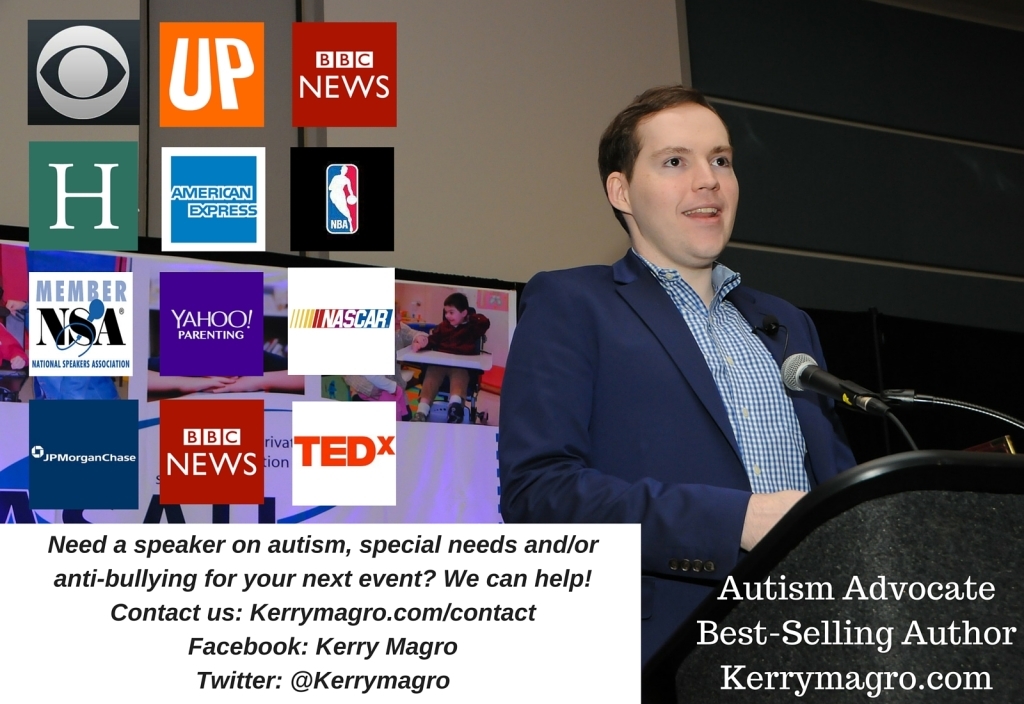 Kerry Magro, an international motivational speaker and best-selling author started the nonprofit KFM Making a Difference in 2011 to help students with autism receive scholarship aid to pursue a post-secondary education. Help us continue to help students with autism go to college by making a tax-deductible donation to our nonprofit here. Also, consider having Kerry who travels around the country speaking about his journey on the autism spectrum at your next event by contacting him here.