I'm honored to share about a new book I contributed to which is now available!
A few years ago I met Carol Stock Kranowitz, a world-renowned speaker and expert on the subject of Sensory Processing Disorder along with author of the best-selling book "The Out-of-Sync Child." After speaking with her and getting to know her she asked me if I'd be willing to contribute to her new book to discuss my experiences growing up with autism and my challenges with sensory-processing difficulties.
The book that I contributed to called "The Out-of-Sync Child Grows Up: Coping with Sensory Processing Disorder in the Adolescent and Young Adult Years" is now available on Amazon here. Hope you will check it out! Thanks so much everyone. If you are looking to read more of my works you can find them listed below.
Defining Autism From The Heart: From Nonverbal to National Speaker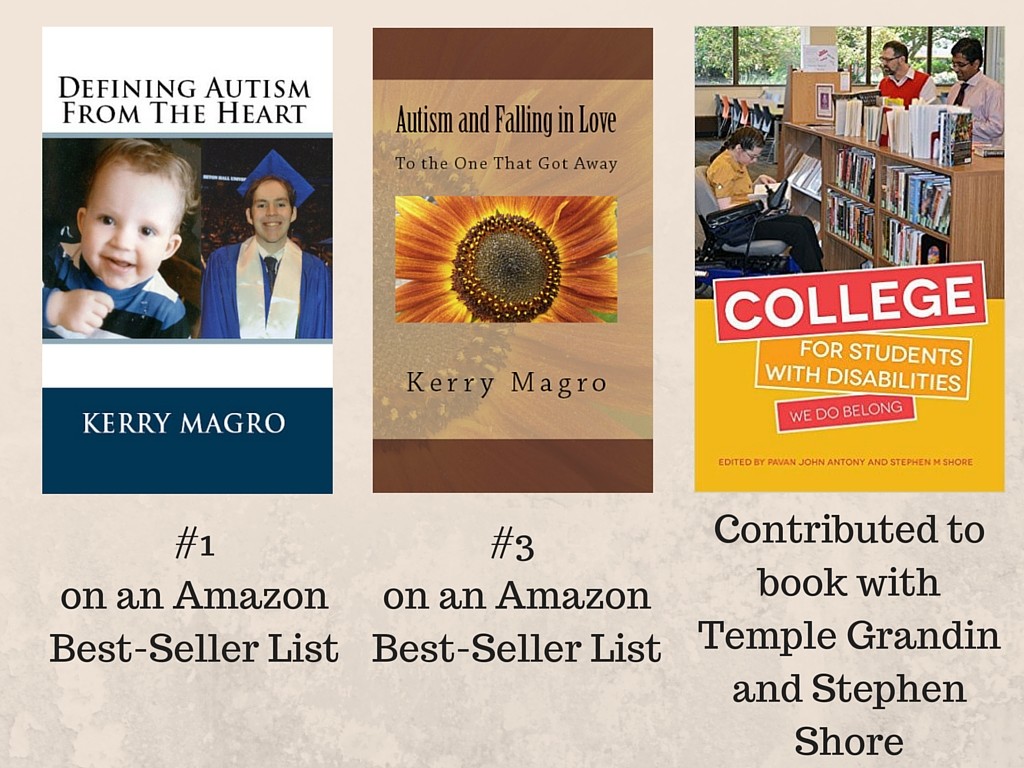 Kerry writes about his experiences on the autism spectrum from the heart to help others overcome obstacles. Once non-verbal, today at 28 he is a national speaker. Kerry wrote this book to help show his passion and his heart to others while trying to make people understand that people with autism deserved to be loved. Topics from his book include defining your autism, overcoming obstacles, becoming a self advocate, reflecting on what's important and much much more. This book is meant for all audiences and does not require an in depth knowledge of autism to understand.
Autism and Falling in Love: To the One That Got Away
Have you ever fallen in love before? In this book, Kerry discusses his own personal experiences as an adult on the autism spectrum and being in love. A popular image of autism today focuses on children and interventions. As these children grow up on the spectrum and become adults a romantic relationship will become a possibility for some in our community. Kerry's first hand experience discussing "The One That Got Away" will open the reader to a new line of thinking while breaking down the barriers of ignorance between autism and love.
In this book you will also learn more about some of the challenges that face individuals with autism today in finding a partner including topics such as social cues, empathy, communication patterns and much, much more! Those on the autism spectrum will learn more on relationships and how they can go about finding their next partner while neurotypicals will learn some things you may expect while dating someone with autism.
College for Students with Disabilities: We Do Belong
Kerry has often heard words such as "you are not college material" and "you don't belong in college." As a matter of fact, these are comments frequently heard by students with disabilities. Despite this, college education is now an expected part of the transition to adulthood for many individuals with disabilities.
In a book Kerry contributed to called College for Students with Disabilities: We Do Belong, several adults with disabilities including leading autism advocates Dr. Temple Grandin and Dr. Stephen Shore share practical advice to encourage self-advocacy in students with disabilities, and to support the professionals who are facing the challenges alongside them.
Covering cerebral palsy, autism spectrum disorders, intellectual disabilities, and much more, this is vital reading for parents, individuals with disabilities, school teachers, college professors, and professionals working with adults with disabilities.
More on The Out-of-Sync Child Grows Up
The long-awaited follow-up to the million-copy bestseller The Out-of-Sync Child, presenting information and advice for tweens, teens, and young adults living with Sensory Processing Disorder, and their parents.
The Out-of-Sync Child Grows Up will be the new bible for the vast audience of parents whose children, already diagnosed with Sensory Processing Disorder, are entering the adolescent, tween, and teen years, as well as those who do not yet have a diagnosis and are struggling to meet the challenges of daily life. This book picks up where The Out-of-Sync Child left off, offering practical advice on living with SPD, covering everyday challenges as well as the social and emotional issues that many young people with SPD face.
Topics include strategies for coping with the sensory aspects of grooming, social lives and dating, playing sports and music, and other issues, as well as how to find support and help from loved ones, occupational therapy, and other resources. Carol Kranowitz's insights are supplemented by first-person accounts of adolescents and teens with SPD, sharing their experiences and hard-won lessons with readers and adding a powerful personal dimension to the book.