This guest post is by CJ, a young man on the autism spectrum. CJ enjoys reading books, playing video games (specifically Nintendo games), running and taking care of his dog, Dash. CJ is applying for our Spring 2017 Making a Difference Autism Scholarship via the nonprofit KFM Making a Difference. You can read more about the organization and how to apply for our scholarship here.
Over the years I have had many diagnoses, but the term that I like best is "twice exceptional". Why "twice exceptional"? Because I'm very talented, qualifying for MENSA when I was 10, but had to first overcome some early struggles. Because I have unusual strengths and weaknesses, my diagnoses changed over the years as doctors tried to figure me out. For example, my parents tell me I could sing songs, like the entire alphabet song, before I learned to use the names of things to get what I needed or to make conversation. I was very active, and climbed everything before I walked. I loved numbers and drew my favorites in all my art over and over again. When I was young, the diagnoses were severe ADHD and PDD-NOS, and later OCD, Asperger's, and recently Autism Spectrum Disorder. I needed discrete trials (ABA therapy), speech and occupational therapy when I was very young and had an aide in school through eighth grade. I still have difficulty writing and slow processing speed, but having these issues has taught me to be a hard worker, which my teachers and coach frequently praise me for. I have continuously succeeded in both school and sports.
One of the biggest challenges when you are on the spectrum is that people underestimate you. When I was finishing preschool, the principal suggested to my mom to hold me back a year. Since I had known my numbers, letters and colors for years, my mom did not agree. She found out the biggest concern the teacher had was that I blurted out answers during circle without raising my hand. She asked if the answers were right (they were), and asked the school to help me instead learn rules like raising my hand instead of holding me back. At first, the school also put me in resource room for reading and math. The best teachers I had put aside the academics, which I knew, and focused on social skills like turn-taking and learning how to be a good loser instead. Eventually, I had all my academics in the regular classroom, but I was still not recommended for honors or gifted programs until 5th grade, when during state testing I got a perfect score on the math section. Then, I tested very high on a test of nonverbal intelligence and was accepted into MENSA. Still, my parents had to do some convincing that I had a place in the accelerated math class, if an aide could be there to support me. I was able to accelerate two levels, and took both Algebra and Geometry in middle school.
One of my proudest achievements is that I am a National Merit Commended Scholar and a National Hispanic Scholar for my performance on the PSAT. Recently, I started working on weekends as a data-entry clerk for a doctor's office to save some money for college. It's a great job for me, since I have amazing attention to detail. Next fall, I will be attending Stevens Institute of Technology and majoring in Computer Science. I chose Stevens because of the strong cooperative education program, which will help me practice skills in a real work environment and graduate with 18 months work experience.
I first encountered Computer Science when I was a junior in high school. Before that, I had taken classes like CAD, 3D CAD and Robotics, but I never actually coded anything. When I took Computer Science 1, I found that I was very good at it and I liked it a lot. It just clicks with me, so I decided to go to a pre-college program at Centenary College last summer and spend a week learning more about coding to see if it was something I enjoyed. If statements, for loops and recursion: These things felt natural to me. I had learned enough at the end of the week to set the groundwork of a roguelike game. I had a blast at the pre-college program and I decided I wanted to take AP Computer Science this year and major in Computer Science when I get to college. It's awesome that it's a rapidly growing field and because the demand for it is simply not slowing down, I think it's a great choice. Computer Science fits my strengths: logic, detail and analytical reasoning, and my fine motor weakness, since I work best using keyboarding.
With a major in Computer Science, maybe I can be a part of something innovative that develops technology that will make the world even more accessible to all people. My sister, who is also on the Autism Spectrum, benefits from an augmentative communication app. I also have two friends who read braille and recently I read an article that someone developed a braille watch that sends texts like a smartwatch. It would be cool to be part of something helpful like that. I'm also interested in having Cyber Security as a minor since it's a growing field and I want to have a secured job.
My parents, who work in public schools, and went to Rutgers, had always thought state universities give a great education, but were also aware of statistics about adults with Asperger's or High Functioning Autism who are underemployed. They agreed the excellent cooperative education program at Stevens would give me the best chance to beat the statistics. Since she was two, my older sister has always needed more intense interventions than I. ABA therapy was not covered by insurance until 2010, so my parents paid a lot of money out of pocket for many years.   She has limitations that mean she will need daily care from my parents or another caregiver for her whole life. Since she also has PANS, an autoimmune disorder, she also has a lot more medical expenses.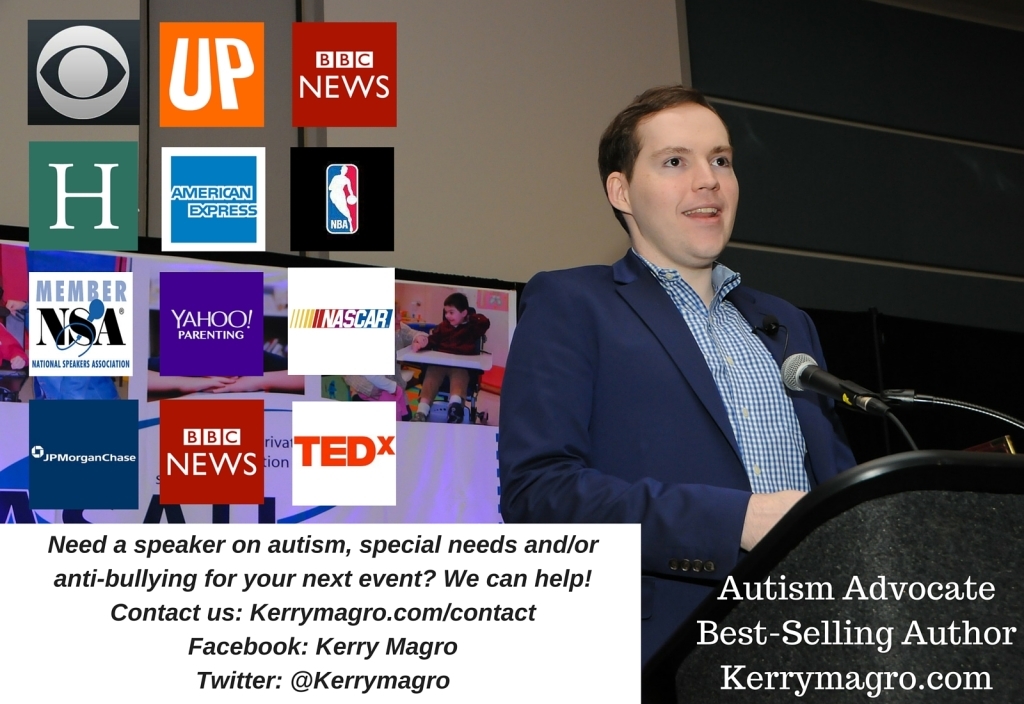 Kerry Magro, an international motivational speaker and best-selling author started the nonprofit KFM Making a Difference in 2011 to help students with autism receive scholarship aid to pursue a post-secondary education. Help us continue to help students with autism go to college by making a tax-deductible donation to our nonprofit here. Also, consider having Kerry who travels around the country speaking about his journey on the autism spectrum at your next event by contacting him here.